The world of hand tied extensions is relatively new to the hair extension industry. They have quickly gained popularity over the years as women have realized the options they bring to their hair extension game. Let's dive into the reasons so many women are turning to these extensions and also highlight hand tied extensions pros and cons.
Hand tied extensions pros and cons
Pro: Glamourous volume, fullness and length that looks 100% natural
Pro: Very little stress on the scalp or the roots with the proper install method
Pro: No tension, tugging or damage to the natural hear
Pro: Unlimited styling possibilities without bead or track exposure (including ponytails, buns and upstyles)
Pro: Some methods, like IBE®, have discreet attachments that do not show, even in fine, thin or sleek hair
Pro: Appropriate for active lifestyles, including swimming, and high temperatures
Pro: Can be customized in color for the ultimate match to the natural hair
Pro: Can be layered to give proper weight distribution based on natural hair density
Con: Initial installation requires a significant investment of both time (2-5 hours) and money ($1000 or more)
Con: Extensions must be moved up every 6-8 weeks as the hair grows out
Con: Frequent brushing and maintenance is needed to keep hand tied extensions looking their best
Are hand tied extensions damaging?
No, hand tied extensions are not damaging to your hair if the proper method of application is used by a knowledgeable certified stylist. It is extremely important to research your stylist and make sure they are certified and have received extensive training in a quality installation method.
With a safe installation such as IBE®, the removal and reinstallation process is non-damaging to hair — unlike other hair extension methods. A certified IBE® stylist will know how many wefts they can layer to maintain the integrity of your hair.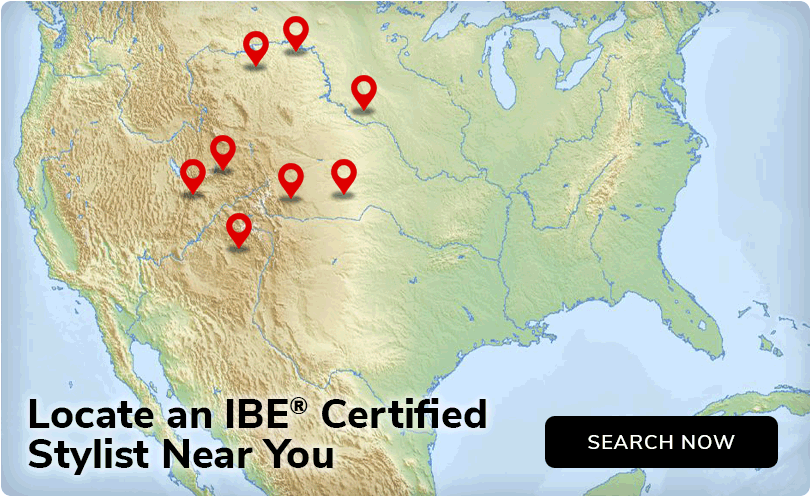 Are hand tied extensions hard to take care of?
We're often asked, "Is it hard to take care of your extensions?" The answer is no, if you follow these simple home care steps.
Proper care and maintenance is essential for keeping hand tied hair extensions healthy and beautiful. Taking care of your extensions also helps them last longer. Follow these steps to properly care for your hand tied extensions:
Cleansing: Wash your mane regularly with a sulfate-free, extension-friendly shampoo. Do not scrub the wefts! Focus on your roots, then gently squeeze the suds through your extensions. Follow up with a light hydrating conditioner, comb it through the strands, and let it sit for up to 5 minutes before rinsing thoroughly.
Prepping Damp Hair: Be aware that hair extensions absorb a LOT of water! After washing and conditioning your hair, gently squeeze or pat the wefts with a towel to remove excess water. Then let your hair air-dry 80% to 90% of the way before finishing with your blow dryer.
Detangling and Brushing: It's important to thoroughly brush your hair several times a day. The Tangle Teezer is a good gentle brush that works on both wet and dry hair. Separate and brush through each row individually. Make sure to lift the hair and brush in-between the rows to prevent matting.
Think about brushing with the grain of your hair, working from the bottom up. Avoid dragging the brush through the applications near your scalp.
Applying Product: Extensions tend to be dry, so healthy hydration is key! A light leave-in detangler or leave-in conditioner makes detangling easier and protects the strands from damage. Next, apply an oil or serum to seal your ends (both your natural ends and the extension ends).
If your hair needs extra moisture, finish with a leave-in repair cream on your natural hair ONLY. Avoid applying protein treatments or heavy conditioners to your extensions, as this is not necessary and can make the wefts crispy.
Blow Drying: Before blow drying your extensions, separate the rows and dry each row individually. Use your paddle brush or round brush to smooth your natural hair and extension hair together. Be careful to get each row 100% dry to prevent itching or chafing.
Heat Styling: Extensions open up TONS of fun hairstyling options— get creative and enjoy that mermaid hair! Many clients love to curl their hair extensions because the style holds for longer. Before heat styling, always apply a heat protectant to both your extensions and natural hair. Set your iron or heat tool to the lowest effective setting (ideally under 320 degrees) to avoid scorching or drying out your extensions.
Protective Styling: Every evening before bed, work 3-4 pumps of hair oil or serum through your hair from mid-shafts to ends. Then put your hair into one or two low, loose braids to prevent friction and tangles.
Headed to the beach, ocean or pool? Before swimming, wet your hair and saturate the strands with a leave-in conditioner or hair mask. Comb the conditioner through your strands and secure your hair in a braid or bun. Rinse your mane out thoroughly after your swim!
While hand tied hair extensions require daily upkeep, it's very manageable once you get into a rhythm. And the extra self-care will pay off with shiny, healthy and luscious hair!
How long do hand tied hair extensions last?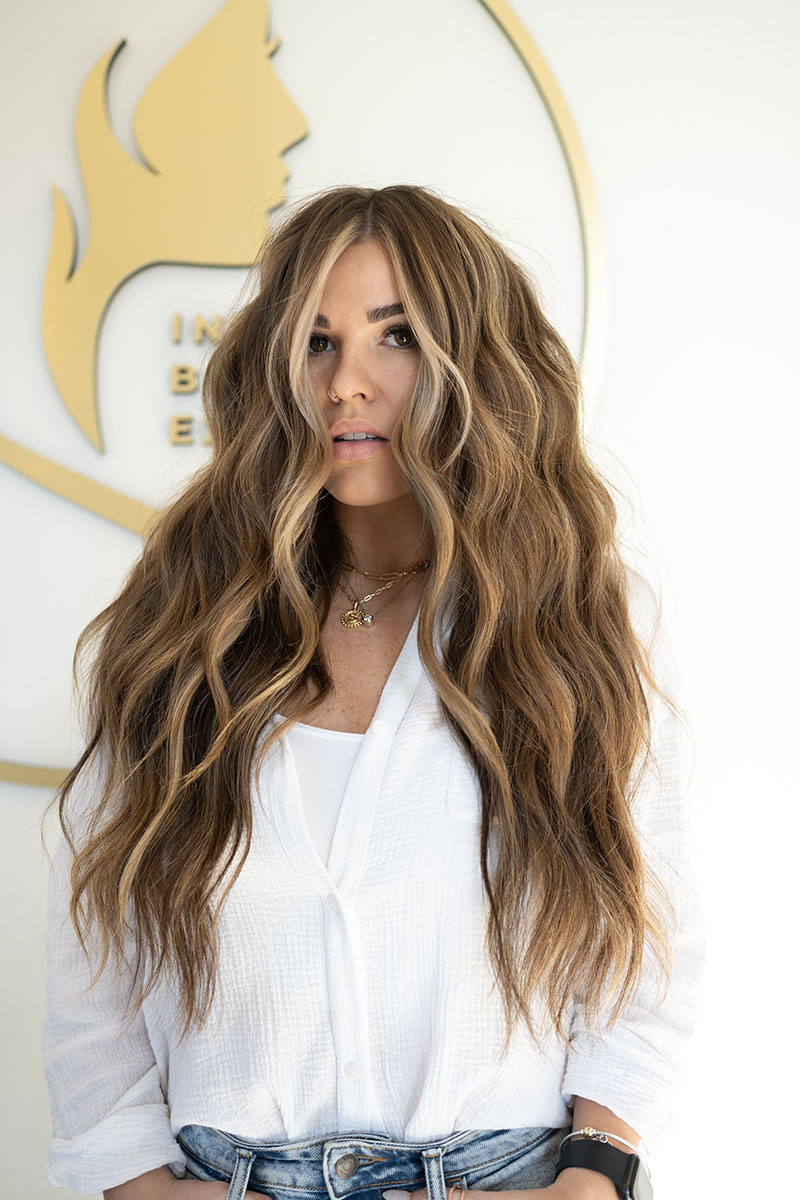 Hand tied hair extensions last for 6-12 months with proper care and use of recommended professional products. High-quality, 100% real human hair extensions are recommended for best results. There are many sources for hand tied hair extensions. You can get wefts that are sourced from different parts of the world. Asian, Russian and Indian are the most common. Your licensed stylist may trim the extensions periodically to remove any damaged ends.
The #1 Most Requested
Extension Method
JOIN OUR GROWING COMMUNITY OF IBE® CERTIFIED STYLISTS
How do you sleep with hand tied extensions?
Short intro about how to sleep with hand tied extensions, then explain the proper way to sleep with hand tied extensions step by step. Example below:
With all the time and resources you'll invest in your hand tied hair extensions, you'll want to ensure that you care for them properly, especially when you sleep! There are a few ways to make sure your hair remains beautiful and luscious, day after day.
Sleep On a Silk Pillowcase. to prevent your hair from getting tangled while you sleep. Sleeping on a silk pillowcase is not only good for your skin (helps to prevent wrinkles); it's also great for your hair. Silk pillowcases are better than any other pillowcase because it creates less fiction to your hair compared to other pillowcases.
Place Your Hair in a Braid or Low Ponytail Before Bed. By tying your hair in a braid or low ponytail (using a soft nylon hair tie), it will prevent your extensions from becoming knotted.
Use a Hair Serum Every Night. Adding a serum such as the Goldie Locks® Signature Hair Serum will keep your hair ultra hydrated by locking in moisture — leaving your hair silky smooth.
Do Not Go to Bed With Wet Hair. Damp or wet hair before bed can cause severe tangles, knots, and can even cause damage to your hair follicles.
Brush Your Hair Before Bed. Brushing your hair daily before bed will help remove tangles from your hair. Brush from top to bottom slowly to avoid damage.
Can you wash your hair everyday with hand tied extensions?
You don't need to (and shouldn't) wash your hair everyday. Most stylists recommend washing your hair once or twice a week at most to maintain the integrity of your extensions. You'll need to be gentle to avoid unnecessary tangling.
It is recommended you brush your hair first before wetting it. Also, it is imperative to separate the rows while shampooing to ensure the attachment points get thoroughly washed.
For the best results, condition your extensions with Goldie Locks® Ultra Hydrating Signature Conditioner or another professional product every time you wash them, and deep condition every other week to keep the hair shiny, supple and moisturized.
When wearing hand tied hair extensions, dry shampoo can also be a great option for keeping hair fresh between washes. Applying a hair serum to the mids and end will greatly extend the hair through the week as well.
Can you swim with hand tied extensions?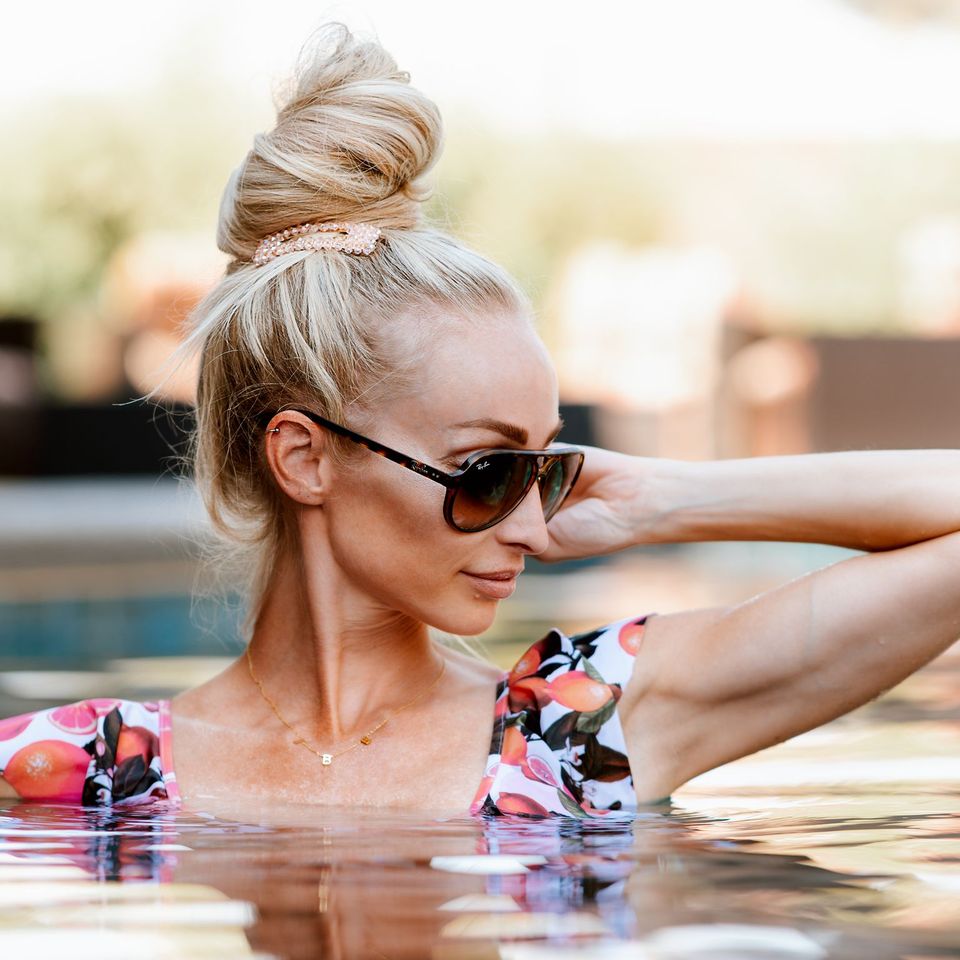 Swimming with hand tied extensions is absolutely possible. However, you MUST take the proper precautions and follow a few key steps before entering the water.
You must make sure to wet your hair with tap water BEFORE entering the pool or ocean. Once you have dampened, you then need to generously apply a leave-in conditioner and comb through to evenly saturate. Secure your hair in a low ponytail with a nylon hair tie, tightly braiding the remaining hair. This hairstyle will ensure that your hair won't tangle or mat as the waves ebb and flow.
Once you are out of the water, immediately rinse the hair with water and follow with a shampoo and hydrating mask from a professional line such as Goldie Locks Ultra Hydrating Shampoo and Hair Mask. Then apply a serum to the mids and ends.
How often do hand tied extensions need to be moved up?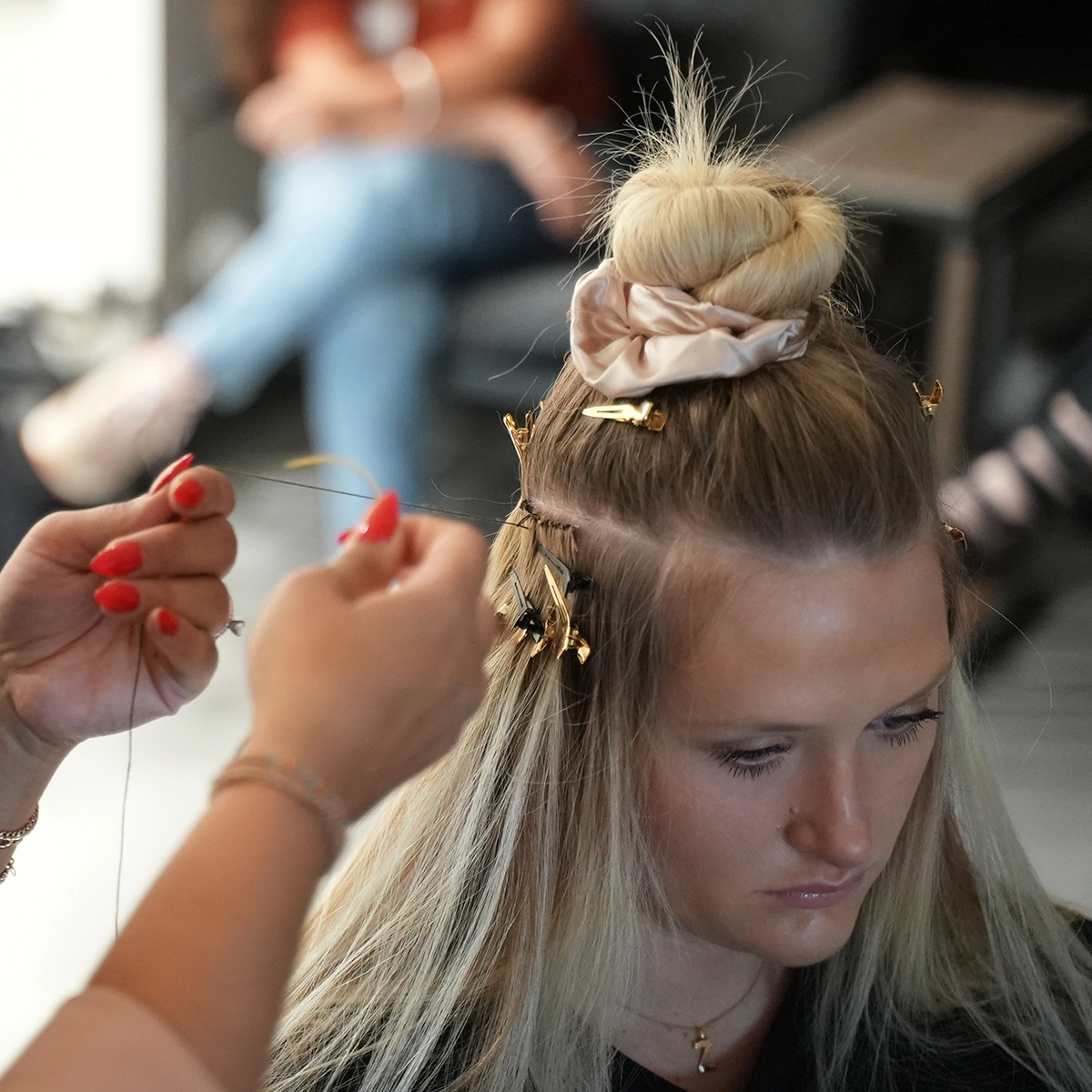 Hand tied extensions should be moved up every 6-8 weeks as the hair grows out. Depending on the method used to attach them, that time frame will vary.
Some methods require a "mini move up" around 3-4 weeks. This is where the stylist essentially opens the bead and pushes them back up closer to the scalp. This is not the healthiest option for the individual's hair or scalp.
The gold standard for installation methods is Invisible Bead Extensions®. This method is the most durable and long-lasting method on the market. At the maintenance appointment, the certified stylist will completely remove the row, comb out the natural hair shed, and reinstall. It is still recommended you do your first re-installation at 7 weeks, but most women can extend well beyond that while wearing IBE®.
Can hair extensions make your head itch?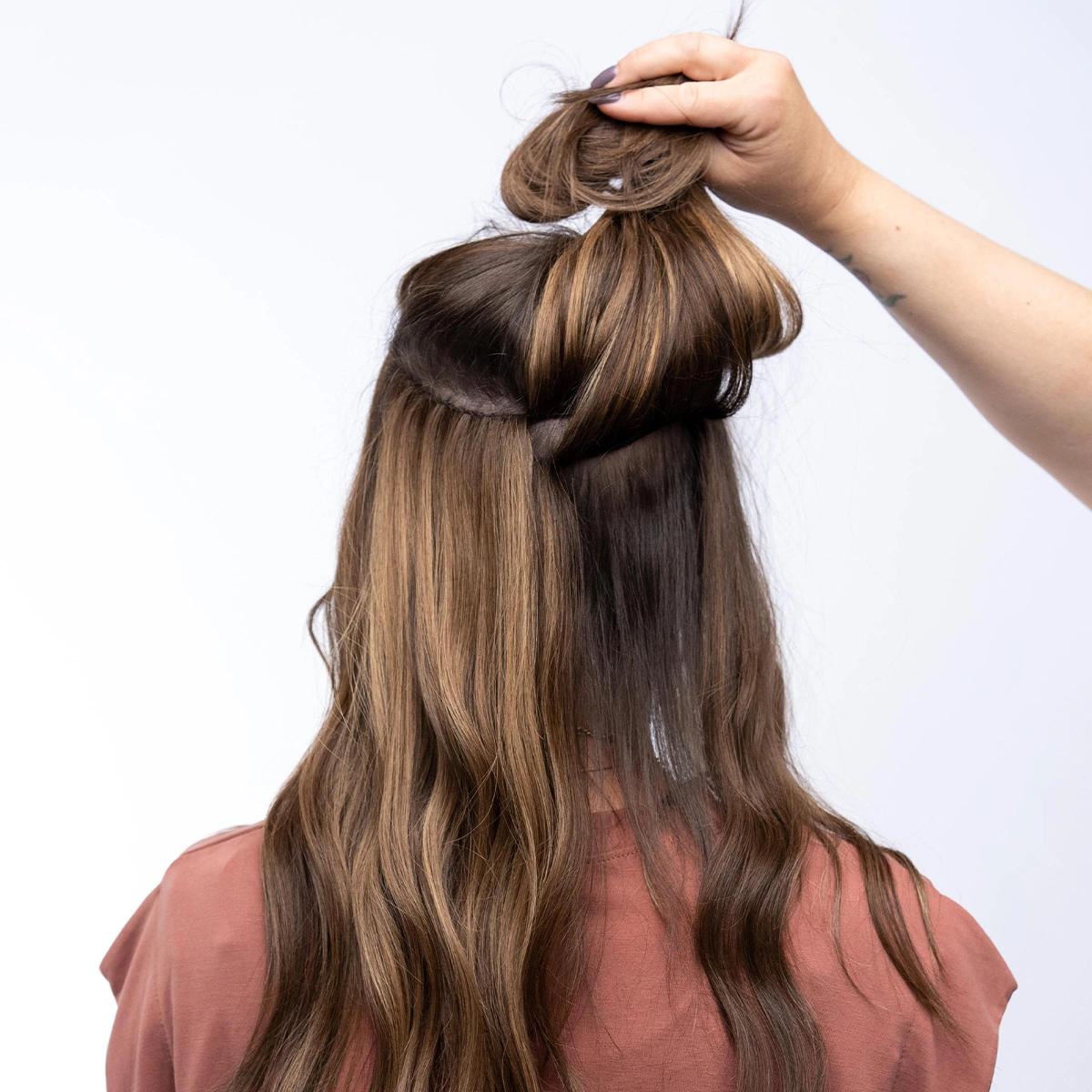 Mild itching for the first week is somewhat common. However, it should not persist or become uncomfortable in any way.
With the initial install of hand tied extensions, it may feel foreign to have something attached at the base of your hair follicle. It should not be extensive though and you'll want to reach out to your professional stylist if the itching persists. An install that is haphazard or sloppy, as well as one that is pulling the hair too tight, can be the cause of persistent itching. Choosing a method such as IBE will help to ensure that you don't have the annoying itch or persistent discomfort.
You can also experience itching if there is product build up on the weft line. Using a detox or clarifying shampoo, while focusing on the weft line can drastically reduce the amount of buildup. This will help to keep your scalp clean and free of iritants.
Can I color my hand tied extensions?
Hand tied extensions can be colored with a professional coloring system. However, this process should be done only by a licensed professional.
A permanent or semi-permanent color can be used to change the tone of the extension hair or darken it. Custom colorization is a pro when it comes to exactly matching your hair. Your professional can add a root that will melt with yours so your hand tied extensions are undetectable. It is NOT recommended to lighten the hair with any bleach or lightening creme, as it will compromise the integrity of the extension hair.
Hand tied extensions vs tape in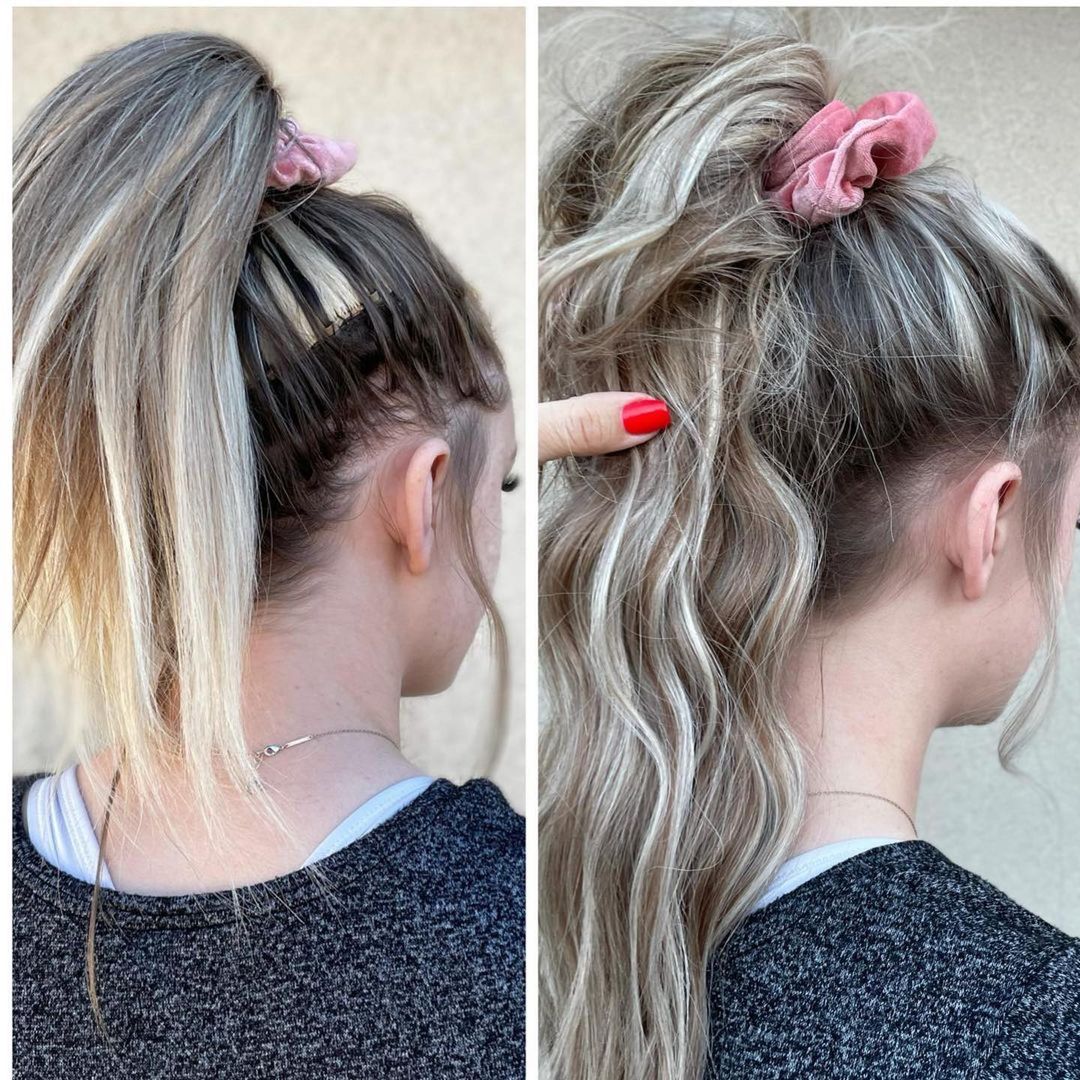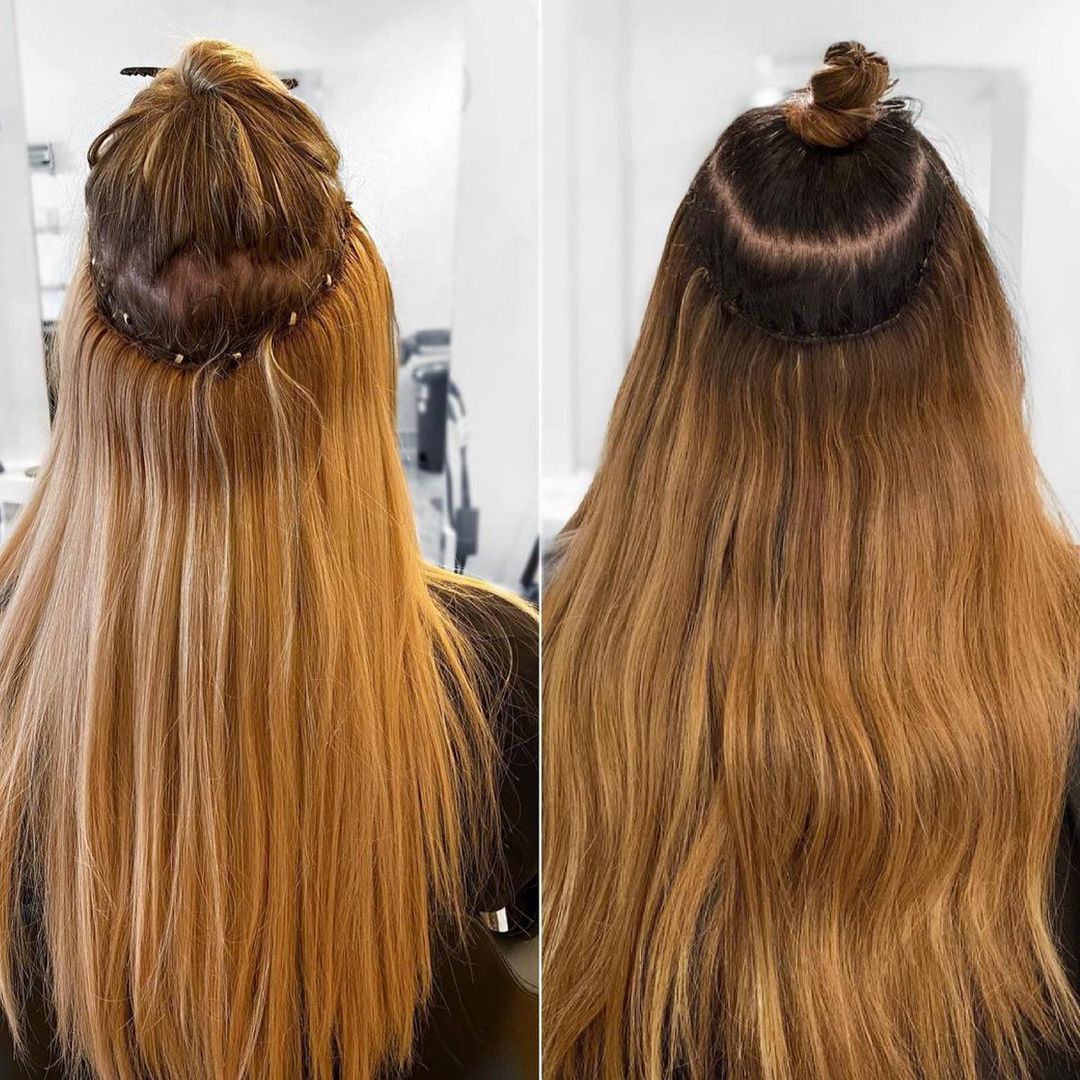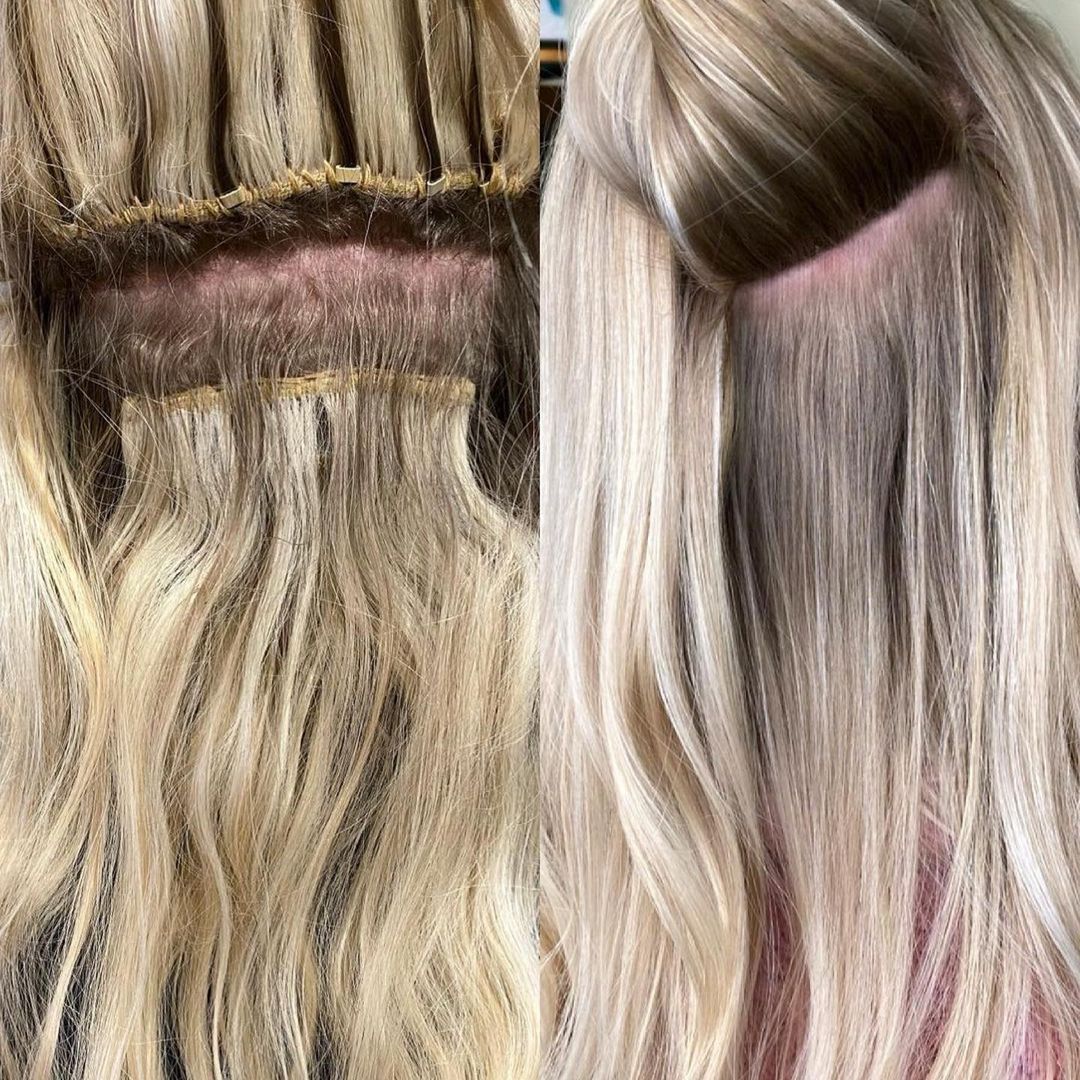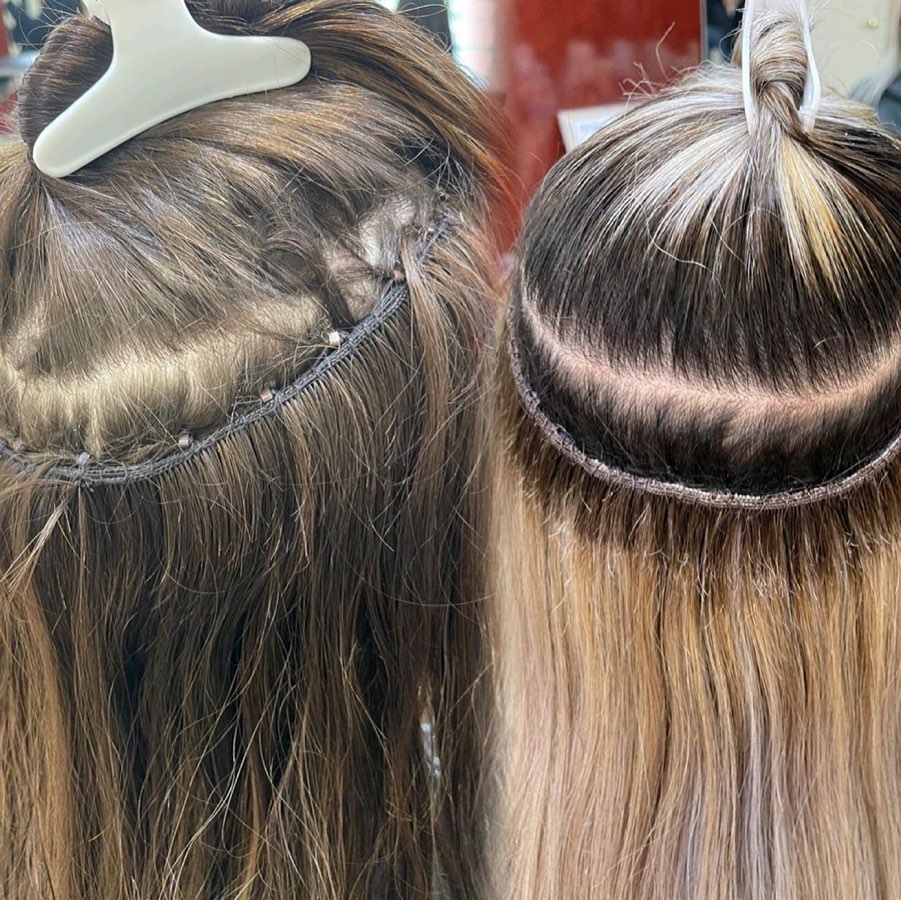 Hand tied extensions can be so much more versatile than tape-ins. For those women who are active, tape-ins can be potentially problematic as they work out and lead an active lifestyle. The adhesive from tape-ins can wreak havoc for those that sweat, as the sweat breaks down the adhesive bonds and often the tape-ins slip right out!
For those with fine hair, hand tied hair extensions will be easier to conceal, even once the hair begins to grow out. If you have a sensitive scalp, hand tied extensions are the best option because tape ins utilize adhesives which may be irritating. The options to customize the perfect weight that matches your natural hair density will always be more numerous with hand tied extensions.
Lastly, hand tied extensions allow for a larger number of natural looking hairstyles like ponytails and other updos and, unlike tape ins, they can achieve a more voluminous look without weighing hair down or seeing tape or tracks. What good is spending your hard earned money on extensions only to have them visible?! Combined with an installation method like Invisible Bead Extensions®, you will be able to wear your new investment any way you want and feel completely covered when the wind blows.
Hand tied extensions vs sew in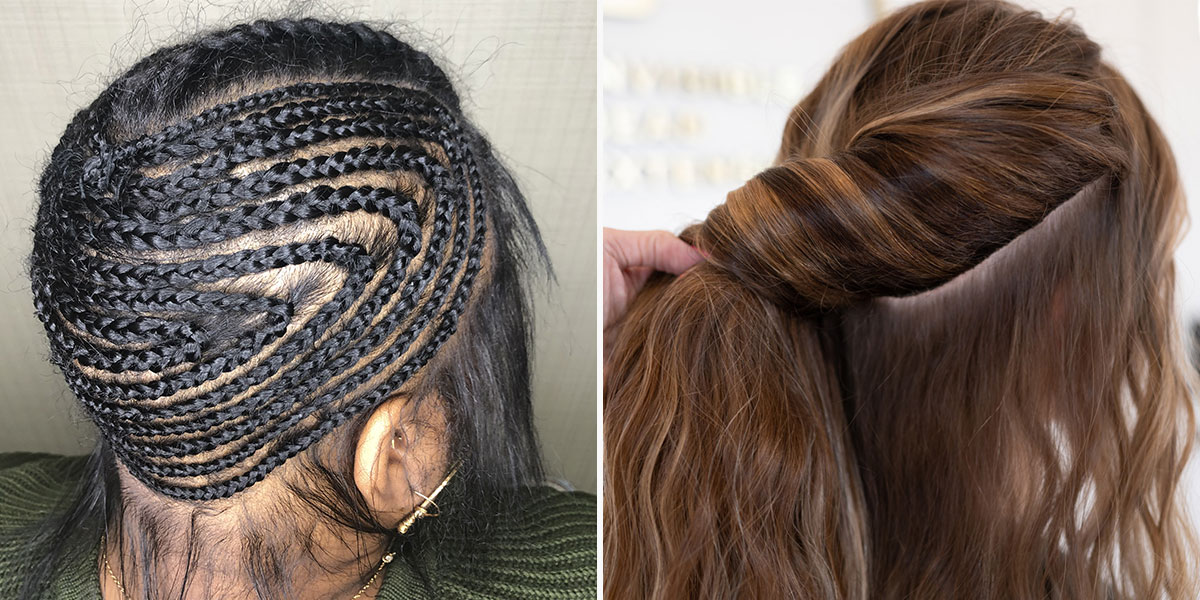 Hand tied extension methods are quite different from what is known as a sew in.
Your method will be chosen based on your specific wants and needs from your extensions.
A traditional sew in is a protective style which uses braid as a foundation to support the wefts that are sewn into them and around them. With a traditional sew in, a machine weft is used.
Hand tied methods are not a protective style because natural hair is still exposed between the foundation rows. Also, beads to create the foundation and then the hand tied wefts are sewn around that foundation. With hand tied extensions there is more flexibility and access to your scalp, so your natural hair can be a part of the overall look.