Styling celebrities with voluminous looks and giving them a new appearance sounds fun until you know the real kick needed to create those charismatic hairdos. Well, the journey of being a 'good' stylist to 'best' demands a little more than just knowing the world of beauty. If you want to escape the rat race, your passion, ambition and mostly courageous decisions create an unshakable foundation. At least that is what Turley believes! So we caught up with Mckenzie Turley, Founder of Invisible Bead Extensions®, for understanding the real world of cosmetology. 
Mckenzie Turley is one of the thriving entrepreneurs and IBE® coaches in the beauty industry. While we often see women nailing their natural-looking hair extensions, it was Turley who offered beadless extensions to the industry. It became a big hit while completely changing the way stylists looked at extension installs. Tempted to learn about how IBE® did exceptionally well even during the 2020 slump, we bagged in some actionable tips from her. 
Starting with the foremost, she emphasizes how investing in your education can do wonders for your future. "If you refuse to invest in yourself and your education, don't expect your clients to invest in you." After training numerous stylists with her expert techniques of creating seamless extensions, Turley knows how lucrative training and continued education can offer bells and whistles to a styling career.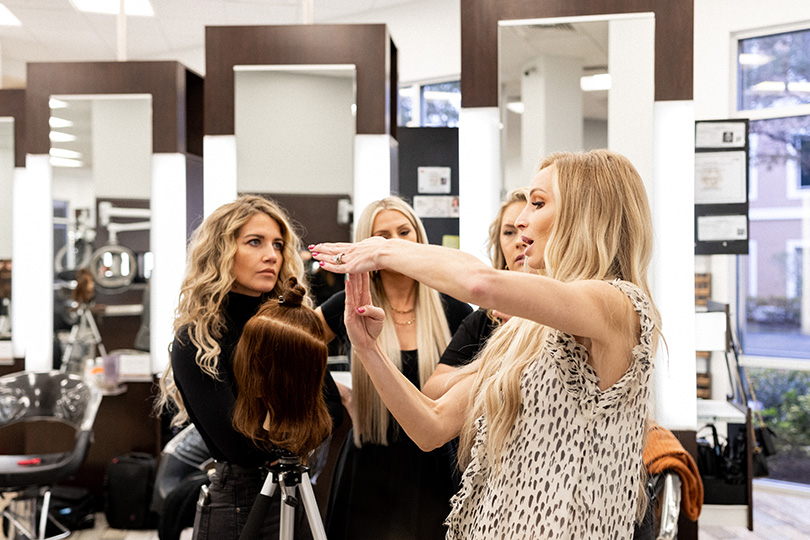 You ladder up when you ditch your old ways. People often believe in the idea of a 'stringent plan', but Turley believes in embracing new ways of learning to explore different avenues to innovate. For her, it was her chemistry with changes that pushed her to become better behind the chair. She states, "It's important to be open to evolving and changing the way of doing things. This idea is what started the fire in me to create a new way of installing extensions".
"Comfort is the enemy of progress." Well, we all want to grow but do not want to break our relationship with comfort. That is what Turley reminds us about in her next advice. She states, "To win big in business, you should be able to ditch the comfort from your life." As an aspiring stylist, you should be getting into a habit of working on your toes. "Any time you're comfortable, it means you're not growing or pushing the limits", says Turley.
When it comes to the styling journey, we are eager to make profits or become perfect stylists. Well, amidst all the hustle of bagging perfection, we often skip the checklist of small tasks and progress. That is what Turley mentions in her fourth tip, "Progress over perfection." She highlights how life is more about creating meaningful executions and less about striving for perfection. If you try to achieve perfection, you'll fall short every time. Strive for progress instead!
The #1 Most Requested
Extension Method
JOIN OUR GROWING COMMUNITY OF IBE® CERTIFIED STYLISTS
While it is understandable that you have a lot of room to accommodate new people in your life, Turley believes in the idea of being wary of your social group. "It's so easy to be influenced by negativity, and it can easily dampen your efforts to make a change or be successful", says Turley.
As Mckenzie continues to engender innovation and inspiration in the industry, her IBE® training has successfully introduced countless stylists to the world of cosmetology. Creating a global brand with a network of over 5000 stylists around the world and building a company that amassed over 8 figures during its first 24 months in business, Turley's equation with her passion and creativity always keeps her ahead in the game!