Welcome to IBE®
The #1 most requested hand-tied extension method
Invisible Bead Extensions® was specifically created to solve 3 major problems encountered with the different types of hand-tied methods available.
1st and foremost was the damage to the client's hair and scalp from tension, over-direction and haphazard installs.
2nd was client discomfort due to the contact of beads on the scalp and the common "clamp and crank" beading approach.
3rd was the complete lack of versatility and styling options that clients wearing beaded rows experienced. Exposed beads, bonds, and braids were all a woman saw when she wore her hair up.
With our patent-pending method and a revolutionary education model, Invisible Bead Extensions® has said goodbye to all 3 and helped stylists across the world to do the same.
Apply now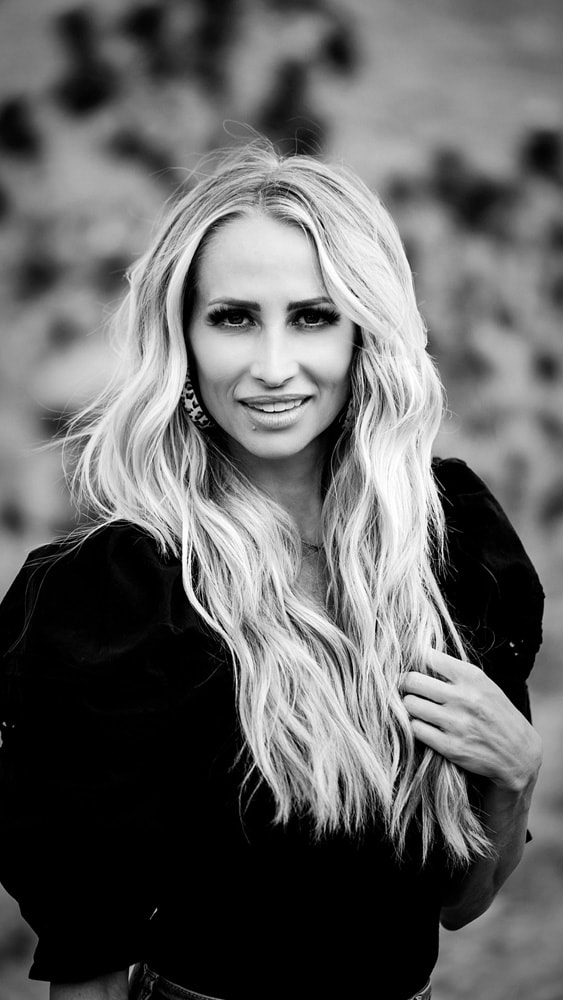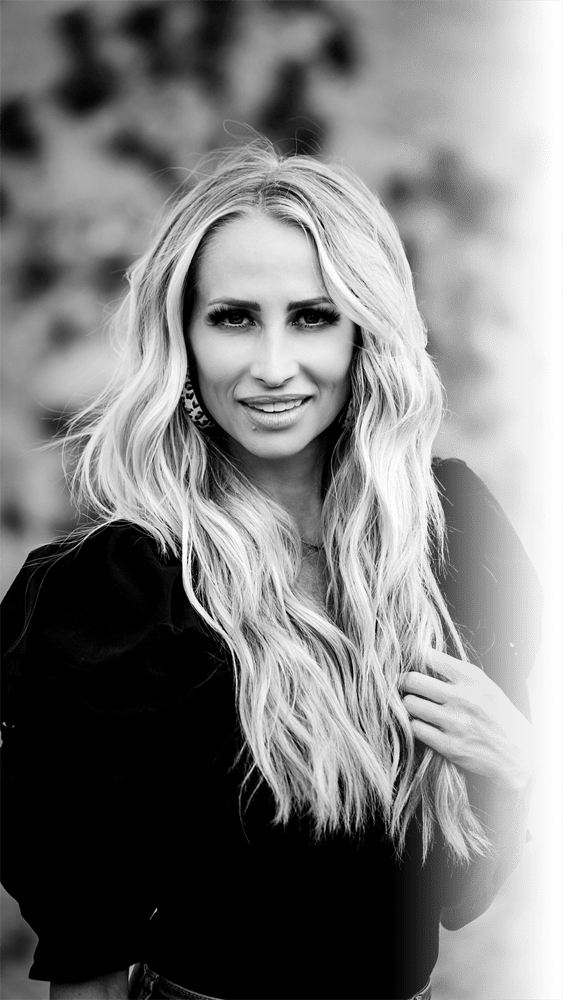 #theoriginalflipup
About IBE®
If you have ever attended an extension certification class, you can without a doubt relate to the common practice that was frustrating if not infuriating. Without fail, at the end of each class, I left being "CERTIFIED" yet still had so many questions regarding the method or how to apply it behind the chair. I wasn't ready! I had no mentor, no community, and nowhere to turn for support.
In creating the IBE® certification program, I vowed to change the way stylists were educated and bring something NEW to the industry. I developed a program focused on the stylist and setting them up for success. As an IBE® artist, you will earn a real "CERTIFICATION" in the original Invisible Bead method that has revolutionized the extension industry. You will understand the how, what, and why behind the method and be fully confident in correctly applying these skills behind the chair....Without ever having to travel anywhere.
IBE® brings a hybrid of technology and one-on-one mentoring to your education experience. All IBE® modules and training sessions are shot in high definition and broken down into 3 different certification sections. You can pause, stop, rewind and work at your own pace and always have a front-row seat. One you are accepted into the program, you will begin the one-on-one mentorship with your hand selected IBE® Master Mentor. This Mentor is DEDICATED TO YOU! Finally, that personal coach to answer every question and explain every detail.
We are so confident in the education that we are the ONLY education company that provides a 100% money-back guarantee. Upon full completion of the IBE® program, if you don't feel it was worth every penny you invested we will refund every penny, NO QUESTIONS ASKED!
We did not become the most requested extension method and brand by chance. That has come from creating an education program that works and a method that women across the globe can't live without. The social proof is everywhere!

Apply now
IBE® Certification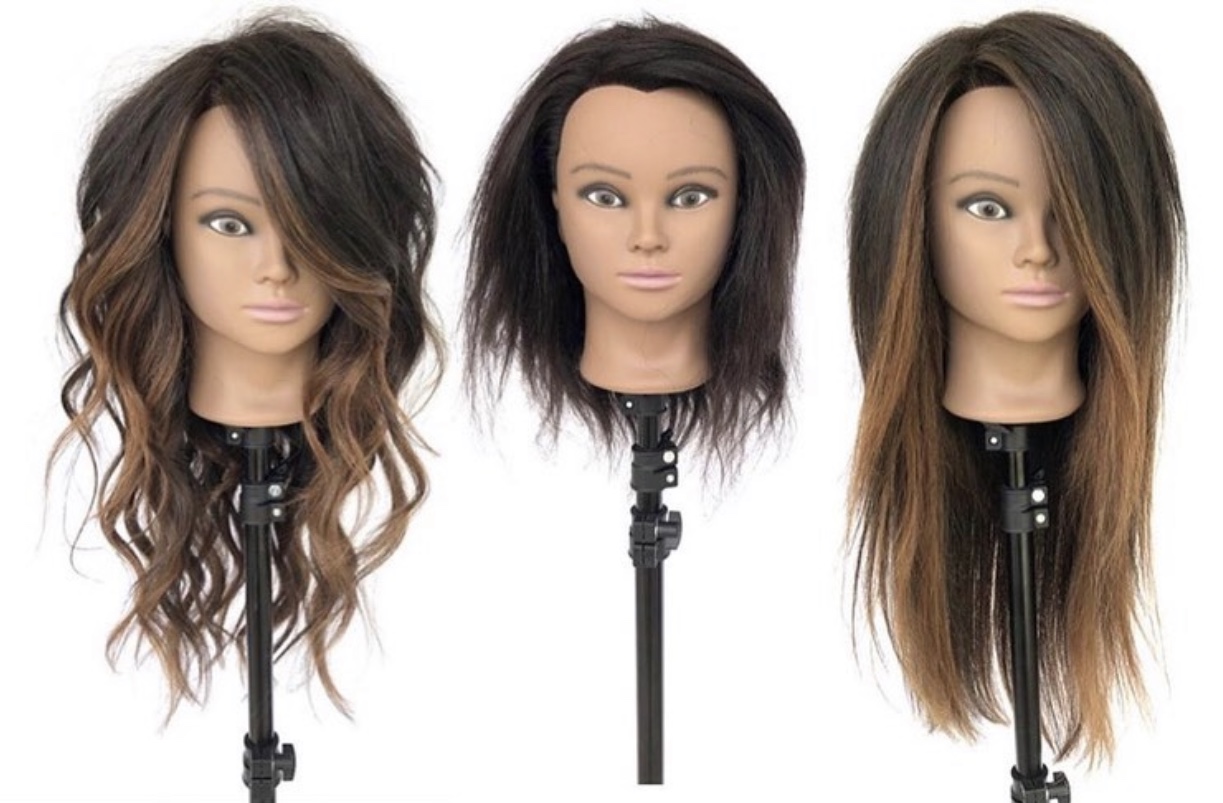 Level 1
The Basics
You will begin by learning the basic method of IBE® with practice on a mannequin. You will be taught everything from consultation to fitting the right length and color of hair. Sectioning, placement, beadwork and foundation techniques, weft placements, and proprietary IBE stitching techniques. Learn all these through our innovative online education portal or right in the IBE® mobile app along with your one-on-one mentor. Completion and sign off from your mentor in this level will ensure you are comprehending the method and becoming confident in its application behind the chair.
Apply now
Level 2
Step up your game
Once your mentor has signed off and level one is complete, you will step up your game. In level two, you will work through an entire new section of high-definition training modules and move working on a live model. Your work will be evaluated on one row then you will move on to a double row install. You will be taking everything you have learned in section one and putting it into real-life practice. Your mentor will be digging in deep at this point and giving you dialed in personalized feedback and coaching. They will be making sure you have every single question answered and that you feel 100% prepared and confident to take your IBE® work behind the chair.
Apply now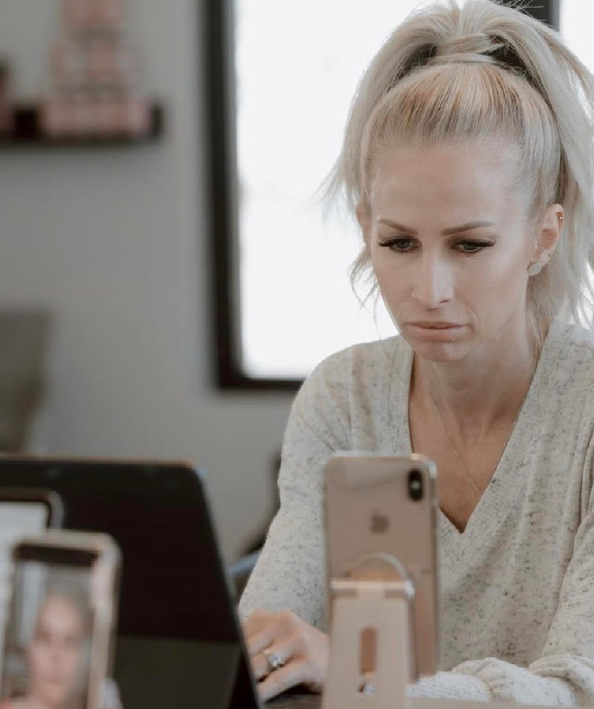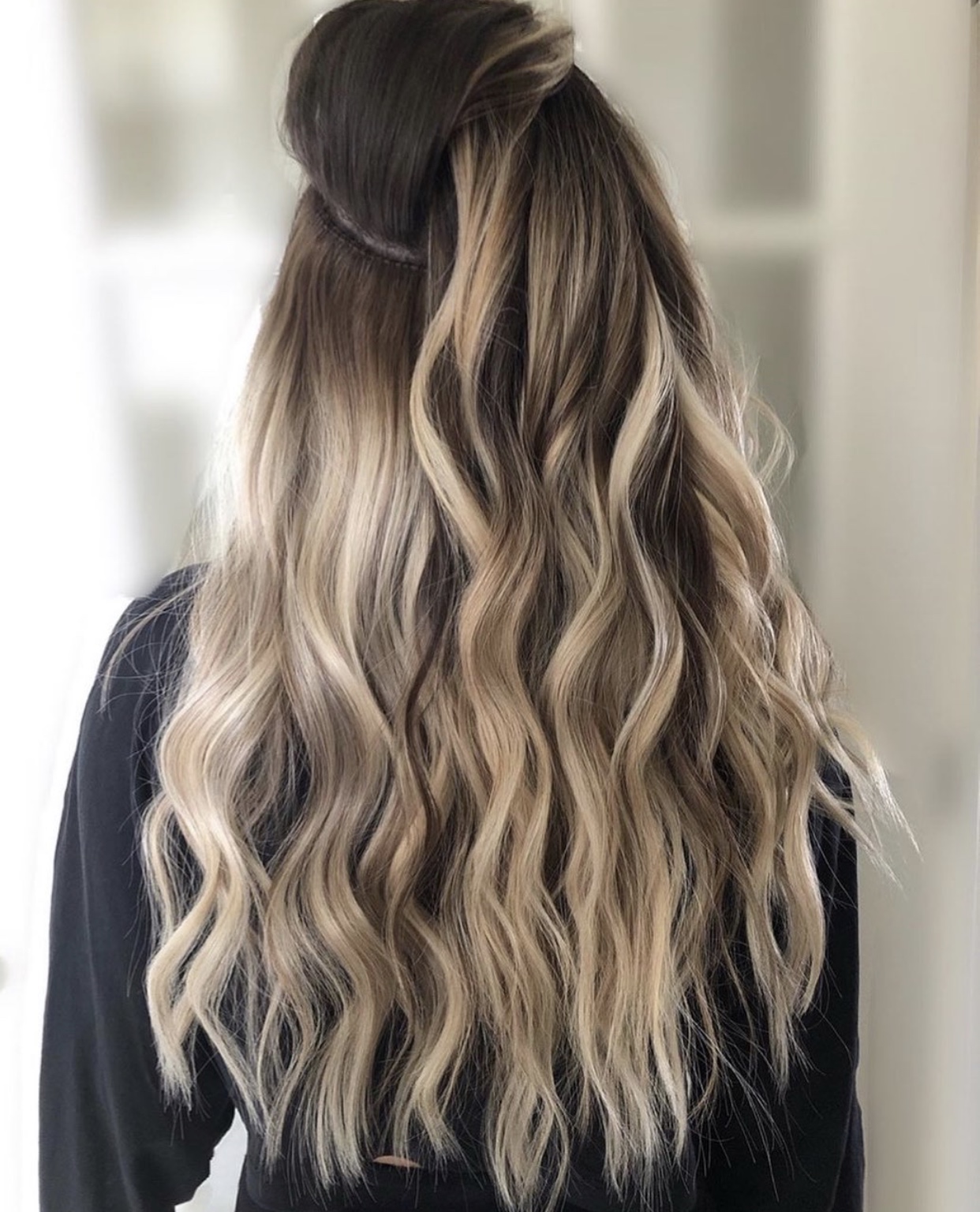 Level 3
Get certified!
With level one and two in the books, lets put some icing on the cake! We are going to dive into social media training and how to market the IBE® method. You will be taken through the process of how to get clients seeking you out as an expert extensionist and booking consultations. When level three is complete, you will join the ranks of being a certified IBE® stylist and start to enjoy the fruits of your hard work. Welcome to the IBE® family!
Apply now
IBE® Certification tool kit & Kitsune Color Ring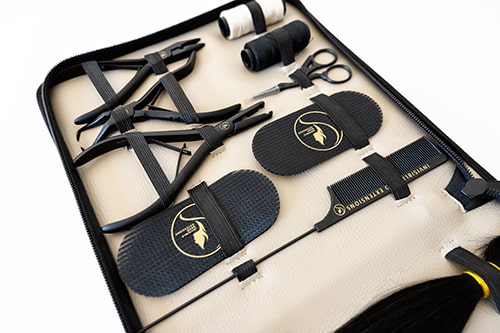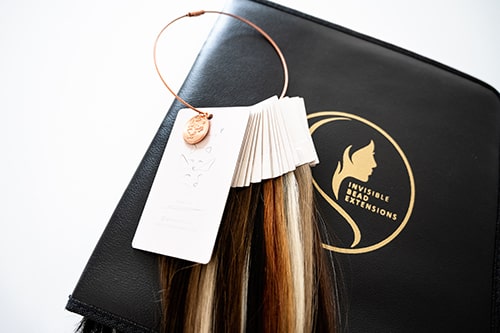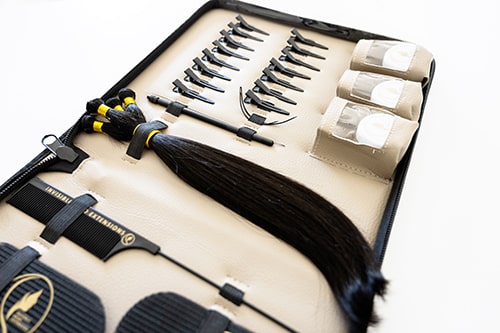 Every stylist accepted into the IBE® certification program will recieve the IBE® starter tool kit. This kit would cost over $750 if you purchased all the items individually. We have included nothing but top of the line gear from a triple set of custom-fabricated IBE® pliers and bead removal tools, to three colors of IBE® custom beads, thread, clips, practice wefts and everything else you need to work through your certification. Not to mention, every new stylist will receive a Kitsune Color Ring as part of their starter tool kit!
Why Stylists Give Us 5 Stars
The stylist locator and your outstanding efforts on marketing via socials just makes me want to cry! Grateful tears, of course! I was worried that with most of my clientele being color and color corrections, that it would be hard to to bring in new IBE clients. I was SO wrong. The stylist locator and IBE insta page have done almost all the work for me and I am so grateful.
I have only been back to work for 9 days and 4 of my clients already want IBE. YES!!! Thank you. Almost every night I have been rewatching videos. Every time I watch I learn something new again. I haven't been this motivated to start something new in a very long time.
Hey McKenzie! I'm exhausted and in pain from standing so long, but I wanted to say thank you. Because of IBE I can help my family financially AND only work two days a week! I only 3 clients in the last two days, but I made more money that I would have if I worked an entire month doing other hair services! I will never be able to say thank you enough.
I just have to say that I am so so happy to have joined the BOOST program. This has helped me so so much. Amazing tips and tricks. Yesterday I reached out about pricing and quickly had a response. Can't wait for the Masters Program!
I am SO beyond happy you created the literal best method out there! I stopped doing extensions 2 years ago because I couldn't find a method that I felt confident letting my clients wear in their everyday lives. Then I found IBE! Thank you, thank you for sharing your knowledge and your brand!
Seriously having a blast! This is by far my favorite, yet most challenging method I've ever been certified in. I love going to work! I worked 3 days last week and made $4,557!
I never would've thought 7 months after certification I would be an extension only stylist! I have at least 4-5 women reach out every day. At least 1-2 new deposits per week! I definitely need a full time assistant!
Thank you thank you thank you Mckenzie. I can't believe how much time you took and how many thoughts you shared. Most people are just happy to grab your money and be done with it and I've never experienced a program before where you had to in a sense audition to be accepted and then you had to work really hard under strict guidance to be able to get certified. This in my opinion is how all classes should be and the fact that you take so much pride in your product makes me very happy to be a part of it. It makes me realize that I could recommend my clients to any other certified stylist if I was unable to take care of them because I was going away on vacation for example and I know they would be taken care of correctly. It definitely makes it seem more like a family. I am really excited to use this wonderful method and I really look forward to meeting you in person in the future. Your method and your classes are truly perfect and I have really enjoyed every minute of it.
Thank you so much!!! I have to say that I have taken MANY extension "certifications" over the last 13 years and this one was by far the best. Most companies don't actually care if you can truly do the method. I really admire and respect your education model because I know how much work it takes and am thankful to have found you!!! ❤️❤️❤️
I can't wait to see where my career goes with these extensions! I just announced I was certified last week and I have already had 7 consultations!
I have been absolutely loving this method I cannot thank you enough for your detaIls and all the hard work that went into creating this and making it as amazing as it is. My clients have absolutely been loving the transition and have been more than willing to to pay a little more for it. I have gained quite a few new extension clients and I would say about 5+ have been from the IBE stylist finder.
I know you probably get these a lot but I was curious how it would be for me. WOW! Officially certified Friday and 4 clients now have IBE and 6 others booked and deposits down. My heart is full! So glad I took this new route in my career.
I love the IBE system, best investment I've made in the past few years for sure, and having the stylist locator has been a goldmine for me! Very happy girl right here, keep up the great work, its a blessing!
Girl, I just want to say thanks for being you and creating something only you could have perfected. Since I started training with IBE in September, I've been able to move from booth rent to opening my own salon in November. That was in two months. It's now July and I'm booking out the rest of the year and am closing my books for new clients until I can get an assistant. Do you realize how much growth that is in such a short time?! It's crazy. I'm finally financially stable enough I feel like I can breath. I'm caught up on bills, working on my credit and building a fatter file. I'm adulting and before I was just surviving. Thank you.
I can't even express what this method and training has done for my career! I am give my clients THE BEST extensions for their hair, scalp and their confidence! I'm so grateful you have shared your talents with the world and I cannot even begin to tell you what this has done for my confidence as a stylist... But most importantly my clients are happy! Period. There is nothing like invisible bead extensions and the result you get when you take the time to master your craft. Thank you for that opportunity. Thank you for showing me how to be a student and reteaching myself out of some BAD HABITS. If girls need a reason to take this course .. do it for yourself because through this method I have found what I'm really capable of... and it's lethal 😜🤘🏽
IBE paid for itself in less than 2 months. The increase in my business has been out of the roof. The IBE education difference is the fact that the education never stops! I've got continued support from engagement groups and through the BOOST app I can ask questions at any time with immediate response.
I just wanted to say I'm so glad I crossed paths with you and learned IBE. Thank you for months of frustration for it lead me to this week. A good week for me before was about 2500. Double booked and exhausted. I did 6700 this week! Not double booked and even though I work the same hours I'm not as mentally drained. There's something about the sewing that is weirdly calming for me! I can't wait to see what's in store once I perfect this! Thank you and you've changed by professional life for the better!
Thankful for you and IBE… in the middle of a pandemic, not being allow to double book, I had my best month of my career in June. My savings is back to where it was before the first shut downs so I'm ready for the next one!
I just wanted to let you know that I'm obsessed with IBE. I NEVER had any interest in doing extensions until I researched this method. Since getting certified my business is booming. When i say booming, I'm literally having to refer out other services to get my extension clients in! I already have a waiting list thru August for new installs. I jsut can't believe the response I've gotten and the REVENUE it's bringing in! Thank you!!
IBE® paid for itself in less than 2 months. I was one of the first 100 people selected to take the IBE® course and now officially 11 months in. The increase in my business has been out the roof and I've slowly been transitioning to color, IBE®, and eyelash clients only.
I love the IBE® system, best investment I've made in the past few years for sure, and having the stylist locator has been a goldmine for me. Very happy girl right here, keep up the great work, it's a blessing!
Thank you for the best extension course EVER!!!! I have so many new extenions clients coming in soon and more messaging needs it's totally insane!! This changed my career in the best possible way.
Thank you for establishing such a stylist positive brand. I have gotten so many requests for new services from the stylist tracker! Worth every penny!
This community is so much more than an extension class. I truly feel like everyone is helping each other and lifting each other up, my only regret, is not starting sooner. So thankful for this new family!
See More
IBE® Hair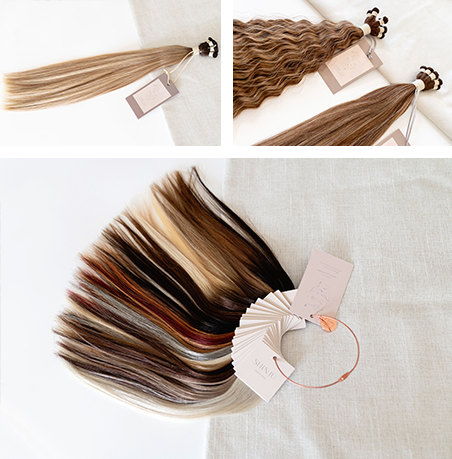 One of the biggest concerns and problems that extensionists face in the industry is access to quality hair.
At IBE®, it is part of our mission to make sure that our IBE® family ALWAYS have access to high quality hair when they need it. For this reason, IBE® developed and launched its own Luxury hand tied hair line "Kitsune".
Kitsune is a 100% Russian Slavic hair and is exclusively available to IBE® stylist. Also, our IBE® stylists get this hair at a significant discount from retail. We have also partnered with Everything Hand Tied "EHT" to give our stylists access to an Asian hand tied hair line as well.
We have structured private supply lines and hold our own private stock of the most coveted lengths and colors. This ensures that our IBE® artists will never be left without access to the right hair in the right color at the right time. As one of our own, you can access and purchase hair from the convenience of the IBE® mobile app or in the IBE® store.
IBE® Boost
Invisible Bead Extensions® has really gone a step further for our stylists. As mentioned above, ongoing education, brand support, and encouraging community for stylists in the extension industry is lacking to put it nicely.
Introducing IBE® BOOST!
Access to the custom built IBE® mobile app and tight-knit community of Certified, Master and Elite stylists around the world. Here you can post pictures and videos, download promotional material, and get exclusive stylist discounts from our industry partners. You can interact, support, ask questions, and build each other up. Receive answers and correspondence from the owner and founder of IBE, McKenzie Turley as well as our team of Elite mentors. Finally a community that continues to support after you have earned your certifiaction.
Make your mark on our Stylist Locator. All of our certified stylists are listed as certified on our locator page once the training is finished. BOOST will get you an enhanced profile and pin locator on the stylist map. Including profile photo, contact info, and personal or salon bio and links to social. We spend a lot of advertising dollars each and every month to make sure people know to check the map to find a certified stylist. BOOST members reap the rewards of being highly visible on the locator. Only 1 new client a year from the enhanced profile will cover the cost of BOOST at $125 per month.
BOOST Members get an additional 30% off all products in the IBE Store (excluding hair). As well as 24 hour early access to hair restocks.
Masters Continuing Education
Our biggest request over the last year form certified stylist was "We Want More!", so with this request we launched the IBE® Masters Program. This program is for the serious stylist that is wanting to take their IBE and extension career to the next level. Master stylists will earn a higher designation and education level from the most respected educators in the industry. IBE® has put together 4 different Masters courses in specific areas of expertise. Hone in and perfect your skills right where you feel you need the most help. Our first set of 4 courses sold out in a matter of days! We will be holding Masters sessions 3-4 times per year and enrollment is limited to ensure the education is intimate and elite.
Take a look
From the Founder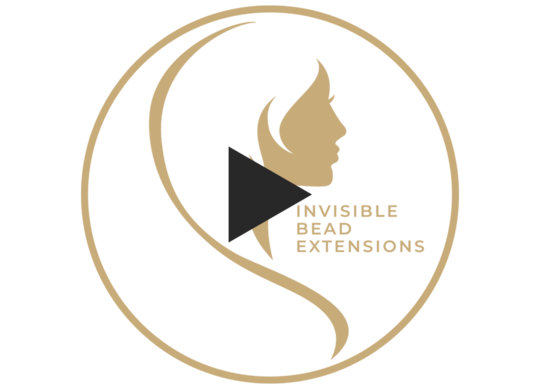 The Power
of a Mentor
Watch Video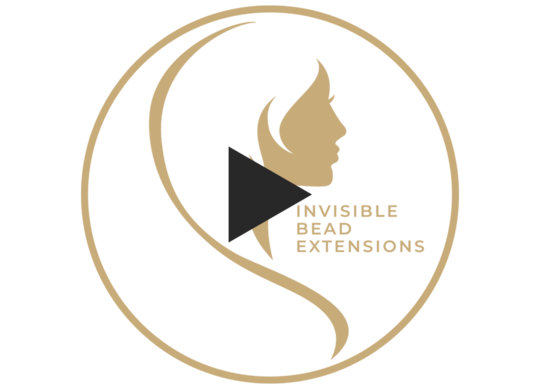 Certify from
anywhere in the world
Watch Video
Education Pricing
Payment Plan
$1,250 USD
$1,250 USD
$1,250 USD
#INVISIBLEBEADEXTENSIONS