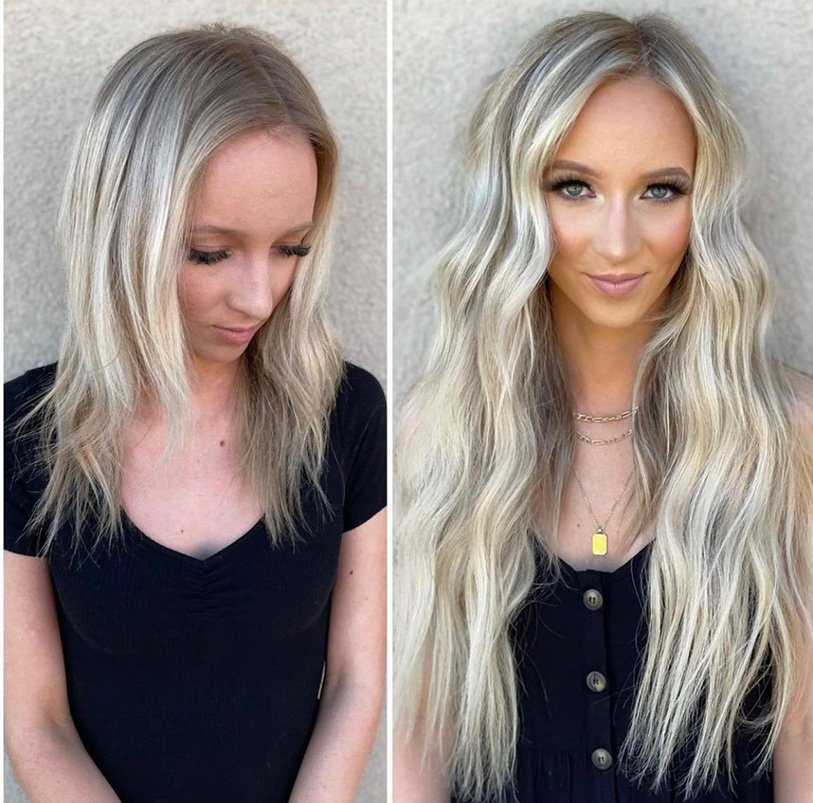 Hand tied hair extensions have taken the industry (and Instagram) by storm, offering the most natural-looking, discreet and damage-free look – especially when combined with a trusted installation method such as IBE®.
In general, the installation process (or method) involves sectioning the hair into rows and then attaching a small bead to a small section of hair at a time. Afterwards, the stylist will sew wefts of extension hair to the beads.
Are hand tied extensions bad for your hair?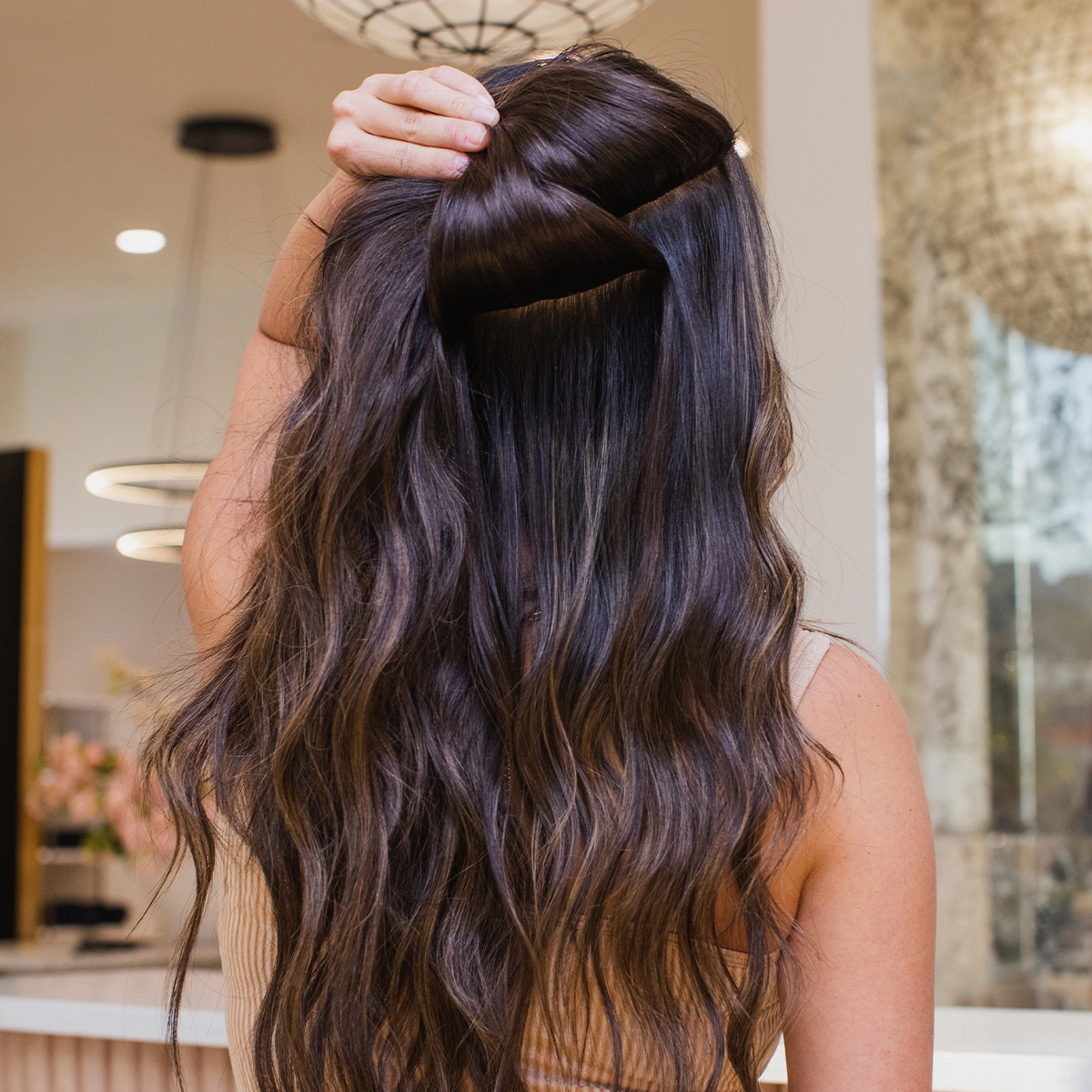 They don't have to be! When using a proven installation method and are properly applied by a professional hair stylist, hand tied hair extensions are not damaging to your natural hair. It's very important to select a well-trained, knowledgeable stylist to ensure that you get the best results.
The IBE® method of hand tied hair extension application ensures that the saying "beauty is pain" need not apply. The wefts are lightweight and when installed by an IBE® professional they won't harm your hair or cause tension in your scalp. It's also important to maintain the extensions as instructed by your stylist.
Can you get hand tied extensions with short hair?
Yes! hand tied hair extensions can be a great option if you have short hair. However, this depends on the stylist you chose to use. When installed improperly, extensions can sometimes look choppy and blunt when applied to short hair.
With an IBE® certified stylist, you can be sure that your extensions will blend seamlessly with your natural hair.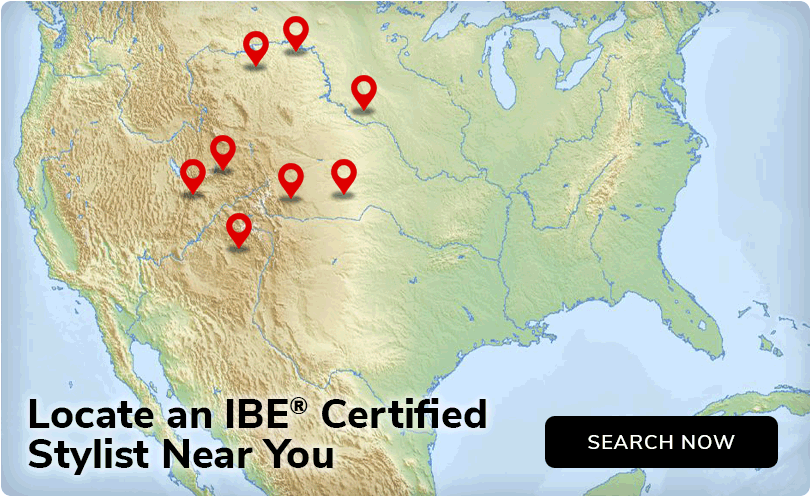 How many rows of hand tied extensions do I need?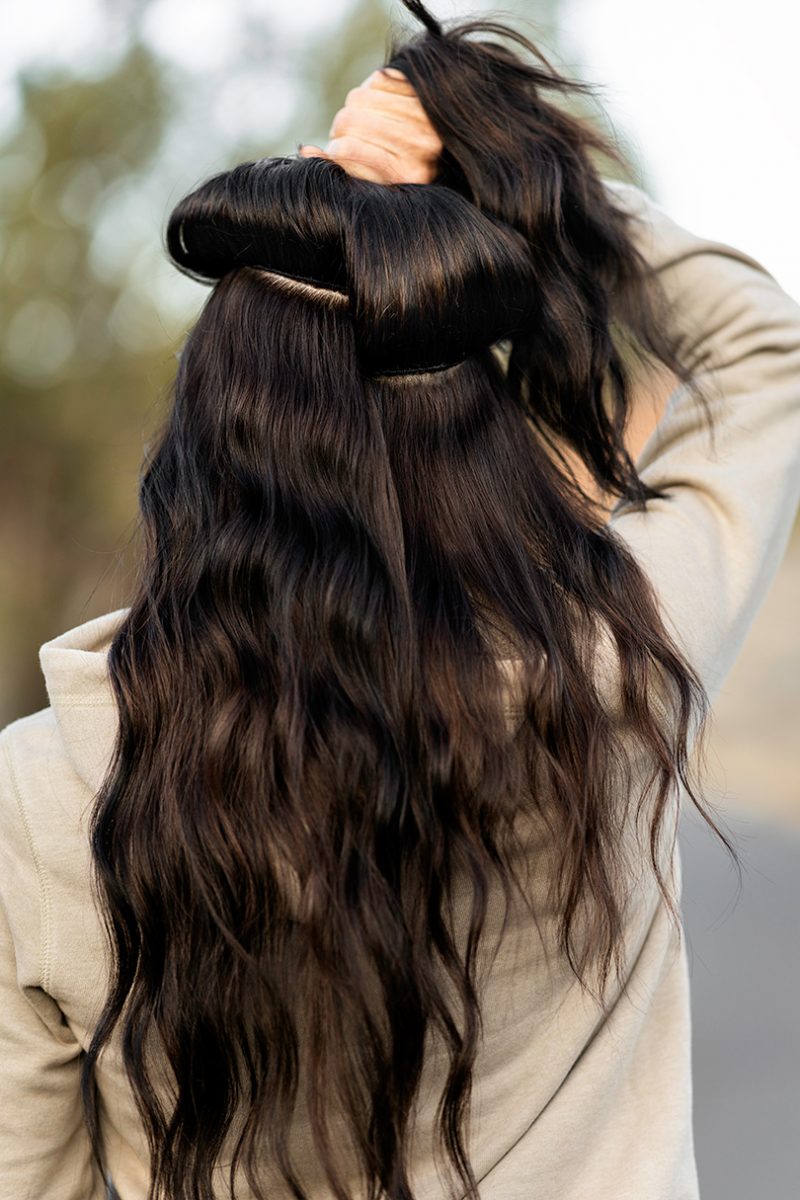 During your hair appointment, your stylist will determine how many rows of extensions you'll need. On average, a stylist will use between 3 to 6 wefts on each row of hair.
An IBE® certified stylist will quickly identify what's appropriate for your hair type whilst also keeping your hair goals in mind. The number of rows you receive will depend on factors such as your current hair density, as well as the volume and length you're hoping to achieve. This should be thoroughly discussed during your consultation.
Can you wear your hair up with hand tied extensions?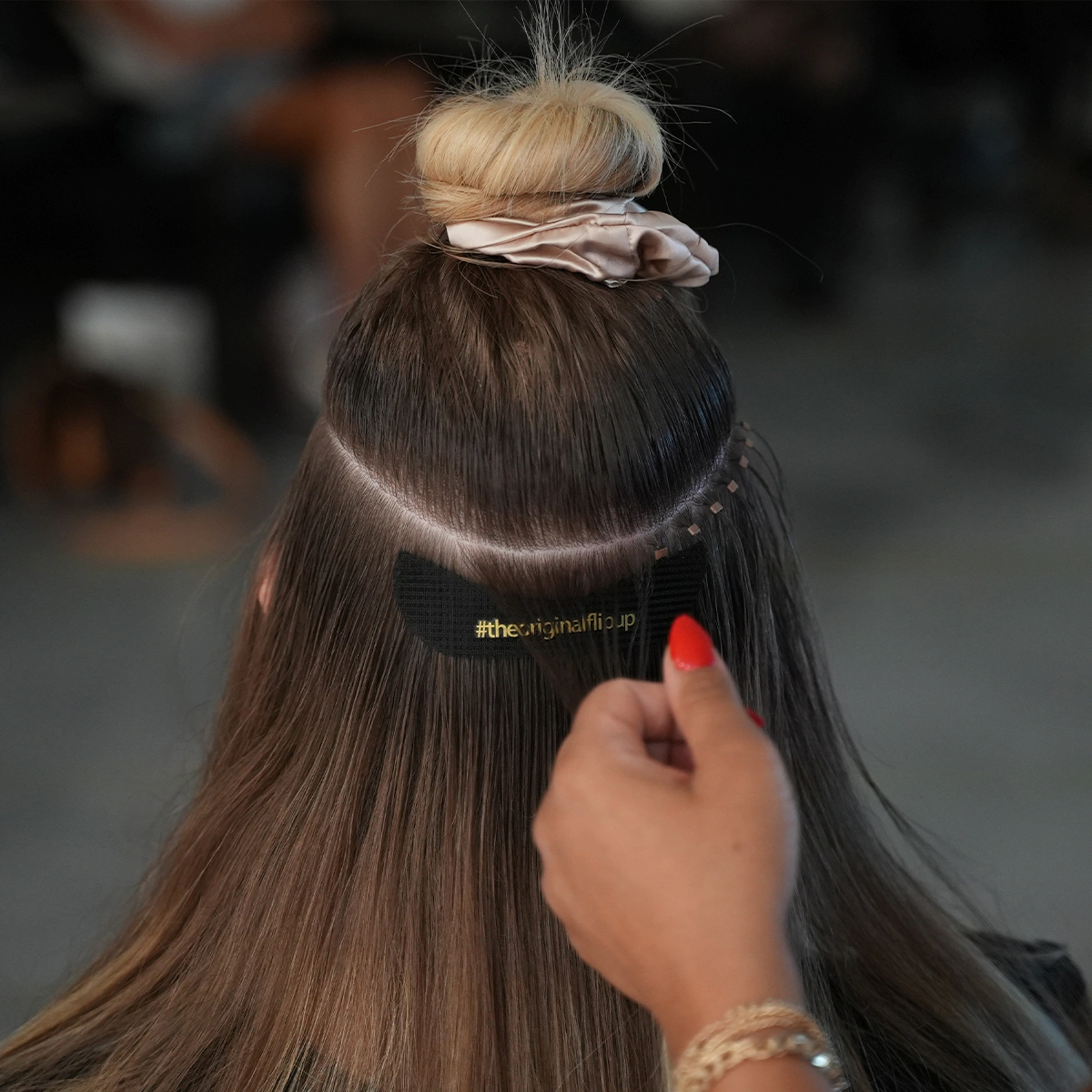 Yes! Not only can you wear your hair up, you can do so with confidence knowing that your extensions will remain undetectable!
A major advantage of utilizing the IBE® method to install hand tied extensions is that the beads and tracks are not visible when styling your hair. This isn't possible with most hand tied installation methods.
Additionally, your IBE® hair stylist's top notch training guarantees the most natural look possible! Your extensions will easily blend into your natural hair and will be unnoticeable in buns, ponytails, and other updo styles.
The #1 Most Requested
Extension Method
JOIN OUR GROWING COMMUNITY OF IBE® CERTIFIED STYLISTS
How do you sleep with hand tied extensions?
With all the time and resources you'll invest in your hand tied hair extensions, you'll want to ensure that you care for them properly, especially when you sleep! There are a few ways to make sure your hair remains beautiful and luscious, day after day.
In order to keep your hair from tangling, you should sleep on a silk pillowcase with your hair in a braid or a low ponytail (using a soft nylon hair tie). Also, you should never go to sleep with wet hair when wearing hand tied hair extensions. You should also brush your hair before bed to remove tangles prior to adding a serum such as the Goldie Locks® Signature Serum which will keep your hair hydrating by locking in moisture and leaving your hair silky smooth.
How often should you wash hand tied extensions?
Most stylists recommend washing your hair once or twice a week at most to maintain the integrity of your extensions. You'll need to be gentle to avoid unnecessary tangling. It is recommended you brush your hair first before wetting it. Also, it is imperative to separate the rows while shampooing to ensure the attachment points get thoroughly washed.
For the best results, condition your extensions with a professional product every time you wash them and deep condition every other week to keep the hair shiny, supple and moisturized.
When wearing hand tied hair extensions, dry shampoo can also be a great option for keeping hair fresh between washes. Applying a serum to the mids and end will greatly extend the hair through the week as well.
Is it bad to let hand tied extensions air dry?
No, it isn't bad to allow them to air dry. Your stylist may recommend that you allow them to air dry if at all possible. The constant use of a blow dryer and heat styling tools can be damaging to both your natural hair as well as your extensions. If you choose to air dry, you must make sure you at least get the top of the wefts all the way dry with the use of a blow dryer. Wefts that remain moist can begin to swell which will cause bulkiness at the weft line and also can cause your extension hair to prematurely shed.
The best way to air dry your extensions is to squeeze as much water out of your hair as you can, especially at the root. Be extra careful around your attachment points so as not to disturb them or put too much tension on your roots.
Also, as mentioned earlier, it's not recommended to sleep with wet hair when wearing hand tied hair extensions, so make sure you have plenty of time to dry your hair before bedtime!
Hand Tied Extensions Do's and Don'ts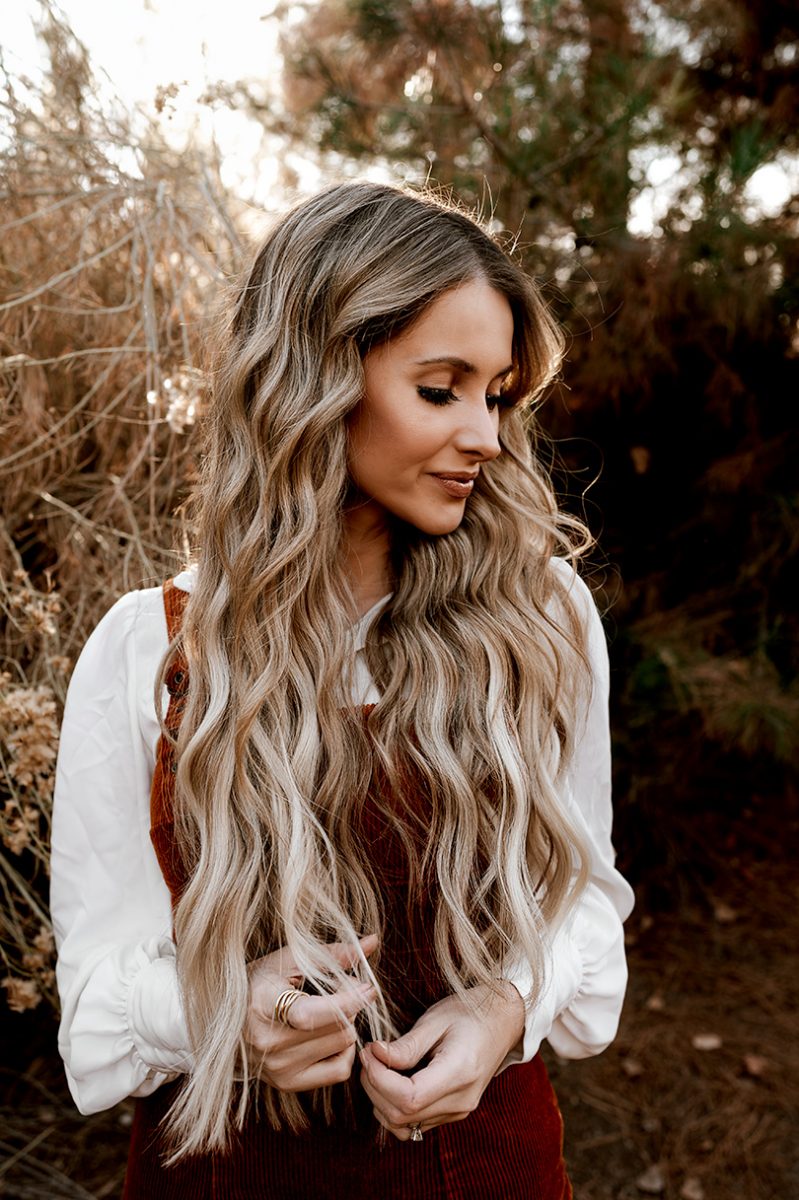 When enjoying your new, gorgeous hand tied hair extensions, it's important to remember these 'do's and 'don'ts':
Do's
Maintain your appointments: you'll need to get your extensions re-installed every 6-8 weeks to avoid tension and difficulty in styling and maintenance.
Brush multiple times daily: to ensure your hair doesn't snag and to keep it looking beautiful and well-kept.
Keep hair clean: be thorough when washing around your wefts to avoid product build up and maintain scalp/hair health.
Be gentle: when brushing, styling or cleansing your hair use a light touch to avoid disturbing your attachment points, and/or tangling or damaging your hair.
Use professional products: It is recommended you use sulfate and paraben-free products which focus on hydration and moisture. You need to be prepared to use shampoo, conditioner, a hair mask, leave-in conditioner, and a serum for the best results. Extensions need extra moisture due to the processing during their creation, so a moisture-rich line is recommended.
Don'ts
Sleep with wet hair: going to bed with wet hair will cause unnecessary tangling and matting that you'll have to deal with the next day!
Use a cotton pillowcase: Cotton pillowcases can cause unnecessary tangling and strain to your hair. It is rough and unforgiving as you toss and turn in the night. It is highly recommended that you use a silk pillowcase so your hair stays protected throughout the night.
Use reparative or bond-building products: You need to focus on hydration and moisture with your hair care line. Anything that lists protein (natural or synthetic) as an ingredient needs to be steered clear of. It will cause your extension hair to break and become brittle.
Go to improperly trained stylists: be sure to go to a certified IBE® hair stylist to receive the safest, most versatile, and comfortable hand tied hair extensions.
Are hand tied extensions better than tape ins?
Yes, they are! In fact, there are quite a few reasons why hand tied extensions are a better option than tape ins.
In general, you can go at least 2-3 weeks longer in between appointments than tape ins which means fewer visits to the salon. Hand tied extension hair is usually better quality than most tape ins, especially if you're seeing a trained and certified IBE stylist who has access to the most luxurious hair on the market. The options of color customization are endless with hand tied extensions! Your stylist can layer multiple colors to give you the exact look you desire.
Hand tied extensions can be so much more versatile than tape-ins. For those women who are active, tape-ins can be potentially problematic as they work out and lead an active lifestyle. The adhesive from tape-ins can wreak havoc for those that sweat, as the sweat breaks down the adhesive bonds and often the tape-ins slip right out!
For those with fine hair, hand tied hair extensions will be easier to conceal, even once the hair begins to grow out. If you have a sensitive scalp, hand tied extensions are the best option because tape ins utilize adhesives which may be irritating. The options to customize the perfect weight that matches your natural hair density will always be more numerous with hand tied extensions.
Lastly, hand tied extensions allow for a larger number of natural looking hairstyles like ponytails and other updos and, unlike tape ins, they can achieve a more voluminous look without weighing hair down or seeing tape or tracks. What good is spending your hard earned money on extensions only to have them visible?! Combined with an installation method like Invisible Bead Extensions®, you will be able to wear your new investment any way you want and feel completely covered when the wind blows.