Hand tied hair extensions have taken the beauty world by storm recently– and with good reason! These lightweight and comfortable extensions blend seamlessly into the hair for a fully concealed, natural-looking finish.
In the past, both stylists and clients took it for granted that hair extensions would be uncomfortable, damage the natural hair, and limit the hairstyles that could be worn (as ponytails or updos might cause the attachments to show). Fortunately, new installation techniques mean we can enjoy the added volume, length and thickness of hair extensions without damage or discomfort!
If you're seeking an extension installation method that delivers beautiful, luxurious locks with less hassle, read on to discover everything you need to know about hand tied hair extensions.
What are hand tied extensions?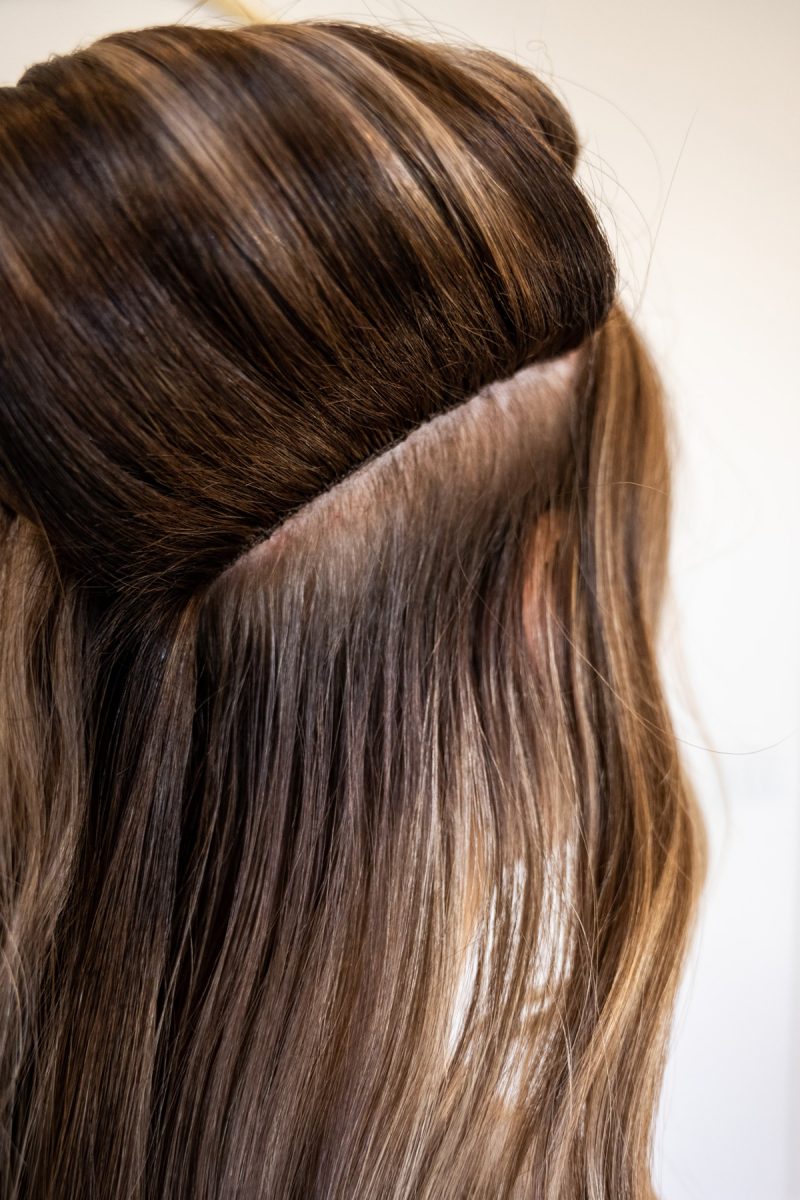 Hand tied extensions are a type of hair extension. There are many types of hair extensions on the market including hand tied wefts, machine wefts, tape ins, and individual bonded extensions. Hand tied extensions are often a favorite due to their slim, lightweight construction. They can be customized by color and weight for the client or guest wearing them. Hand tied extensions are the best type of extension hair for creating luxurious volume, length and body.
To apply hand tied extensions, the stylist must be certified in a qualified method, such as IBE®. There are many ways to install hand tied extensions but one must heavily research the method of installation first, as only a few place emphasis on the health of the hair and scalp.
Hand tied extensions are used once a foundation of beads and sometimes thread has been created upon the guests head. They are sewn onto a track or foundation. The way in which a stylist creates the foundation is known as the method or technique. Once the hand tied extensions are in place, they look and feel completely natural. They can be colored, washed, curled, and styled just like natural hair. IBE® focuses on scalp health and comfort, which makes that method the most sought after. This flexibility, comfort and freedom makes hand tied extensions a top choice for many different lifestyles.
How long do hand tied extensions last?
Hand tied hair extensions last for 6-12 months with proper care and use of recommended professional products. High-quality, 100% real human hair extensions are recommended for best results. There are many sources for hand tied hair extensions. You can get wefts that are sourced from different parts of the world. Asian, Russian and Indian are the most common. Your licensed stylist may trim the extensions periodically to remove any damaged ends.
The #1 Most Requested
Extension Method
JOIN OUR GROWING COMMUNITY OF IBE® CERTIFIED STYLISTS
Are hand tied extensions bad for your hair?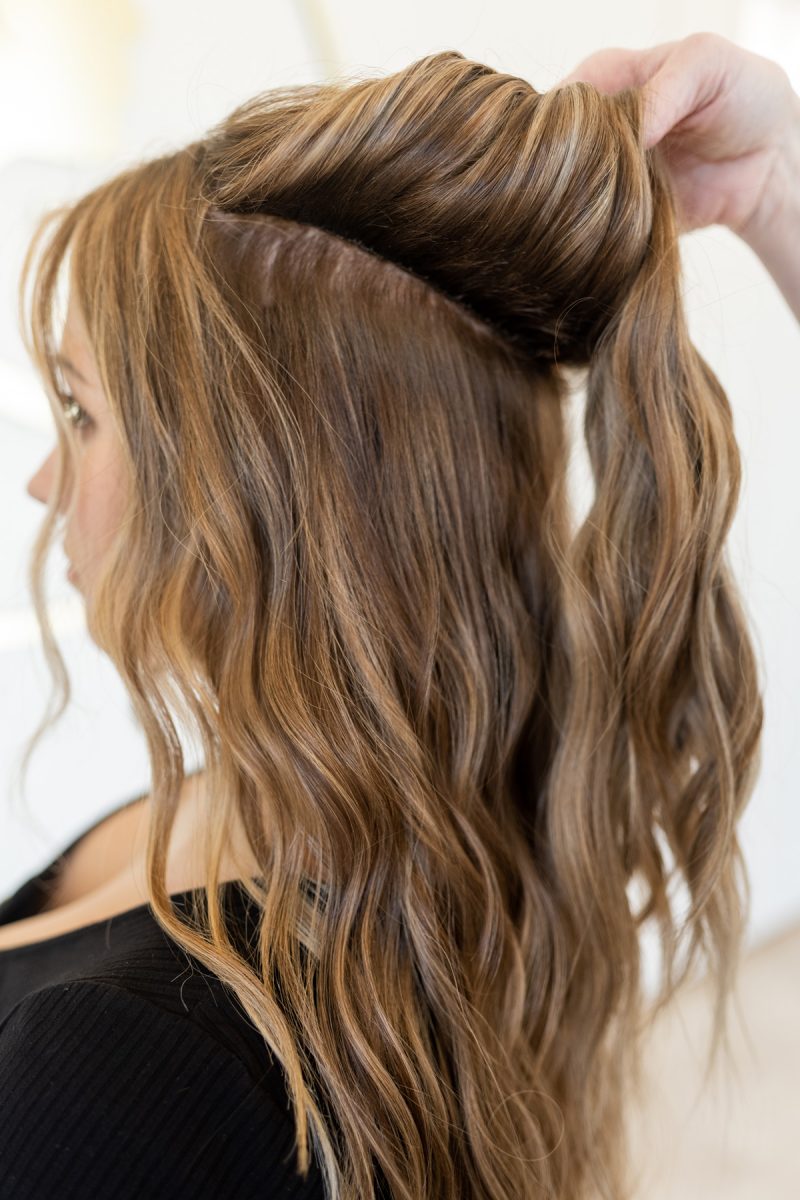 Hand tied extensions using the Invisible Bead Extensions® method are not bad for hair. In fact, IBE® is the safest method of installation on the market and the only one that puts an emphasis on scalp and hair health. Hand tied wefts are thinner and lighter weight than machine wefts, so they do not pull down on the roots of the hair. These wefts lay flat against the hair for a comfortable, wearable style that looks and feels natural.
The installation process for hand tied extensions is also safer for the natural hair. Individual wefts are hand-sewn into a row of beads attached to the hair shaft. This eliminates the need for chemicals, heat, glue, or tape. With the IBE® install technique, the hair always stays in its natural fall to eliminate tension, pressure points, and damage.
Removing semi-permanent hair extensions can be a potential cause of damage. The adhesive-free hand tied extensions are simple and easy to remove in the salon. It takes just 5-10 minutes to take out the extensions because there is no bond to break. This also means no pulling or tearing when extensions are removed!
Some clients may experience a slight sense of "heaviness" due to the additional weight of the hair extensions. But this does not happen when a safe and comfortable method like IBE® is used to create a foundation to sew on.
Itching, tugging or tension in the scalp area are NOT normal and should never occur with proper installation and maintenance. With IBE®, the beads do not have contact with your scalp and they are fully covered by the hair. This means the beads will not be visible in any hairstyle and will not irritate the delicate skin of the scalp.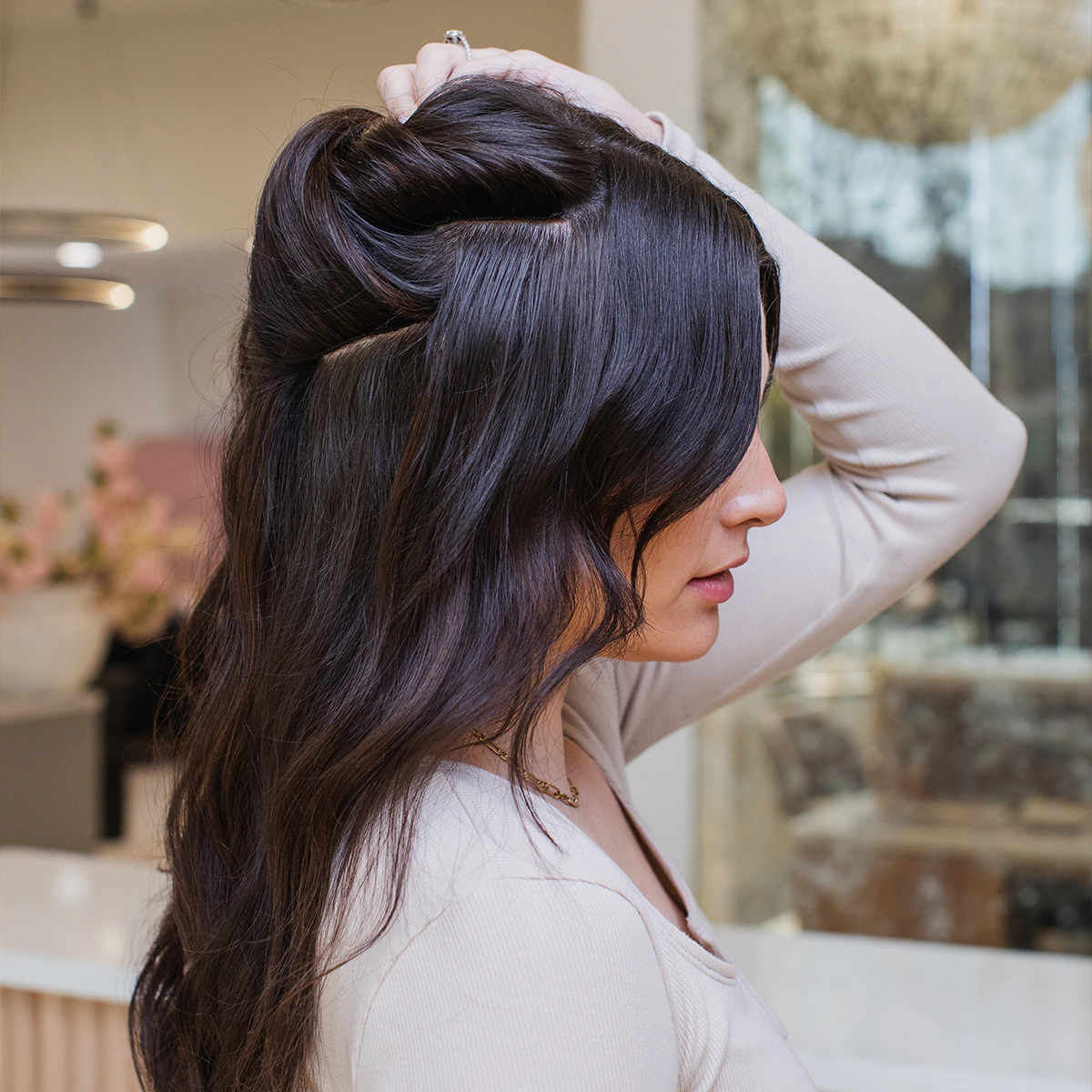 Hand tied extensions pros and cons
Hand tied extensions are one of today's hottest hair trends due to their comfort, wearability, and natural appearance. However, this popular type of hair extension isn't for everyone. Like all hair services, the use comes with pros and cons:
Hand Tied Extensions Pros
Glamorous volume, fullness and length that looks 100% natural
Very little stress on the scalp or the roots with the proper install method
No tension, tugging or damage to the natural hair
Unlimited styling possibilities without bead or track exposure (including ponytails, buns and upstyles)
Some methods, like IBE®, have discreet attachments that do not show, even in fine, thin or sleek hair
Appropriate for active lifestyles, including swimming, and high temperatures
Hand Tied Extensions Cons
Initial installation requires a significant investment of both time (2-5 hours) and money ($1000 or more)
Extensions must be moved up every 6-8 weeks as the hair grows out
Frequent brushing and maintenance is needed to keep hand tied extensions looking their best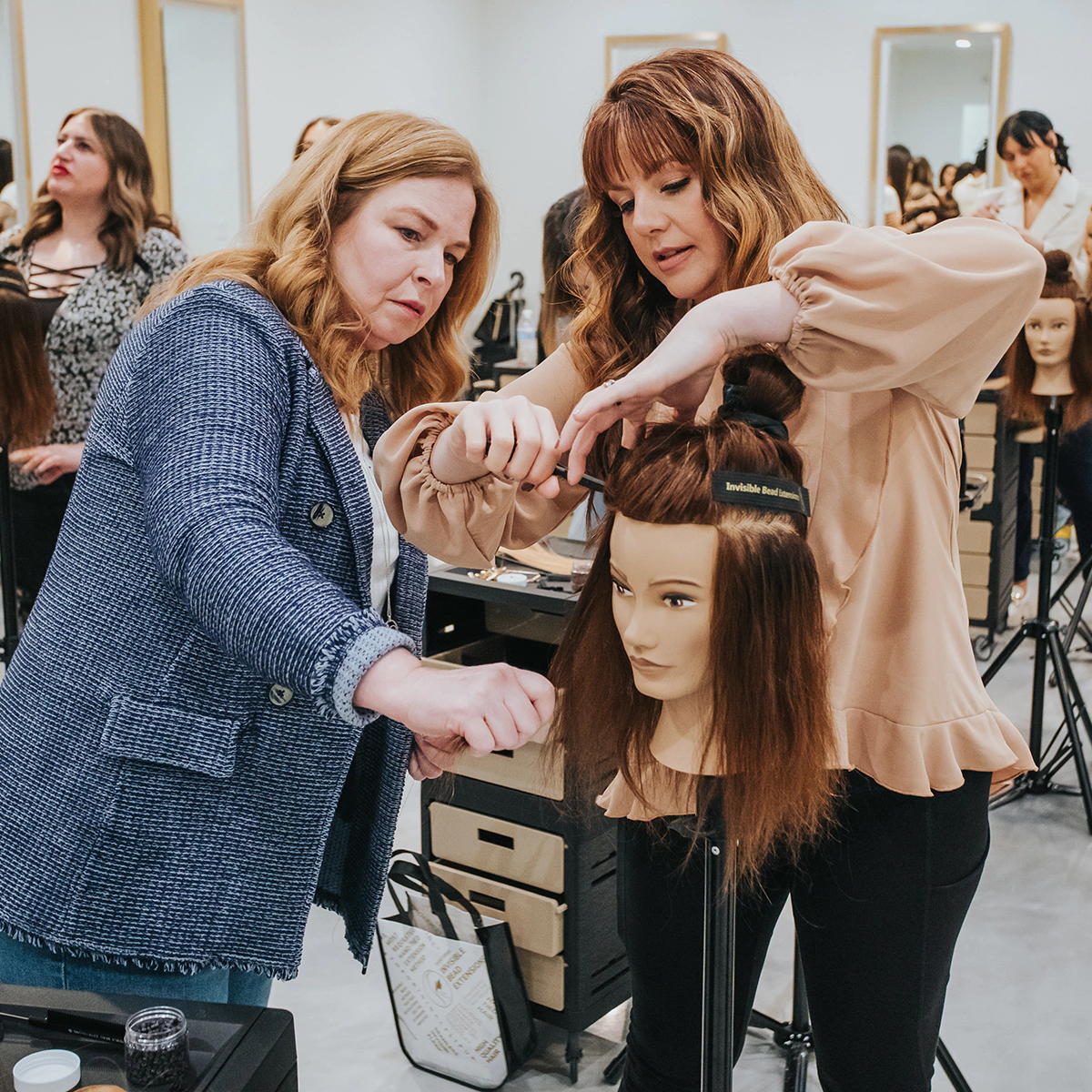 How to install hand tied extensions
Hand tied extensions should always be installed by a qualified and certified stylist. It requires extreme precision and knowledge to install correctly. The application of each row is custom-tailored for the individual client to ensure beautiful results.
For Invisible Bead Extensions®, a row of small silicone-lined beads is secured to the natural hair with a bead threader tool. Then a flat, thin weft of high-quality human hair is hand-sewn to the beads using a special IBE® stitching technique. This process is repeated with each row. Once a row is installed, the beads are completely hidden and the extensions blend perfectly with the natural hair.
For salon professionals— discover how to get certified in the IBE® method here!
How to remove hand tied extensions
Removing hand tied extensions is easy and FAST! Because there is no adhesive, the extensions can usually be removed in under 10 minutes. To prevent damage, this should always be done by a certified professional.
The process is simple: First, the stylist will thoroughly detangle the hair. Then they'll separate out one row and open the beads with pliers or bead openers. (Don't worry— this does not pull the hair or cause any damage.)
Once all the beads are removed, the natural hair is gently separated from the extension hair. This process is repeated for each row. It's that simple!
Must-have tools for hand tied extensions
Here are the essential tools for installing, maintaining and removing hand tied extensions:
How to care for hand tied extensions
Proper care and maintenance is essential for keeping hand tied hair extensions healthy and beautiful. Taking care of your extensions also helps them last longer. Follow these steps to properly care for your hand tied extensions:
Cleansing: Wash your mane regularly with a sulfate-free, extension-friendly shampoo. Do not scrub the wefts! Focus on your roots, then gently squeeze the suds through your extensions. Follow up with a light hydrating conditioner, comb it through the strands, and let it sit for up to 5 minutes before rinsing thoroughly.
Prepping Damp Hair: Be aware that hair extensions absorb a LOT of water! After washing and conditioning your hair, gently squeeze or pat the wefts with a towel to remove excess water. Then let your hair air-dry 80% to 90% of the way before finishing with your blow dryer.
Detangling and Brushing: It's important to thoroughly brush your hair several times a day. The Tangle Teezer is a good gentle brush that works on both wet and dry hair. Separate and brush through each row individually. Make sure to lift the hair and brush in-between the rows to prevent matting.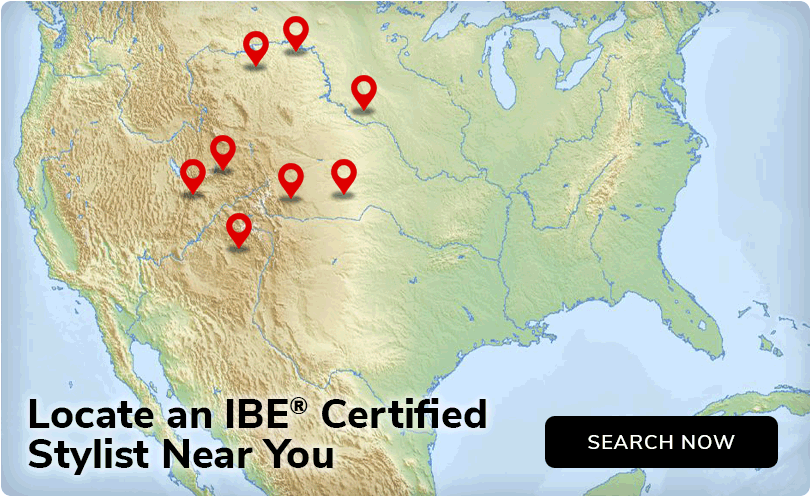 Think about brushing with the grain of your hair, working from the bottom up. Avoid dragging the brush through the applications near your scalp.
Applying Product: Extensions tend to be dry, so healthy hydration is key! A light leave-in detangler or leave-in conditioner makes detangling easier and protects the strands from damage. Next, apply an oil or serum to seal your ends (both your natural ends and the extension ends).
If your hair needs extra moisture, finish with a leave-in repair cream on your natural hair ONLY. Avoid applying protein treatments or heavy conditioners to your extensions, as this is not necessary and can make the wefts crispy.
Blow Drying: Before blow drying your extensions, separate the rows and dry each row individually. Use your paddle brush or round brush to smooth your natural hair and extension hair together. Be careful to get each row 100% dry to prevent itching or chafing.
Heat Styling: Extensions open up TONS of fun hairstyling options— get creative and enjoy that mermaid hair! Many clients love to curl their hair extensions because the style holds for longer. Before heat styling, always apply a heat protectant to both your extensions and natural hair. Set your iron or heat tool to the lowest effective setting (ideally under 320 degrees) to avoid scorching or drying out your extensions.
Protective Styling: Every evening before bed, work 3-4 pumps of hair oil or serum through your hair from mid-shafts to ends. Then put your hair into one or two low, loose braids to prevent friction and tangles.
Headed to the beach, ocean or pool? Before swimming, wet your hair and saturate the strands with a leave-in conditioner or hair mask. Comb the conditioner through your strands and secure your hair in a braid or bun. Rinse your mane out thoroughly after your swim!
While hand tied hair extensions require daily upkeep, it's very manageable once you get into a rhythm. And the extra self-care will pay off with shiny, healthy and luscious hair!
Watch this video to learn more about hair extension maintenance.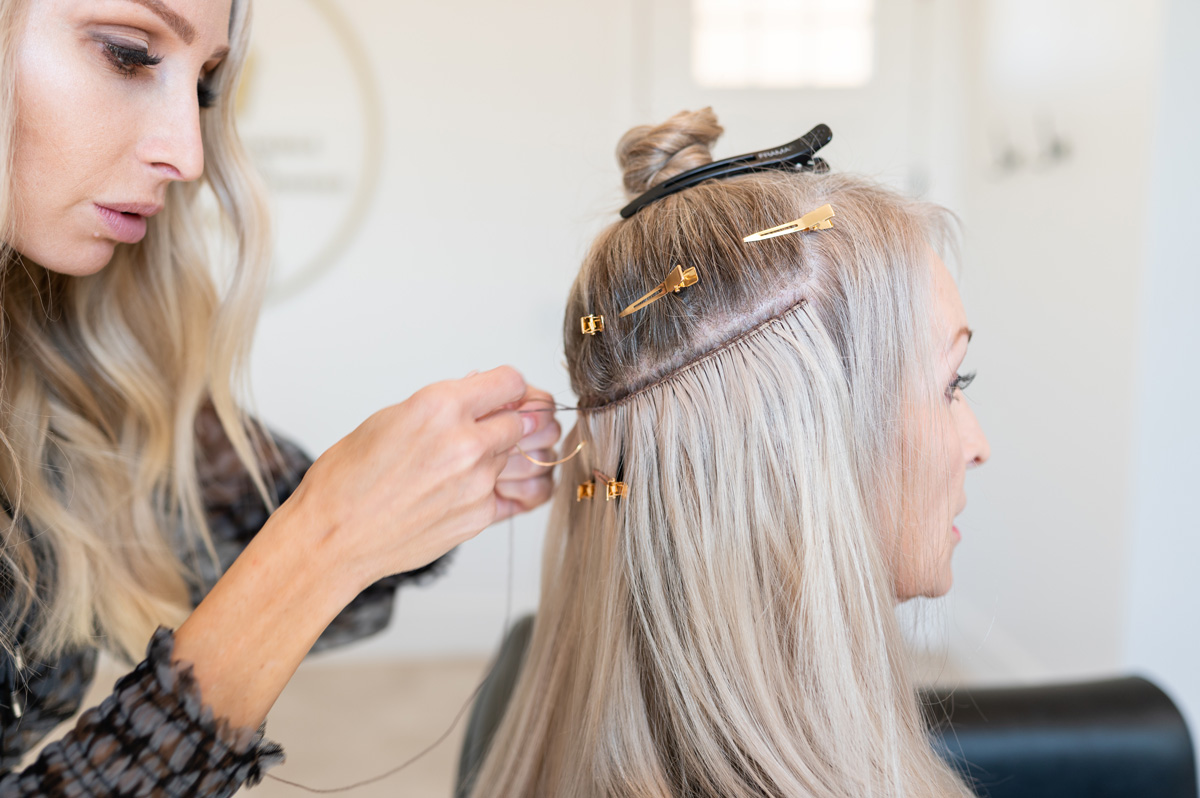 How much do hand tied extensions cost?
Hand tied hair extensions are considered a luxury service due to the time and special skills required for the installation. The cost varies depending on the salon, number of rows (more rows = fuller, thicker hair), and desired length. Prices usually start at $200-250 per row for the initial installation, plus the cost of the hair extensions themselves. This does not include any color services that may be performed. Maintenance visits are similar in price to initial install. With IBE®, our certified professionals completely remove the foundation and hand tied hair, then reinstall to set the proper tension. For this reason, your maintenance appointments can be more expensive than other methods that simply 'slide up the bead'.
Some stylists offer full packages that include the purchase of hair extensions, the installation process, color work for the extensions and natural hair, as well as a custom cut and style. These packages can range from $1000 to $2500 or more.
While hand tied extensions are a significant investment, they create instant mermaid hair that lasts for a long time with proper care. Once the extensions are installed, they can be worn for 6-12 months with routine maintenance.
Which hand tied extensions are the best?
Invisible Bead Extensions® is the best hand tied extension method. IBE® creates beautiful luxurious volume, length and thickness without causing discomfort or damage. Clients love the natural look and feel of these high-end extensions and the ability to wear any style they choose without the attachments showing! This company educates their certified professionals in a unique one-on-one mentorship that ensures the stylists feel comfortable installing hand tied extensions. They focus on precision and proper technique.
Hand tied extensions before and after photos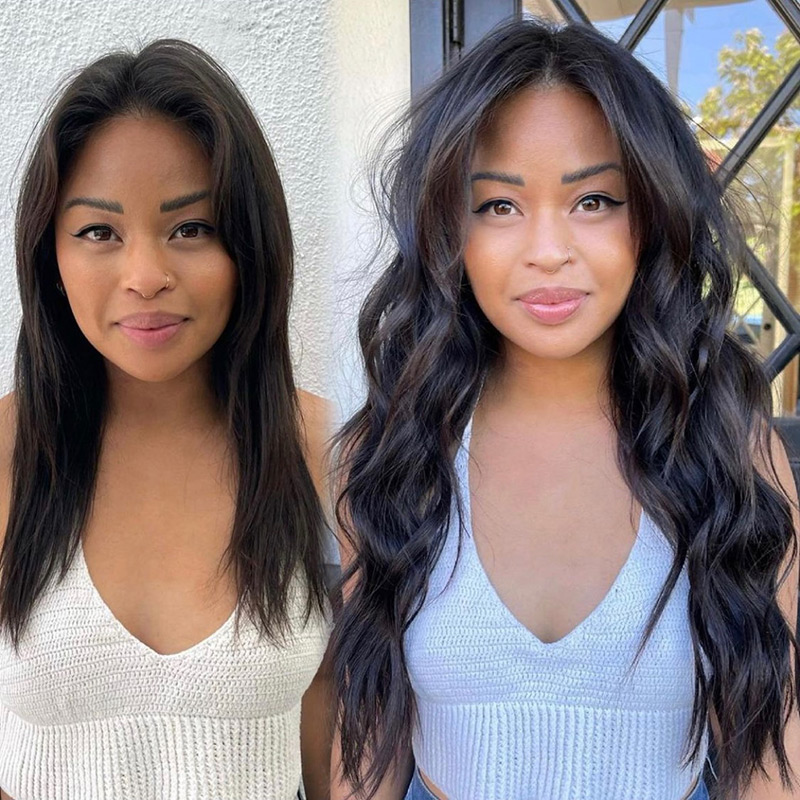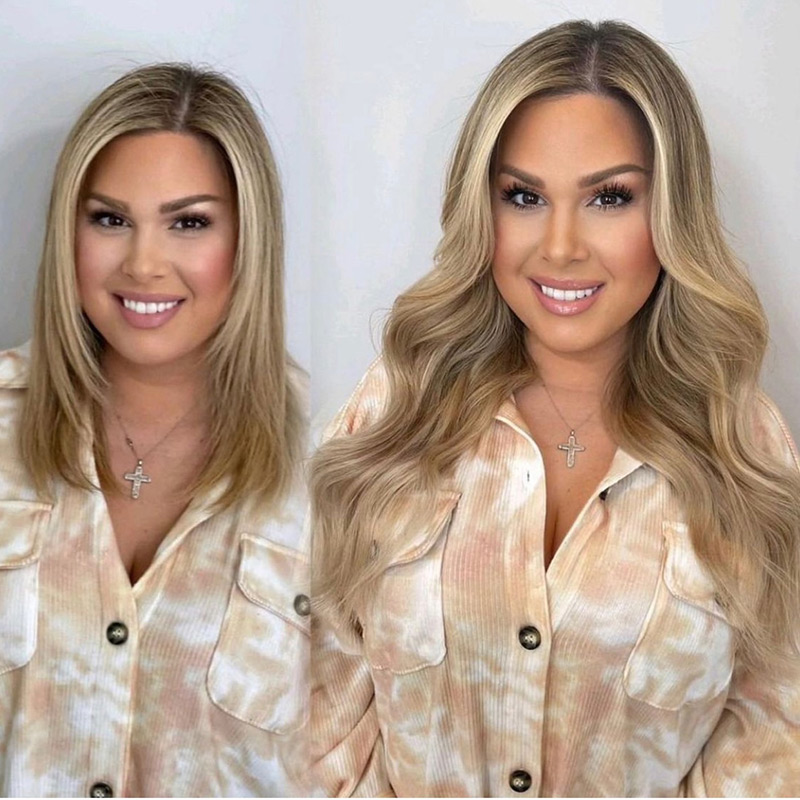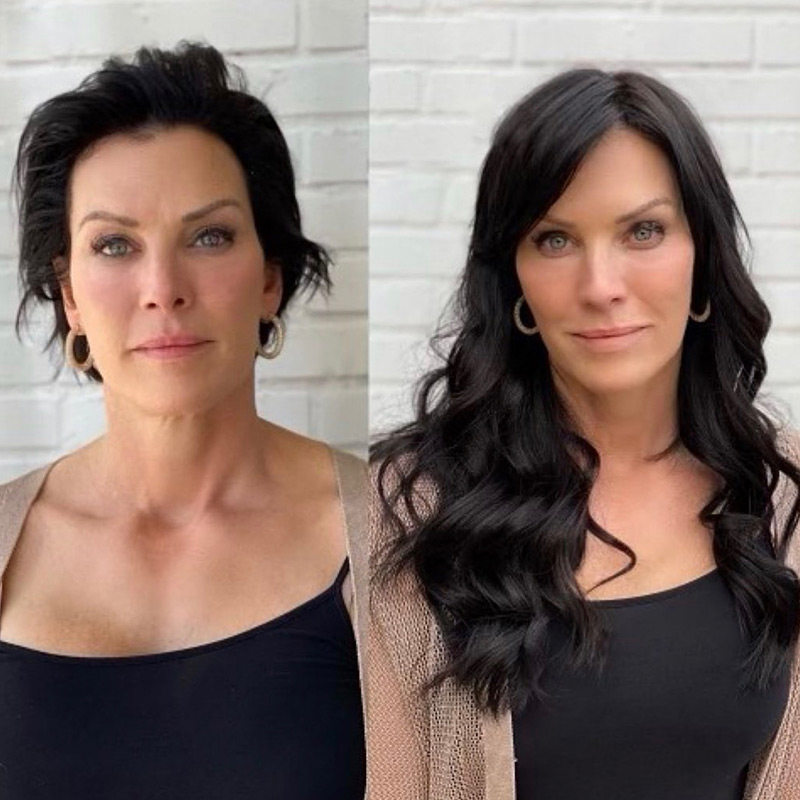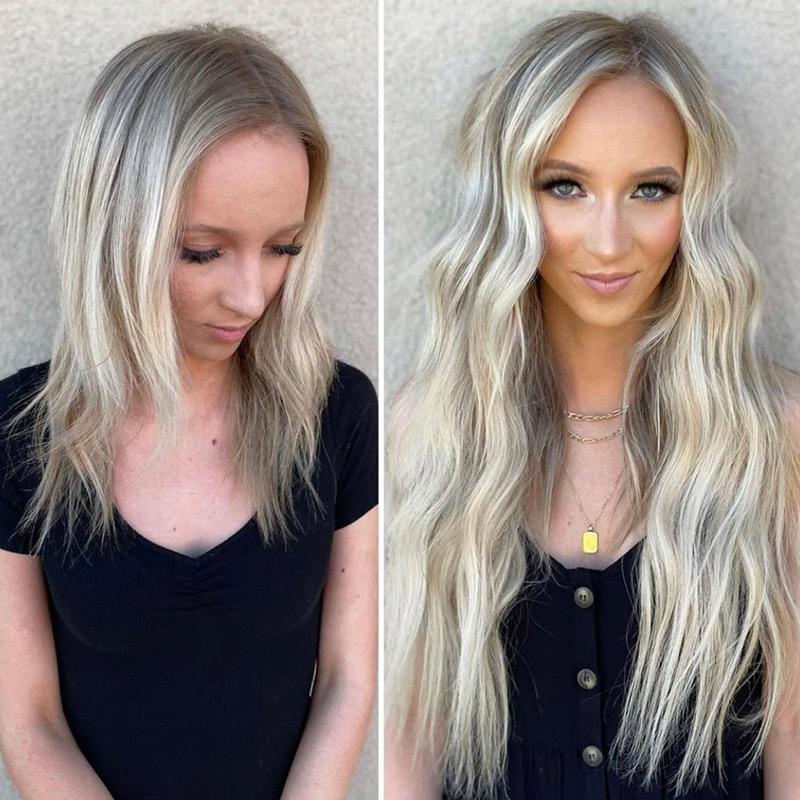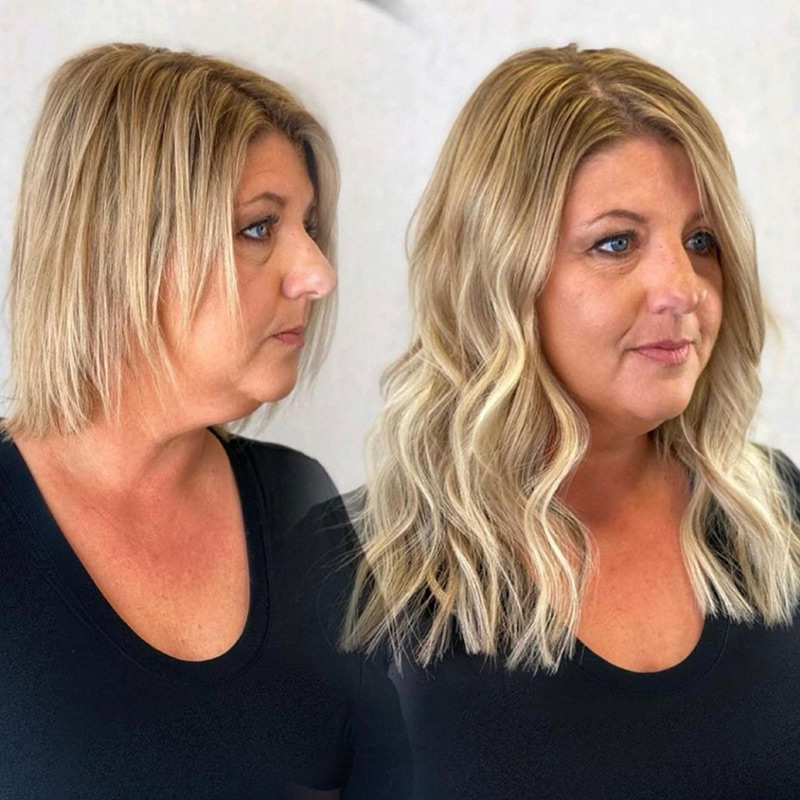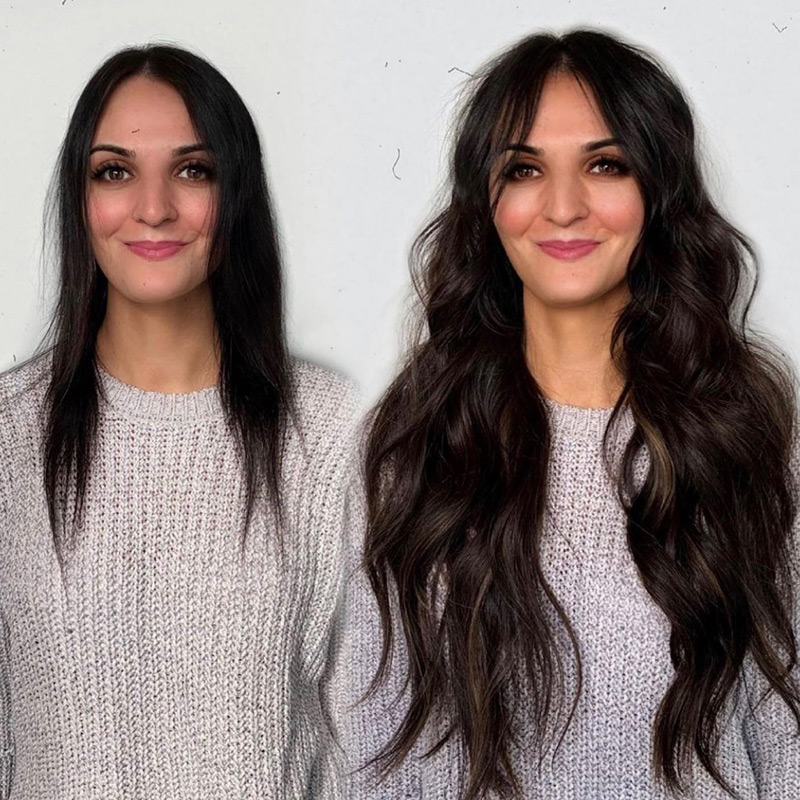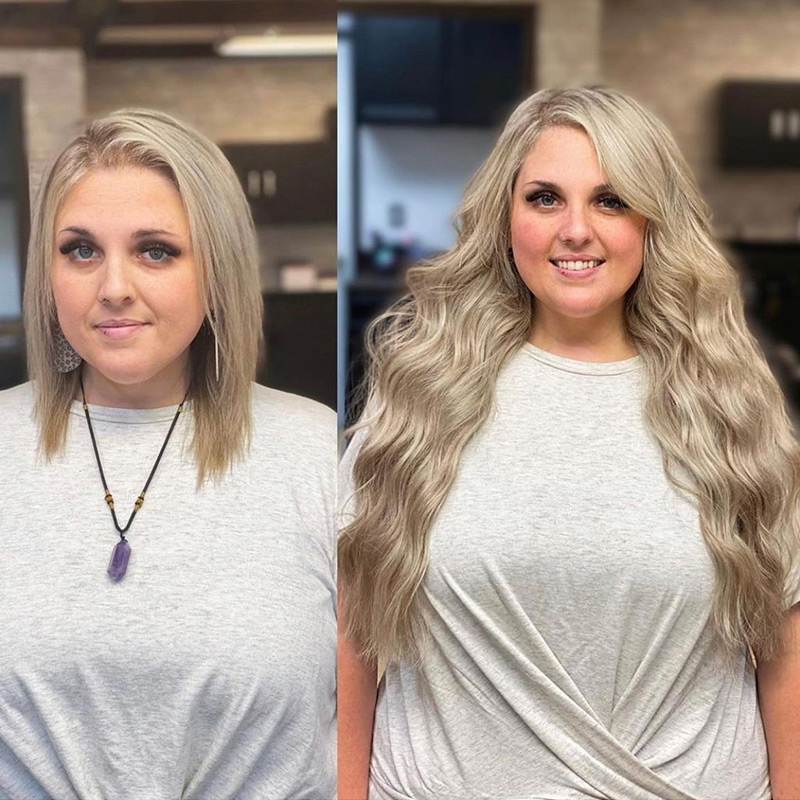 BECOME IBE® CERTIFIED
AND CHANGE YOUR CAREER
Discover How IBE® Stylist Are
Making More & Working Less