It's hard not to feel like a goddess with a head full of long, voluminous hair cascading down your back! Growing lush locks may seem like a far off dream, but if you have short or fine hair, extensions can be a great option!
When choosing extensions, you'll need to consider a few factors such as your hair type and lifestyle needs. It's important to also research the method of installation, as that is extremely important when getting hair extensions. There are tons of options, but not all extensions are created equal.
Hand tied extensions are a fairly new innovation that are quickly becoming popular among beauty lovers for both their comfort and overall effect. Read on to find out exactly what they are and how you can even grow your own hair whilst wearing them!
What are hand tied extensions?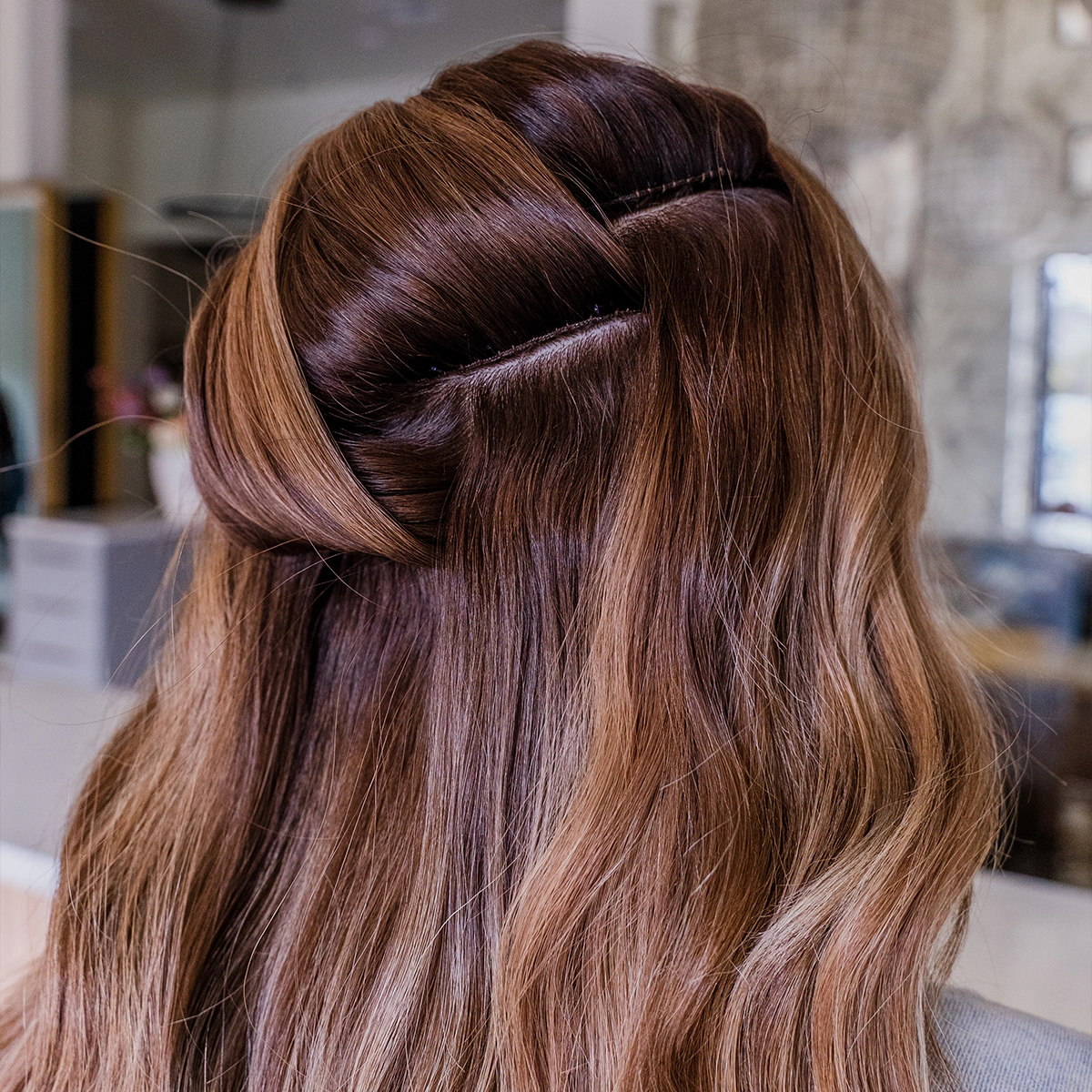 Hand tied hair extensions refers to the type of hair extension. They are a thin lightweight weft which is created by hand.
Your stylist will determine how many rows and wefts you'll need based on your desired look.
Your stylist will also have a preferred method of application. There are many different ways to attach hand tied extensions to your hair. The most requested method on the market is IBE®. Thanks to its innovation in technique and safety for the wearer, IBE® is the method most stylists prefer.
Do hand tied extensions damage your hair?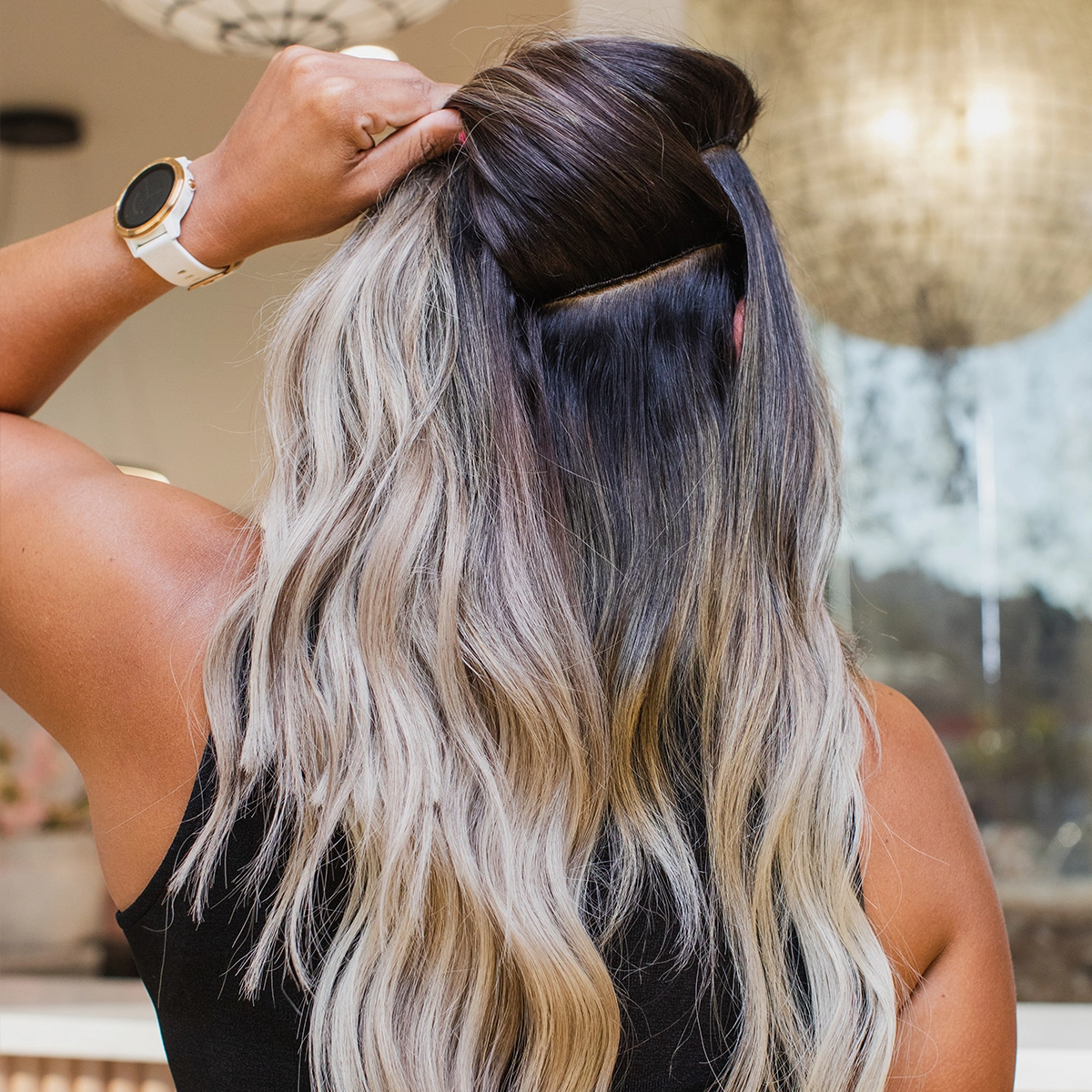 Hand tied extensions will not damage your hair if the proper method of application is used by a knowledgeable certified stylist. It is important to note that stylists are not required to be certified to apply hand tied hair extensions. For that reason, it is extremely important to research your stylist and make sure she is certified and has received extensive training in a quality installation method.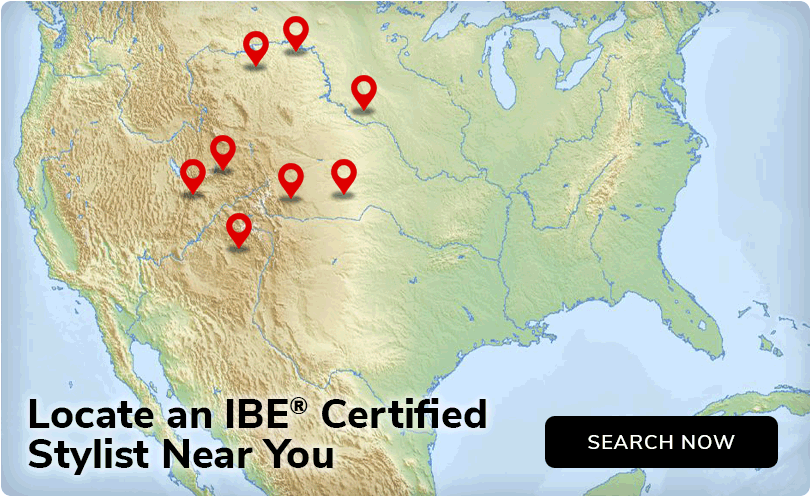 With a safe installation such as IBE®, the removal and reinstallation process is non-damaging to hair — unlike other hair extension methods. A certified IBE® stylist will know how many wefts they can layer to maintain the integrity of your hair.
Are hand tied extensions good for fine hair?
Yes, they're perfect for fine hair because they're lightweight and customizable. Coupled with an installation method such as IBE®, they will not damage your natural hair and will actually help it to grow.
Your stylist can add several rows of extensions to give you the appearance of much thicker, fuller hair.
Additionally, because the beads and wefts are so easily hidden with IBE®, hand tied extensions provide the most natural looking option for women with fine hair.
The #1 Most Requested
Extension Method
JOIN OUR GROWING COMMUNITY OF IBE® CERTIFIED STYLISTS
Can hand tied extensions cause hair loss?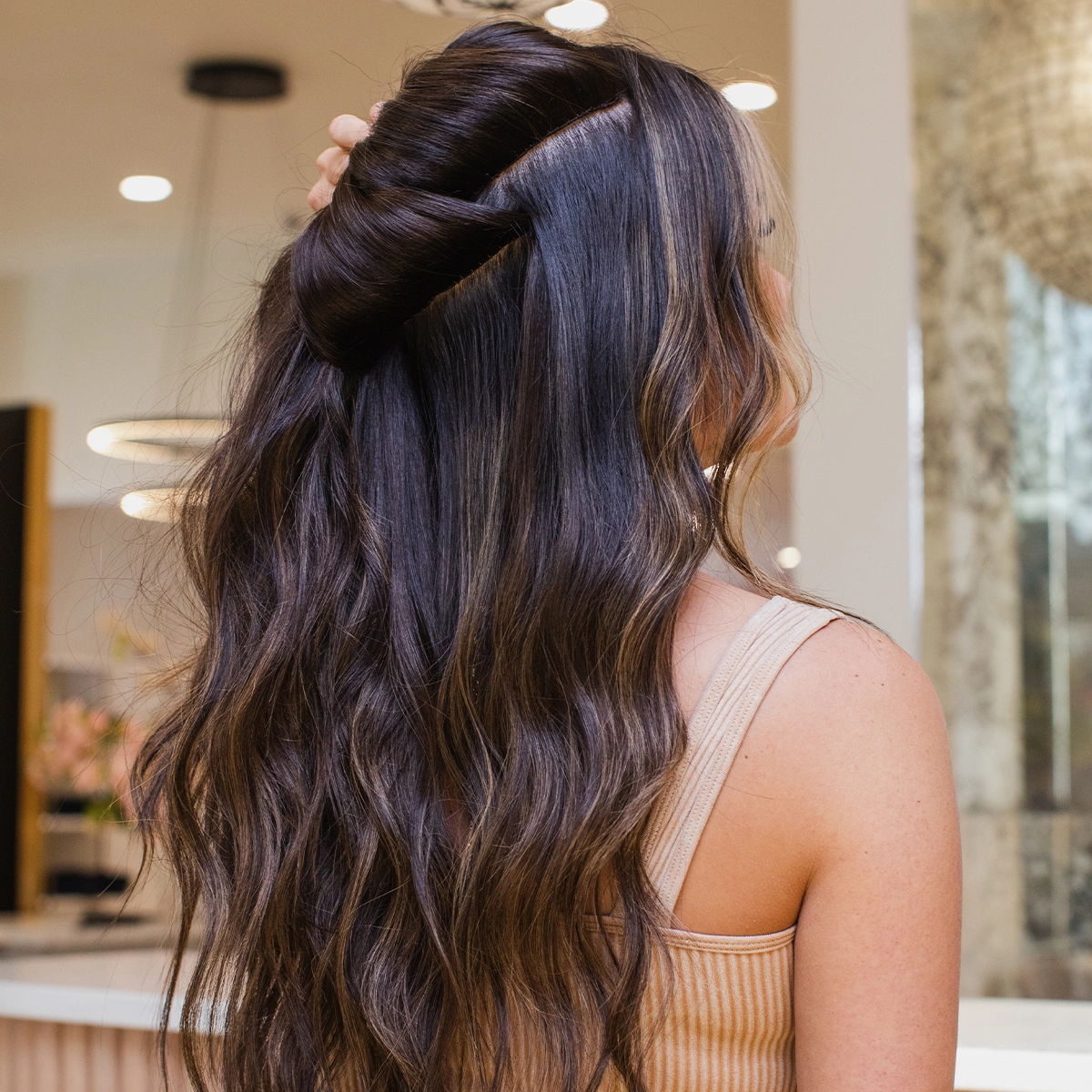 When properly cared for, hand tied extensions won't cause hair loss. Too much tension on the scalp can cause balding, which is why it's imperative to research the method your stylist is using to install the hand tied hair. Some methods teach the professional about tension and appropriate installation techniques, while others do not.
What are the least damaging hair extensions?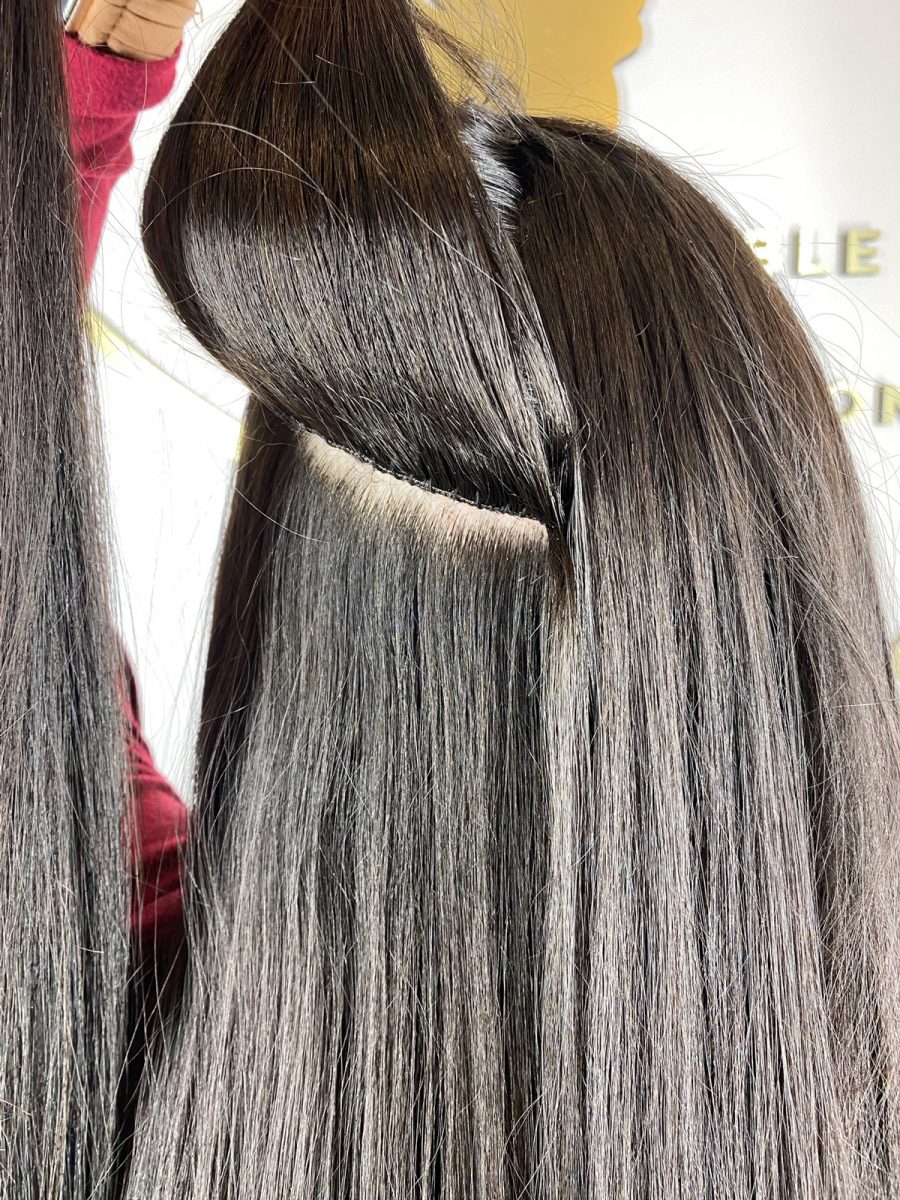 Hand tied extensions have the ability to be the least damaging semi-permanent option for hair extensions because there is no tape, glue, or heat utilized during application, resulting in less potential irritation to the scalp or hair.
Ultimately, damage comes from an inexperienced stylist or flawed method of installation. It's very important to research your stylist and the method he/she uses to install your hand tied extensions. Make sure the method of installation focuses on proper placement and tension to avoid any damage to your scalp and natural hair.
Hand tied extensions before and after photos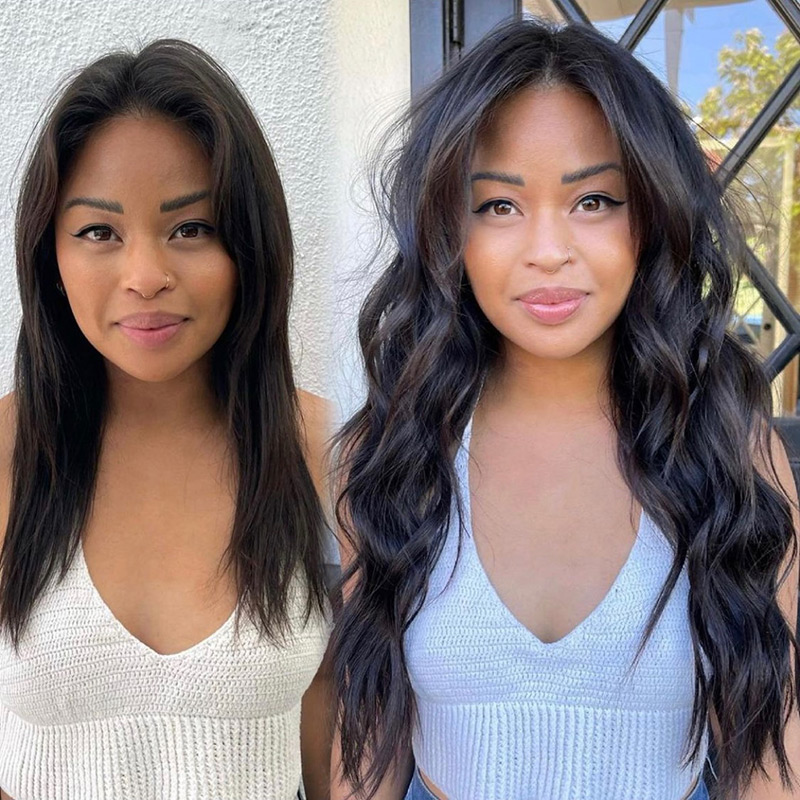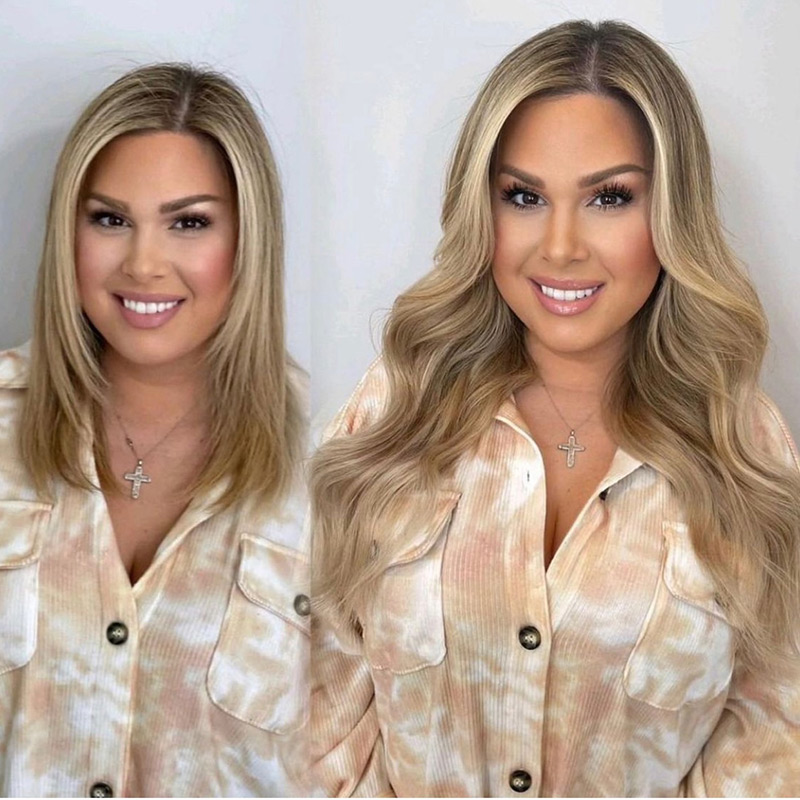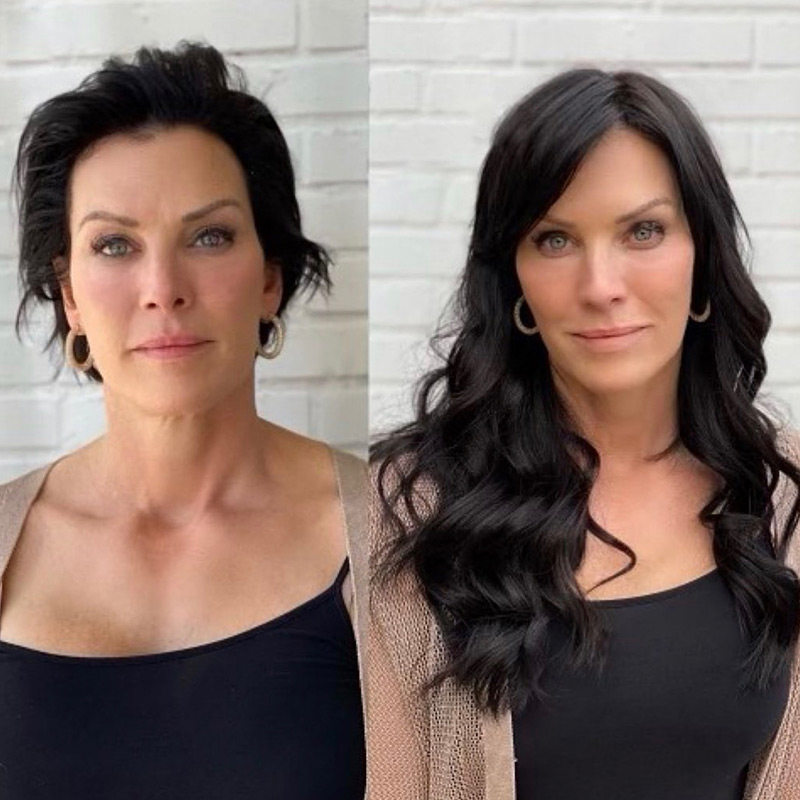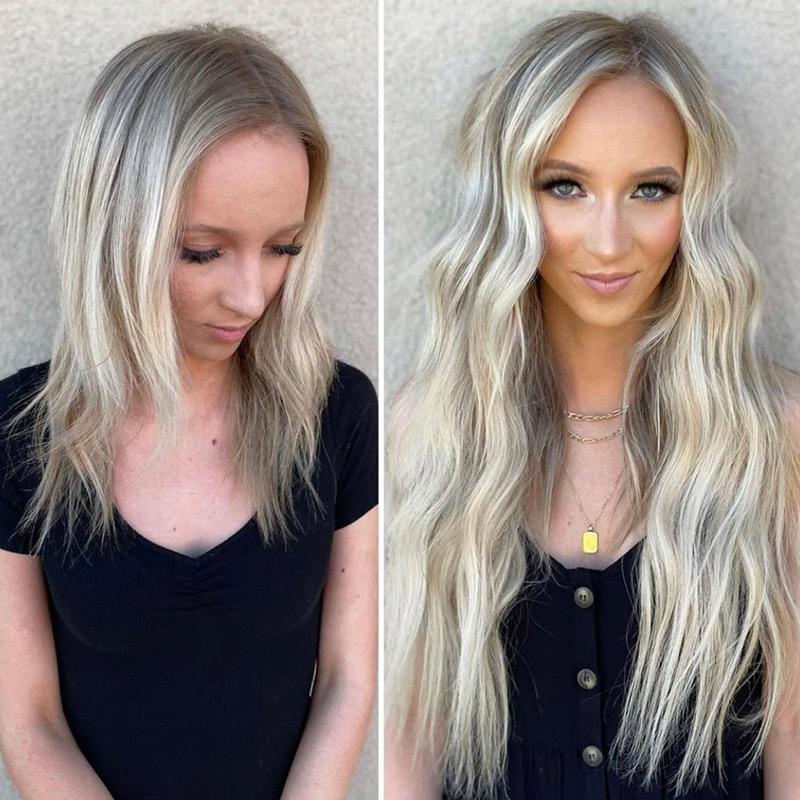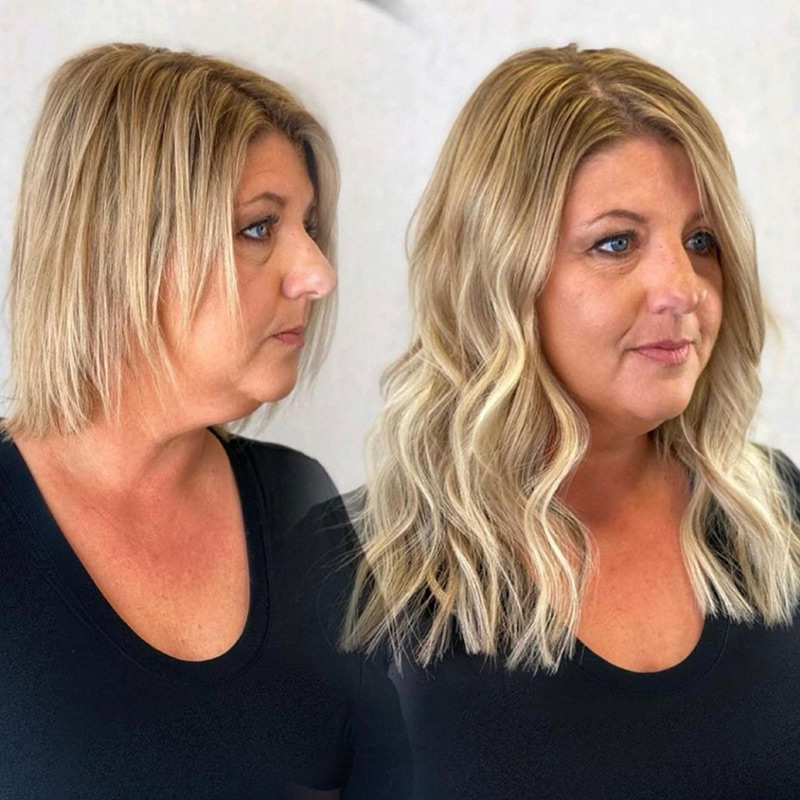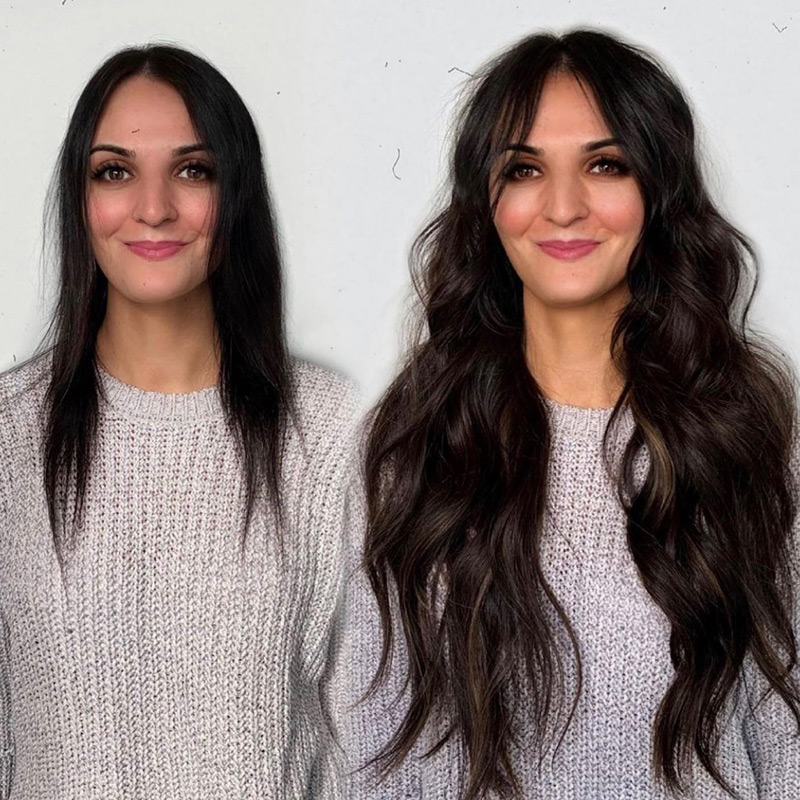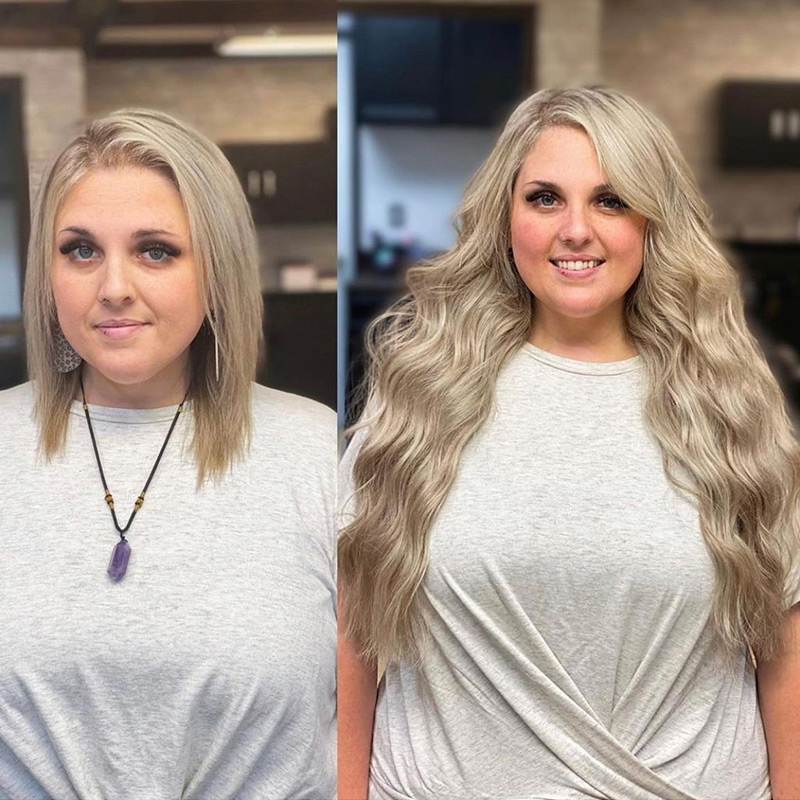 Comparing The IBE® Method Versus Other Popular Extension Methods
When it comes to the cleanest hand tied extension method, nothing compares to Invisible Bead Extensions®! Here are the comparison photos between IBE and another well known hand tied extension method using beaded rows.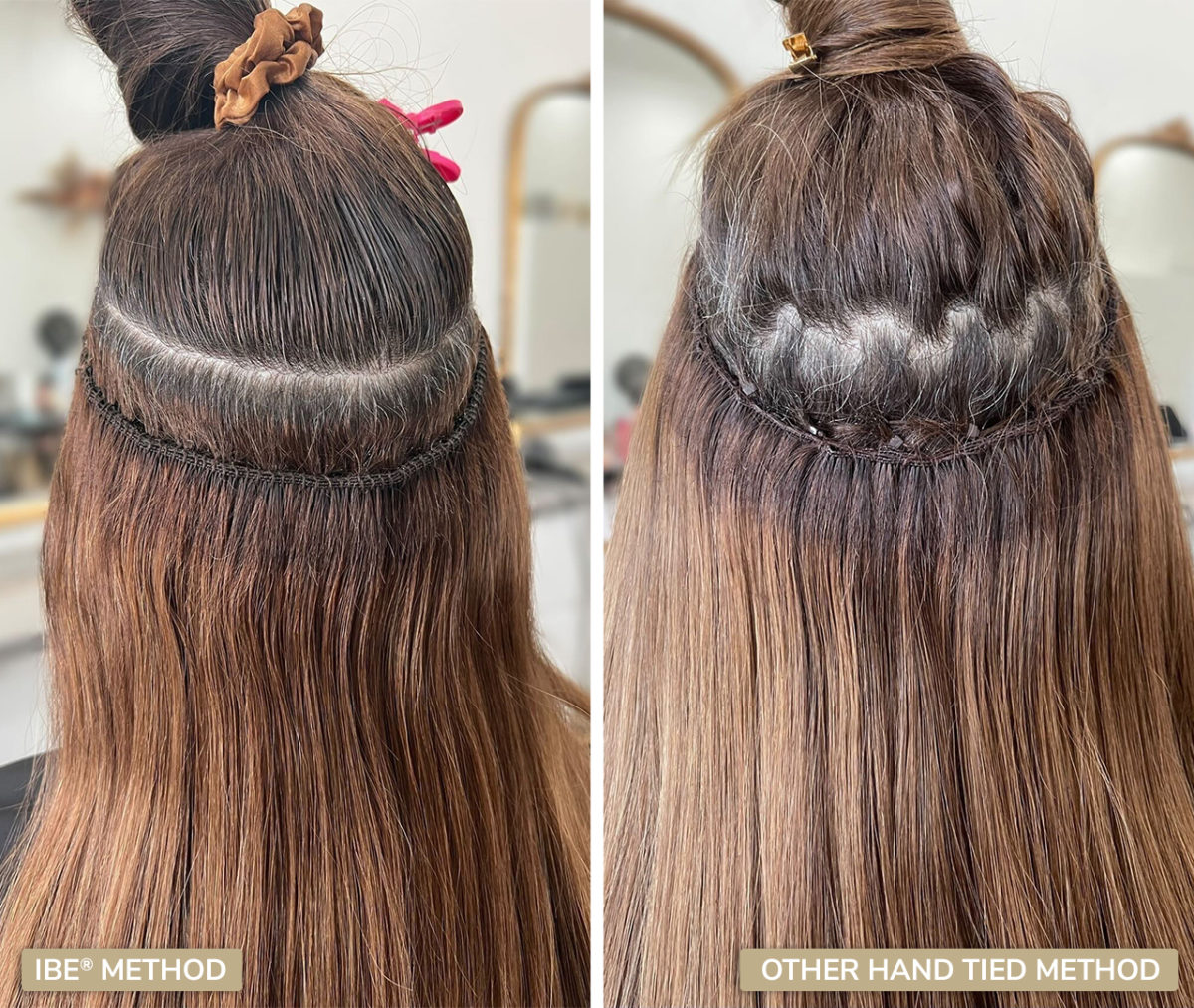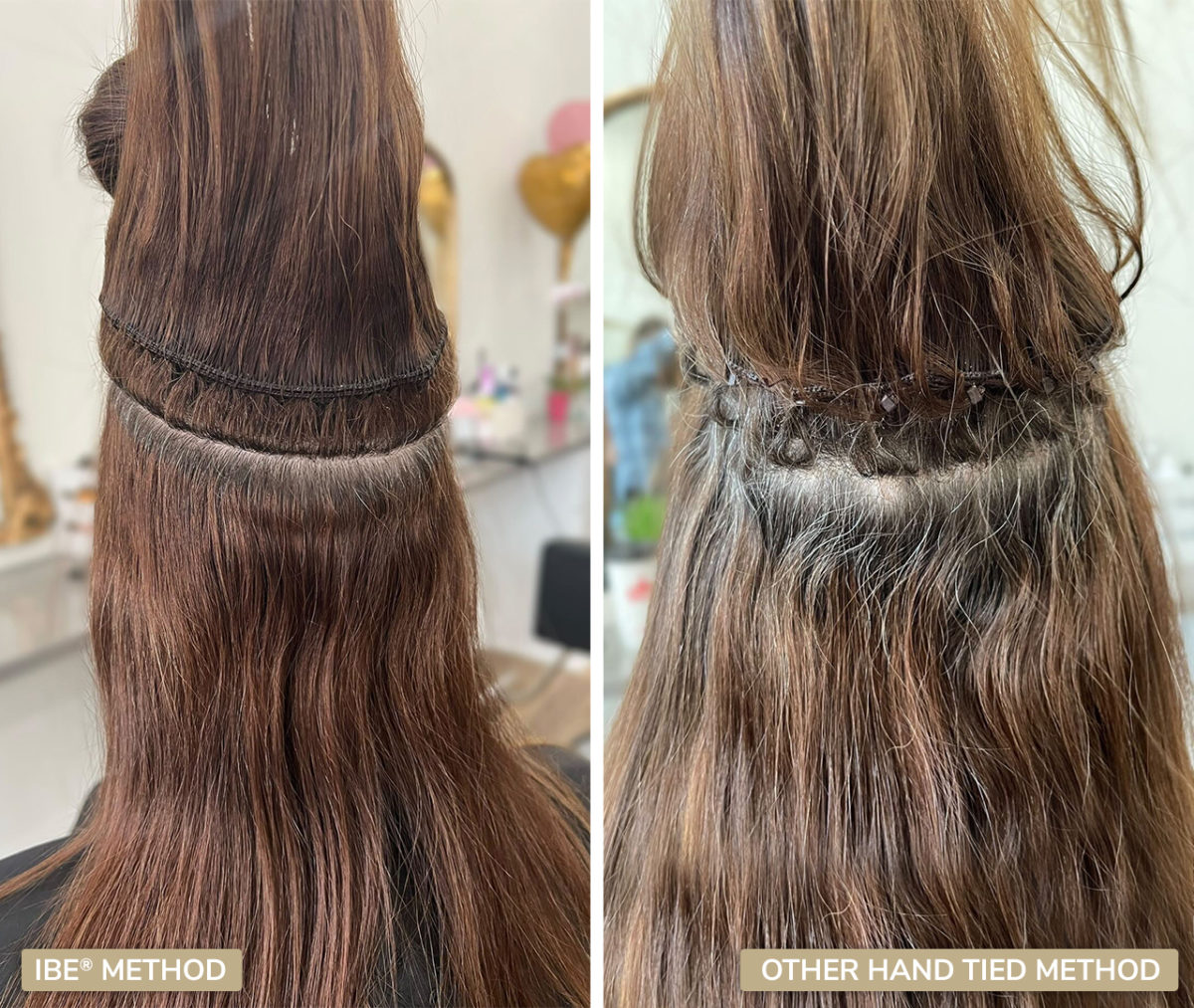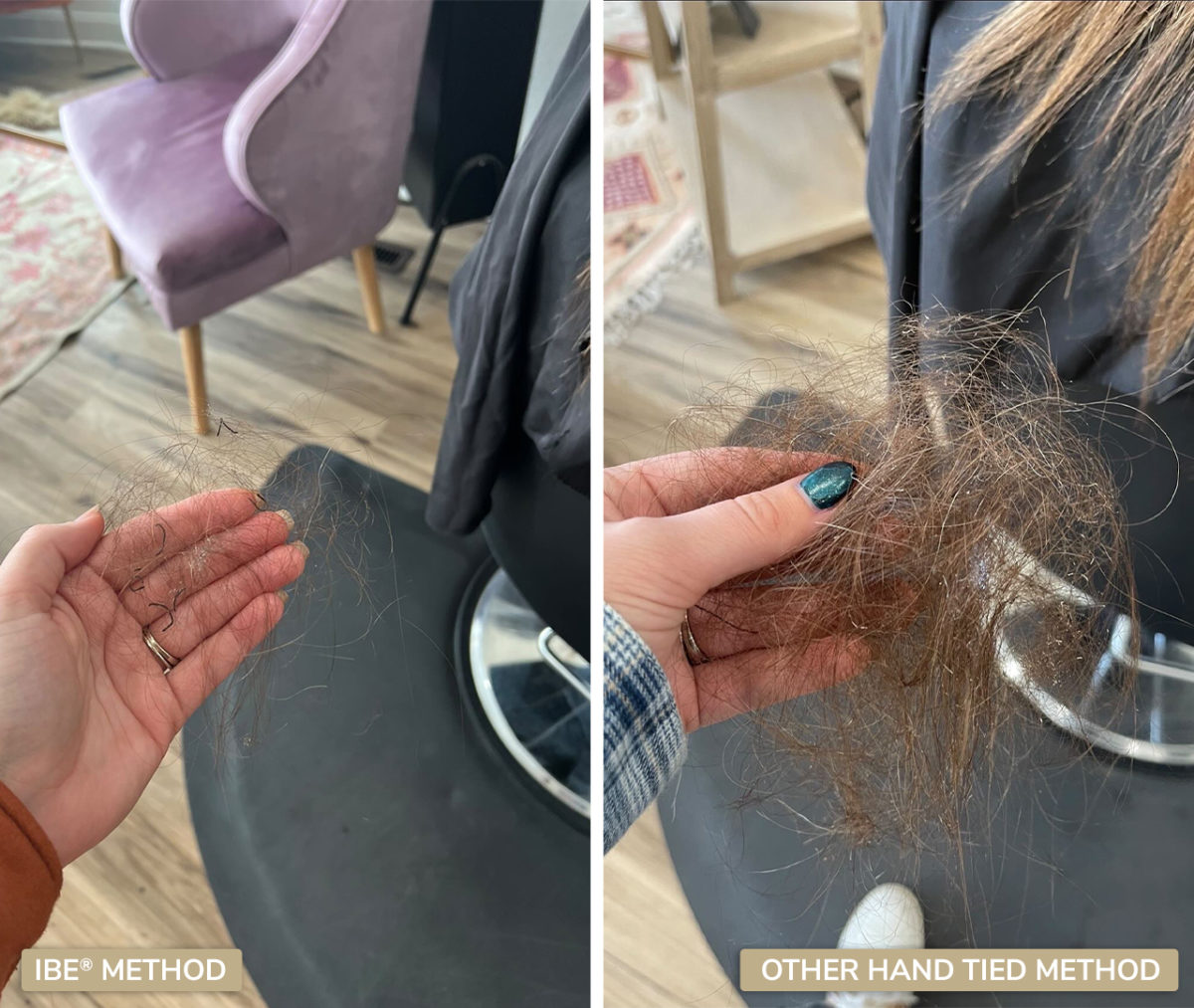 Hand tied extensions pros and cons
Hand tied extensions are one of today's hottest hair trends due to their comfort, wearability, and natural appearance. However, this popular hair extension method isn't for everyone. Like all hair services, it comes with pros and cons:
Hand Tied Extensions Pros
Glamourous volume, fullness and length that looks 100% natural
Very little stress on the scalp or the roots with the proper installation method like IBE®
No tension, tugging or damage to the natural hair
Unlimited styling possibilities without bead or weft exposure (including ponytails, buns and updos)
Discreet attachments that do not show, even in fine, thin or sleek hair
Appropriate for active lifestyles, including swimming, and high temperatures
Hand Tied Extensions Cons
Initial installation requires a significant investment of both time (2-5 hours) and money ($1000 or more)
Extensions must be moved up every 6-8 weeks as the hair grows out
Frequent brushing and maintenance is needed to keep hand tied extensions looking their best