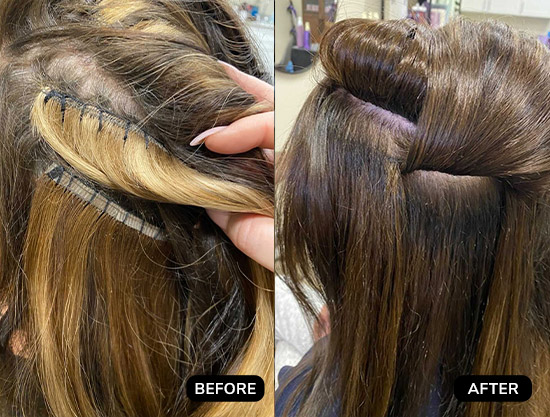 In hopes of falling back in love with my hair, I spent years and thousands of dollars on top services from the highest-rated stylists and salons – only to be left with over-processed and damaged hair. To minimize the damage, I decided my best option was to use hair extensions. They allowed me to regain my much-desired length and volume while also letting my hair recover.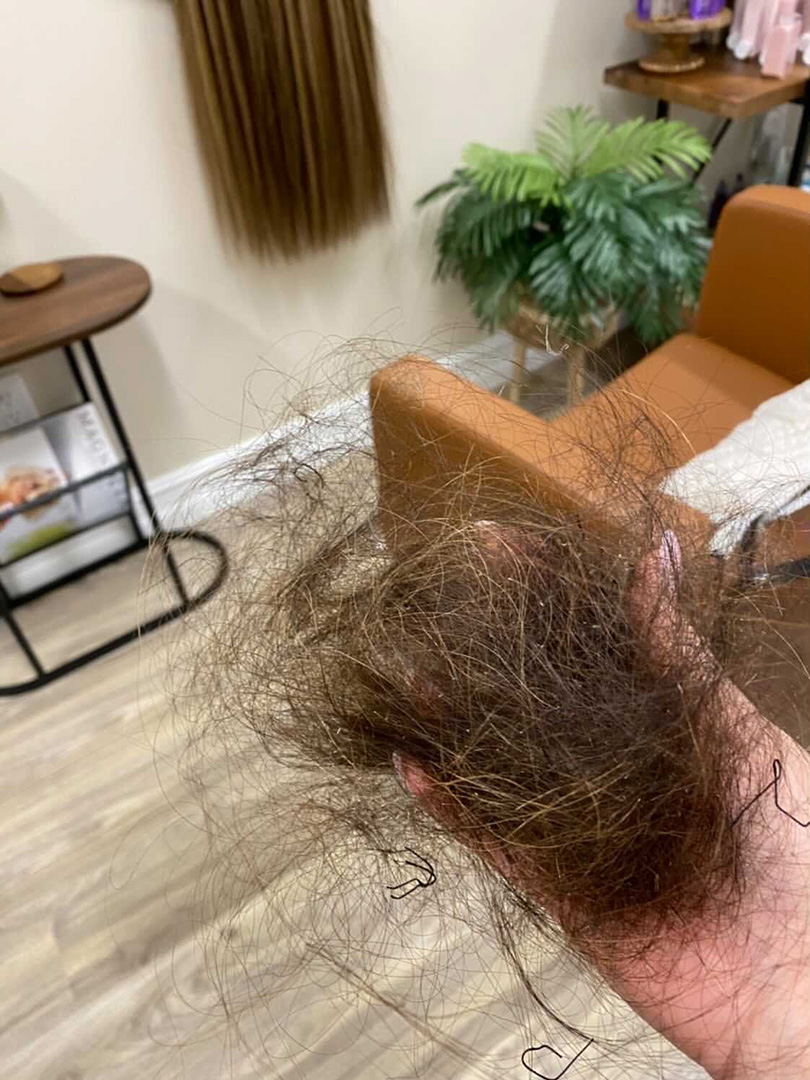 My first extensions experience
The expense wasn't in question; I was willing to pay any price for a quality service that restored my hair and boosted my confidence. I researched hair extensions and reviews before deciding on a method or stylist. Looking back, I had no idea what I was getting myself into, and unfortunately, my lack of knowledge in the hair industry cost me time, money, and most of what was left of my natural hair.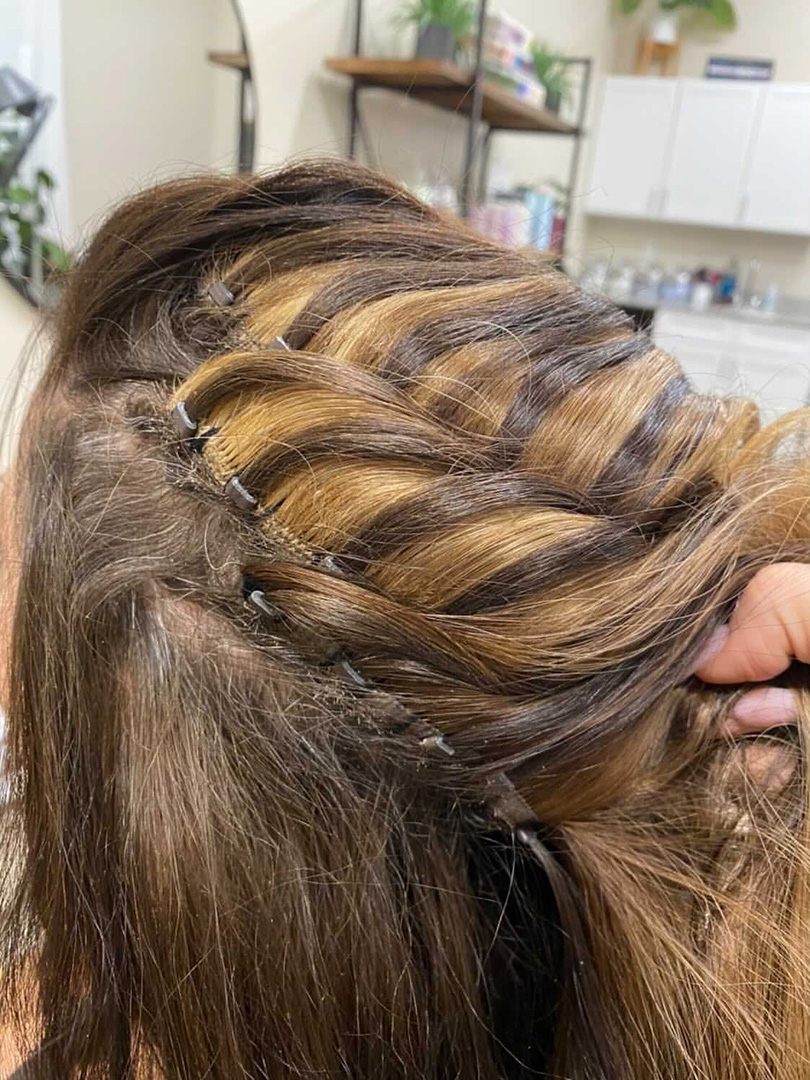 After my research, I concluded I wanted hand-tied wefts with unseen beads. I found a stylist that specialized in extensions and specifically blonde hair. I verified her certifications and viewed her work on social media sites as well. During our consultation, I explained in grave detail what I wanted and expected. I stressed that my main concern was to minimize or eliminate any further damage to my hair. She assured me that extensions were the way to go and that I would "love" the results. I paid her the deposit and scheduled my appointment.
Nightmare on my head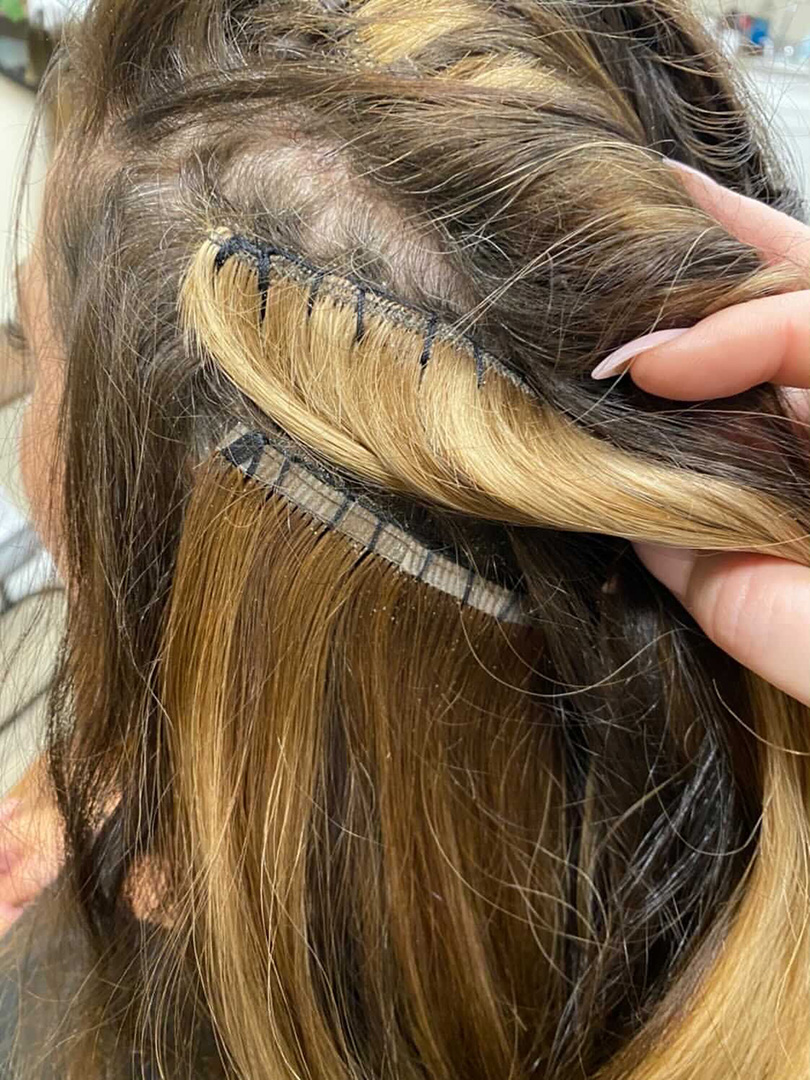 When I left the appointment, I was happier with the volume and style, but the hair was heavy and uncomfortable. I had a headache for about four days, and the beads were very visible and bulky to the touch. Within a week, my head was severely itchy, and there was no sign of relief. I just assumed this was normal and the downside to extensions. Not happy with the brassy color, I went back within two weeks so she could tone the extensions, only to leave with even more orange. I hated the color and wasn't sure I could live with the discomfort and difficulty of extensions.
Within the next few days, I was miserable and uncomfortable. I decided to try one more time, hoping that someone would finally get it right. I reached out to several top stylists and asked for referrals for an extension specialist. Just three weeks after my first extension experience, I was referred to Sarah.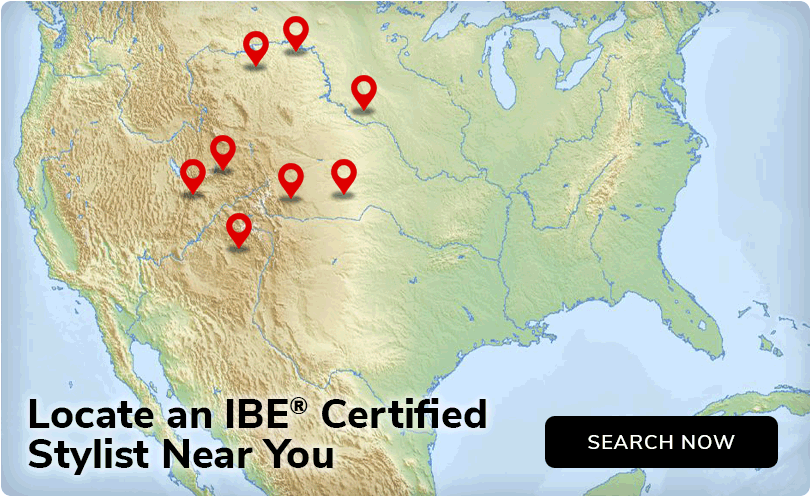 A new beginning with Sarah and IBE®
During my consultation with Sarah, she explained in detail the difference in extension quality, machine tied versus hand-tied, different methods, and the process of caring and maintaining the longevity of extensions. Unfortunately, she was booked solid for the next six weeks. However, my luck had finally turned when, later that evening, Sarah texted me with an opening for that Saturday morning.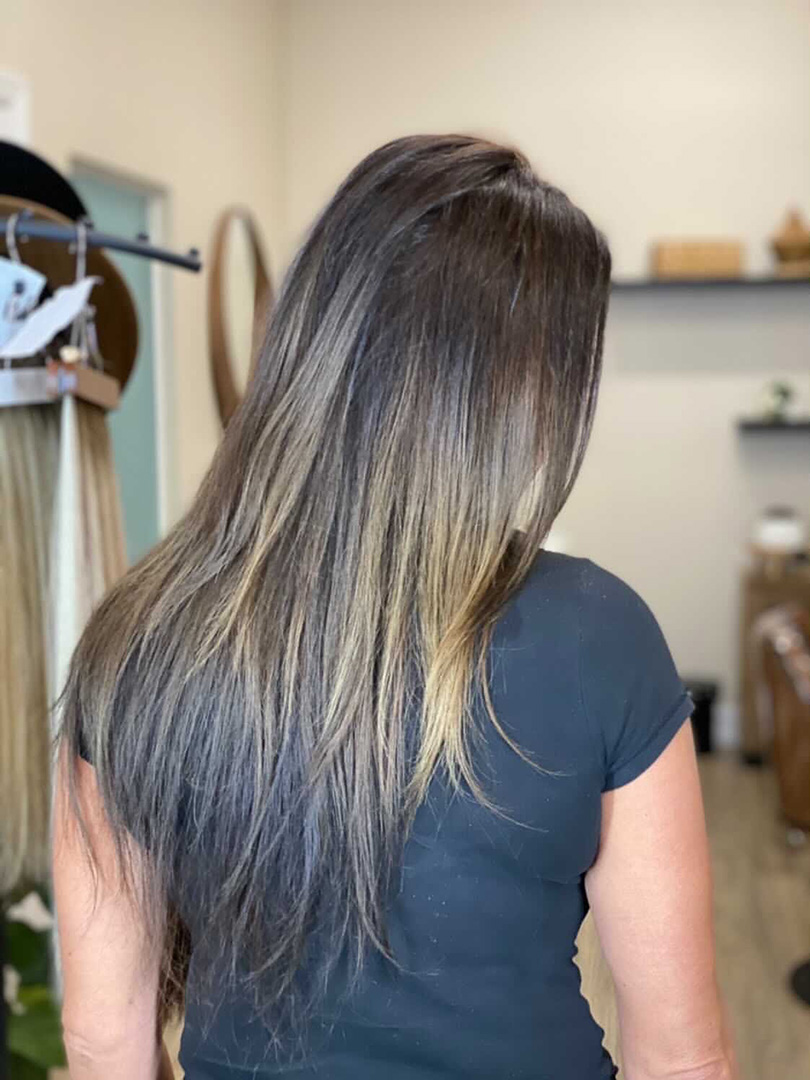 Little did I know, if I had waited, I wouldn't have had any hair left. When Sarah removed my previous extensions, they were not at all what I had asked for. I had five rows of two different types of wefts, and not hand-tied but manufactured by machine. The lack of care instructions and difficulty in cleaning caused severe matting and excessive damage. By the time we were done with removal, there was not much left of my natural hair. I was heartbroken and in tears. What I thought was a solution resulted in even more damage.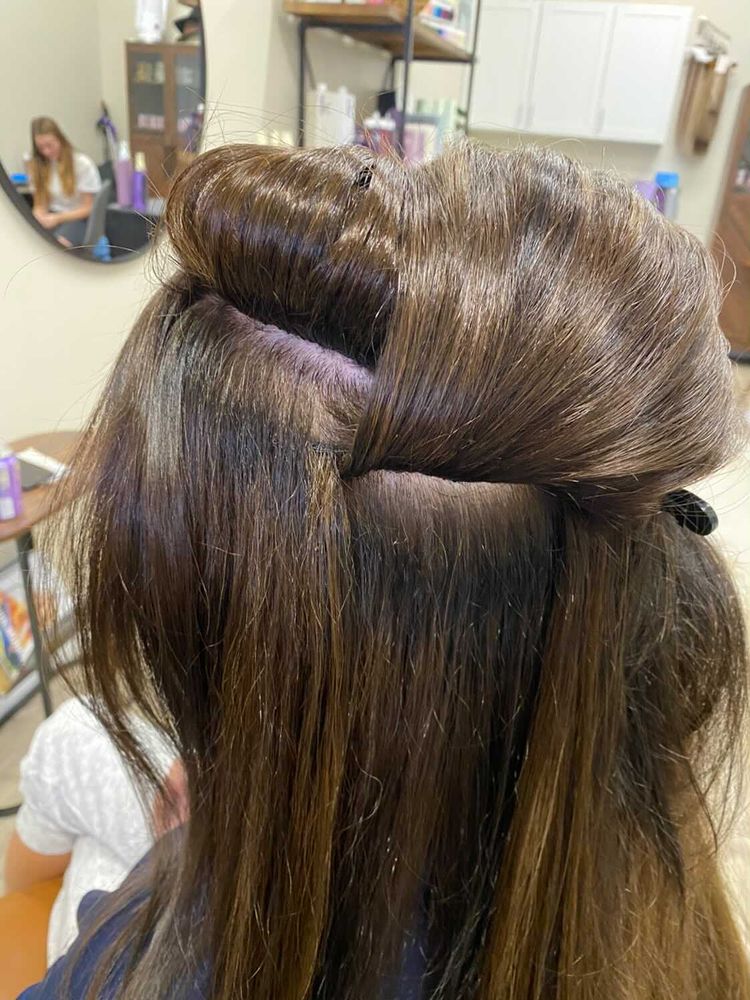 Sarah's extensive knowledge, dedication, honesty, and concern for the state of my hair were such a comfort to me – she was even willing to give up her personal time to help me. Most importantly, Sarah helped me fall back in love with my hair and, over time, we restored the long, healthy, beautiful, natural hair I once had.
The #1 Most Requested
Extension Method
JOIN OUR GROWING COMMUNITY OF IBE® CERTIFIED STYLISTS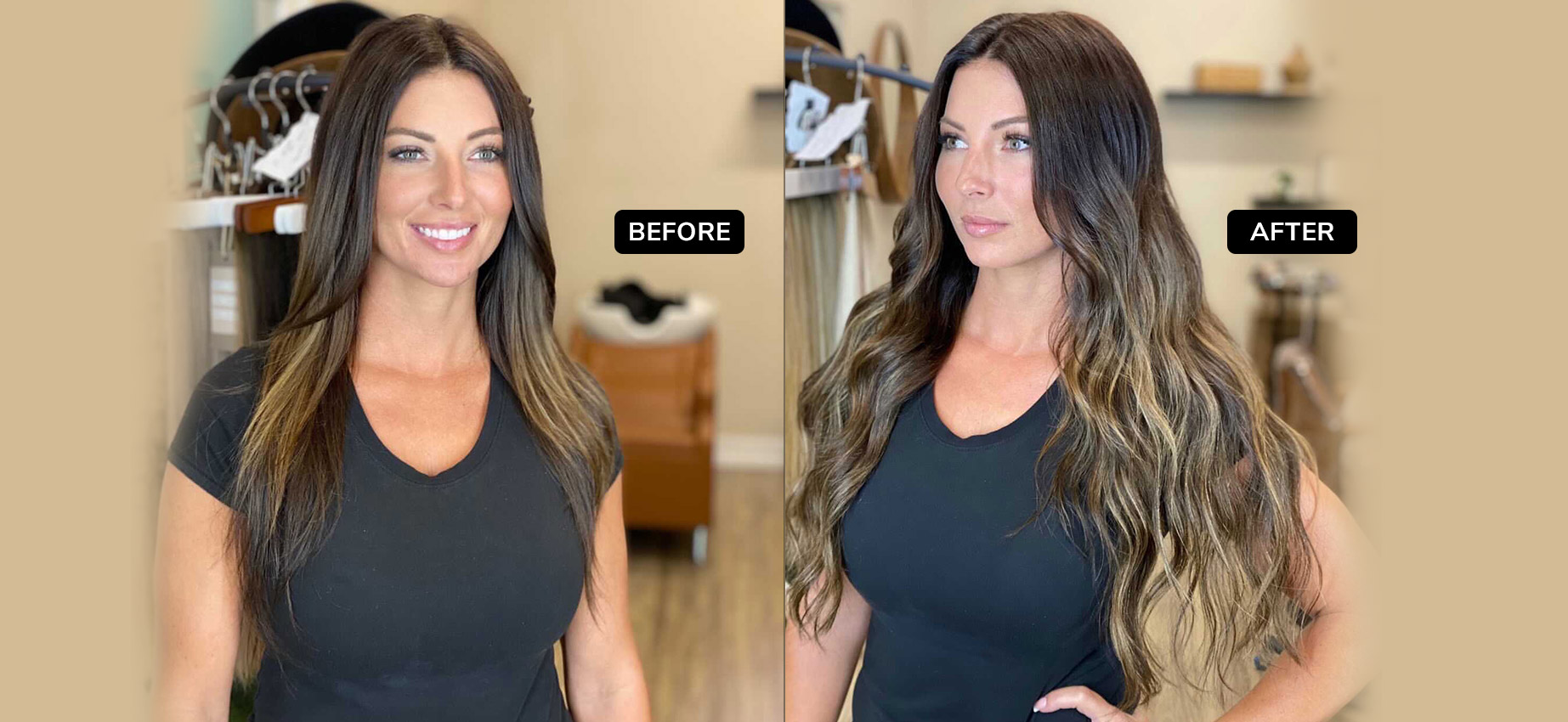 By the end of my appointment, I was overwhelmed with emotion! The extensions and color are better than I ever could have imagined! I felt beautiful and was totally IN LOVE with the results! The extensions are light, I have had no pain, no irritation, and the beads are not visible regardless of how I style my hair. The quality of extensions, the ease in care and styling, and the overall look are all incredible! As a woman, how we feel about our appearance has a direct impact on our daily lives! The quality of IBE®, combined with the education and passion from Sarah, has given me back the confidence that every woman deserves, and I couldn't be more grateful!