Hand tied extensions are quickly becoming the most popular type of hair extension in the industry. They are highly sought after because of their ability to be customized specifically for the clients wants and needs. The longevity and ease of maintenance is also extremely attractive to both stylist and client.
There are many misconceptions around hand tied extensions. Many think that they are a method, when in fact they are not. There's also confusion around different types of wefts and what is hand tied vs machine. In this article you will learn what hand tied extensions are and the differences between them and machine wefts.
What are hand tied extensions?
The term "hand tied extensions" can refer to the way the extensions are produced or the way they are installed. Hand tied extensions are made by hand-tying the hair onto the extension seam, resulting in a strong, slim and flexible weft.
These wefts are then hand-sewn onto a row of beads attached to the natural hair. This is the best extension technique for creating luxurious volume, length and body while preventing damage to the natural hair.
Once hand tied extensions are installed, they look and feel completely natural. They can be colored, washed, curled, and upstyled just like natural hair. Many stylists and clients prefer hand tied extensions due to their comfort, flexibility, and seamless finish.
Want to learn more about the hand tied application method? Check out our Ultimate Guide to Hand Tied Extensions.
What is a machine weft?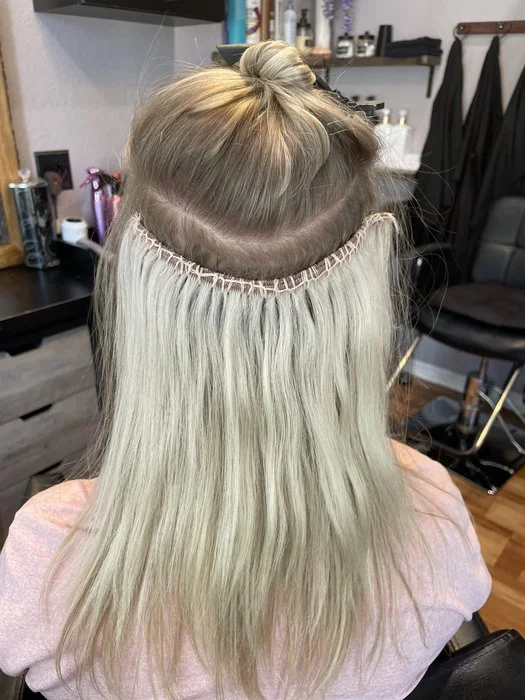 Machine weft extensions are a collection of hair sewn together by a machine. They are thicker and heavier than hand tied wefts and have a wider fabric seam at the top. Machine wefts are affordable, durable and can be cut to any length.
These were the first wefts to hit the consumer market several decades ago, and are still one of the most common types of hair extensions. However, bulky machine wefts often don't look natural and the edges of the seam may show. Furthermore, the added weight can cause discomfort and damage to hair. For these reasons, machine wefts are not appropriate for fine, thin, or delicate hair.
What is the difference between hand tied and machine weft?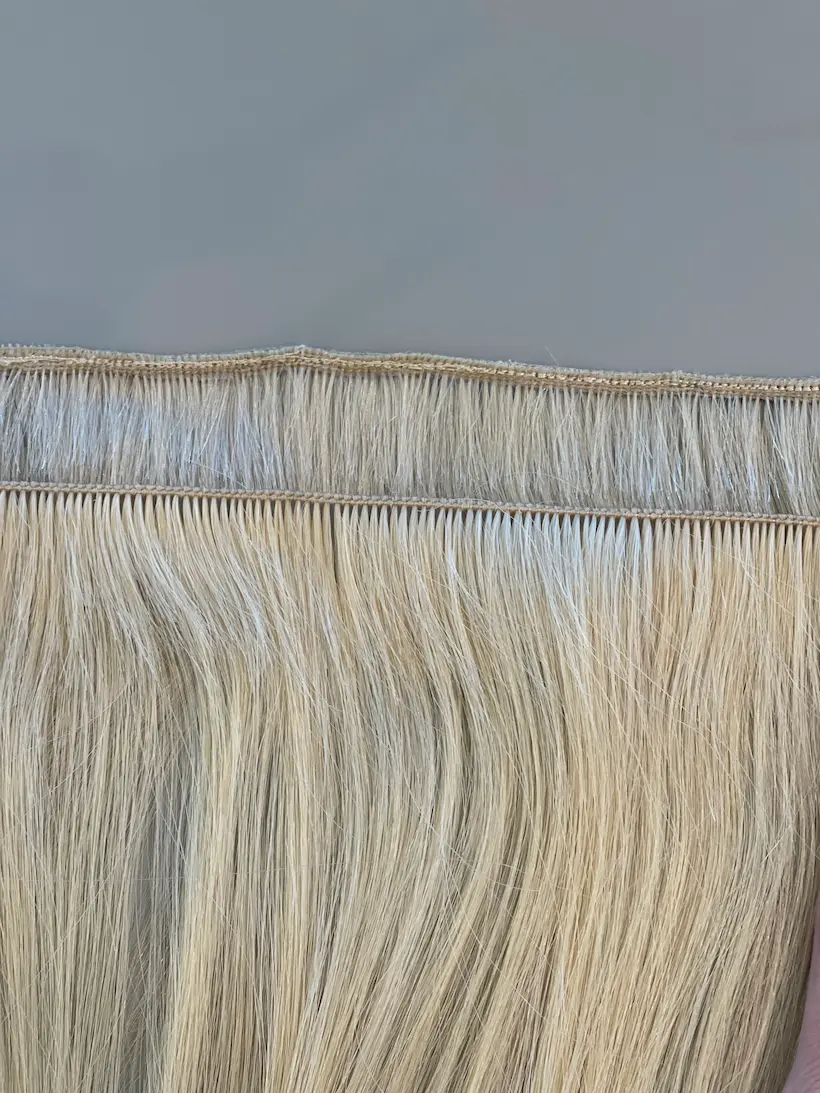 The difference between hand tied and machine weft extensions comes down to the way the wefts are produced. Just like the name suggests, hand tied extensions are made by hand. The extension hair is manually tied to the seam and knotted in place. By contrast, machine wefts are mass-produced by an industrial sewing machine that secures the hair to the extension seam.
Hand tied wefts are a very high-quality product due to the artisanal, labor-intensive production method. They are lighter, thinner and stronger than machine wefts, making them a perfect option for discreet, tension-free hair extensions.
Machine wefts are thicker and heavier with a wider seam at the top. While machine wefts are a less expensive option, the quality is much lower and the extensions do not blend seamlessly into the hair. Some clients also find that the bigger seams and bulky extensions hurt their scalps or pull on their natural hair.
Both hand tied and machine weft extensions can be applied in the salon, but hand tied extensions are recommended for the most natural, comfortable results.
The #1 Most Requested
Extension Method
JOIN OUR GROWING COMMUNITY OF IBE® CERTIFIED STYLISTS
What is the difference between a weave and a weft?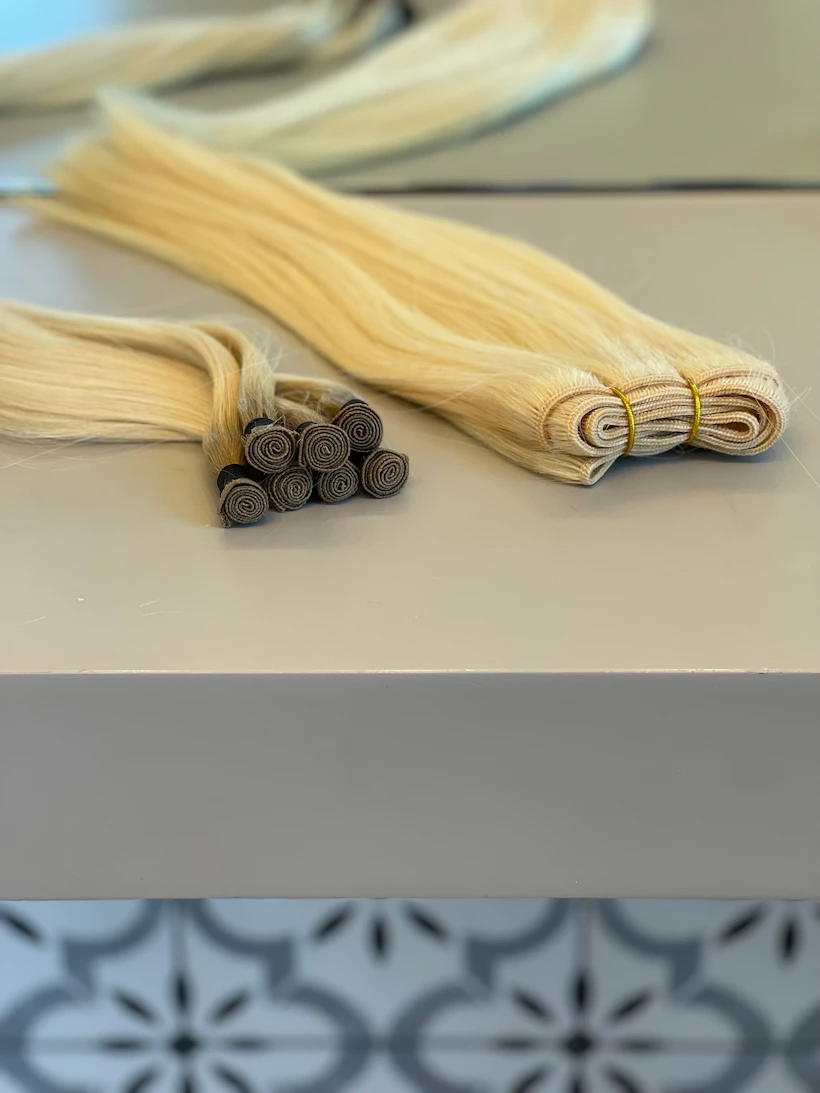 A weave is a hair extension installation method that involves sewing extension hair onto flat cornrows. This is a popular protective style for textured Black hair, although it can be used for other hair types as well. Wefts refer to the actual extension hair– a collection of hair strands attached to a narrow strip of cloth.
The wefts may be hand tied or machine sewn, and can vary greatly in size and density. High-quality, genuine human hair wefts are recommended for best results.
Hand tied extensions pros and cons
Hand tied extensions are one of today's hottest hair trends due to their comfort, wearability, and natural appearance. However, this popular hair extension method isn't for everyone! Like all hair services, it comes with pros and cons:
Hand Tied Extensions Pros
Glamourous volume, fullness and length that looks 100% natural
Very little stress on the scalp or the roots
No tension, tugging or damage to the natural hear
Unlimited styling possibilities (including ponytails, buns and upstyles)
Discreet attachments that do not show, even in fine, thin or sleek hair
Appropriate for active lifestyles, including swimming, and high temperatures
Hand Tied Extensions Cons
Initial installation requires a significant investment of both time (2-5 hours) and money ($1000 or more)
Extensions must be moved up every 6-8 weeks as the hair grows out
Frequent brushing and maintenance is needed to keep hand tied extensions looking their best
May not be the best choice for coily or super-curly hair (depending on the desired style)
Machine weft hair extensions pros and cons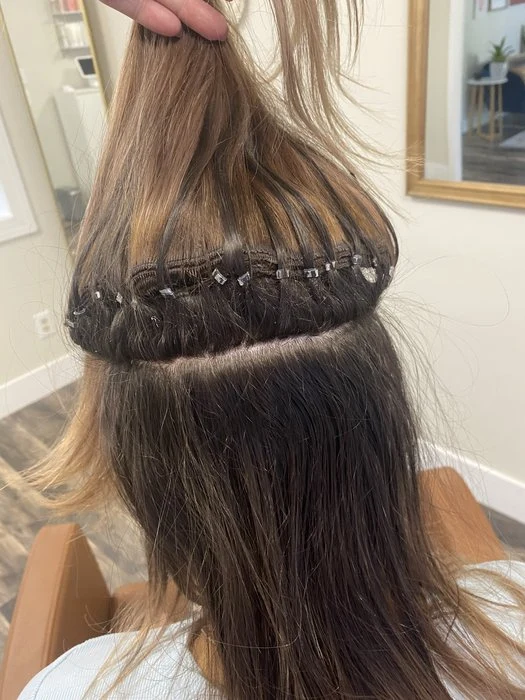 Machine weft hair Extensions Pros:
Pro 1- More grams of hair per weft
Pro 2- More durable construction
Pro 3 – Cost effective for amount of hair being added
Machine weft hair Extensions Cons:
Con 1- Not flexible
Con 2- feels bulky when layered on a row
Con 3- can not be used on fine hair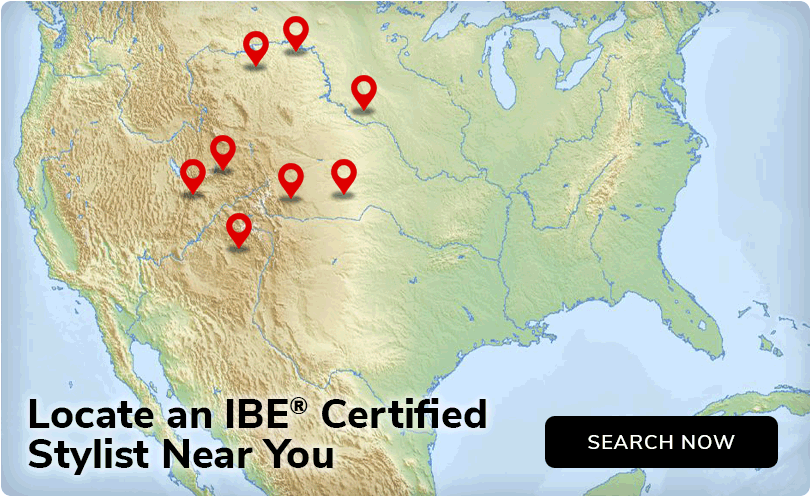 Hand tied extensions cost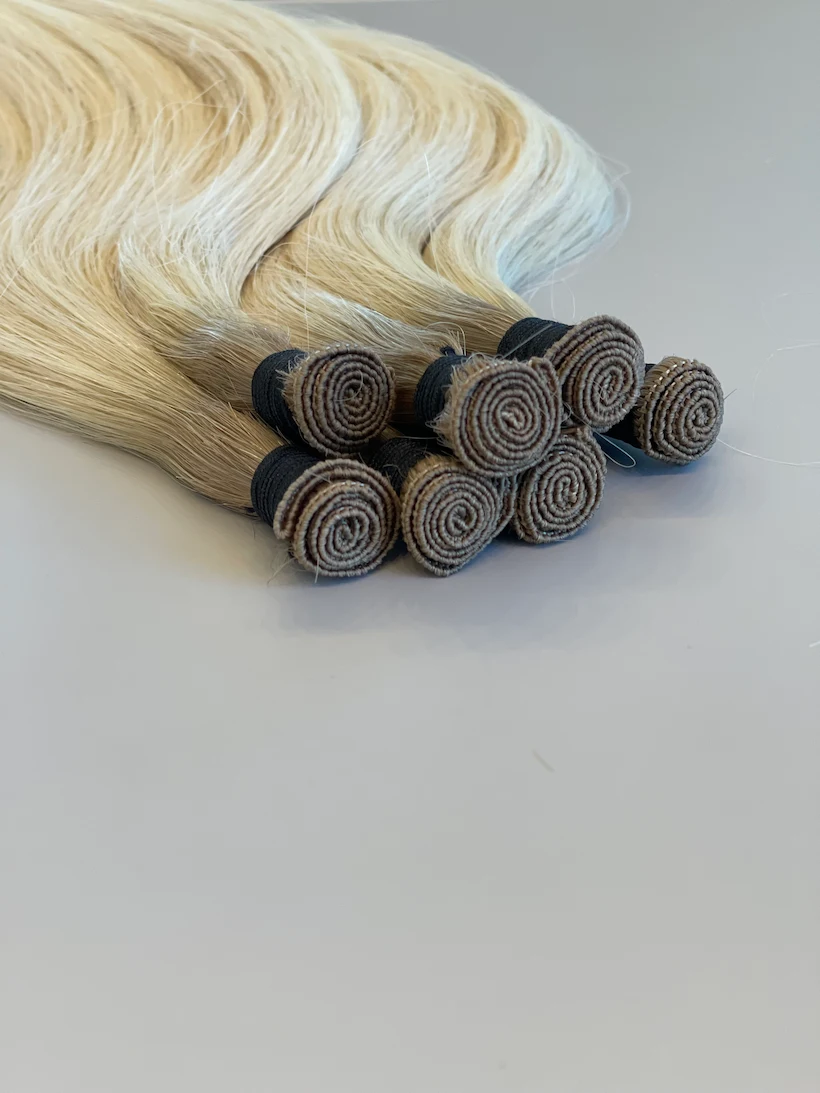 Prices usually start at $200-250 for the initial installation, plus the cost of the hair extensions themselves. This does not include any color services that may be performed. Maintenance visits are about half the cost of the initial installation ($100 and up).
Machine weft cost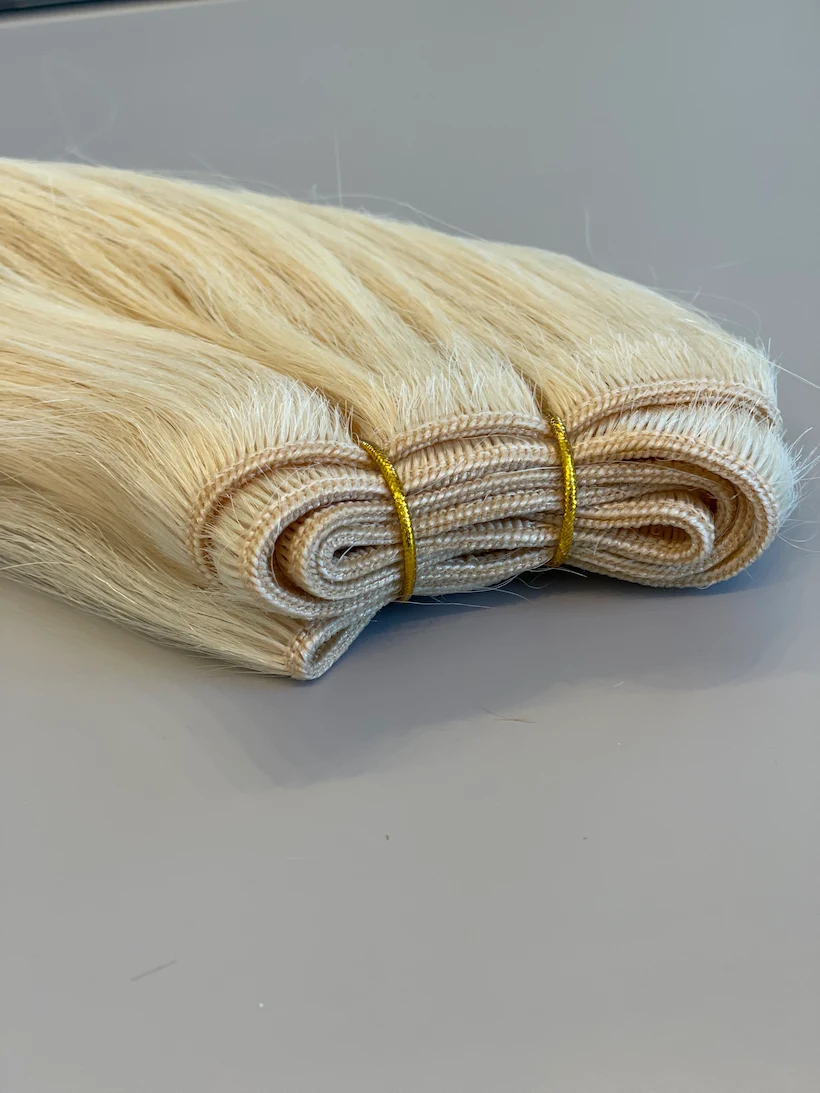 Machine wefts prices start around $300 and up to around $600 depending if you want just volume or you want to add extra length to your hair. For installation, you will need around $250+ depending on how many rows you want.
What are the best weft hair extensions in 2022?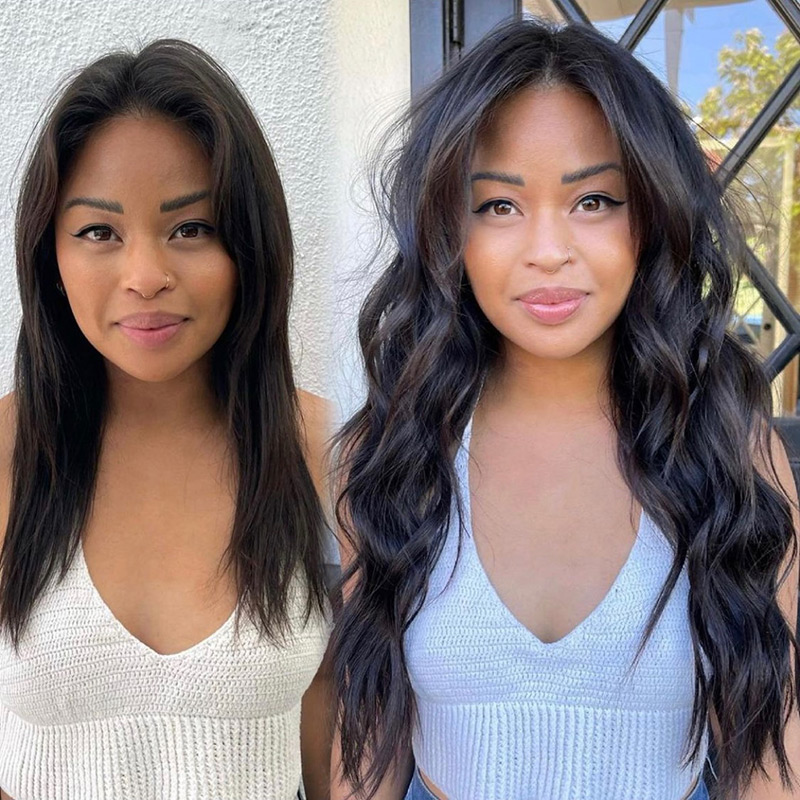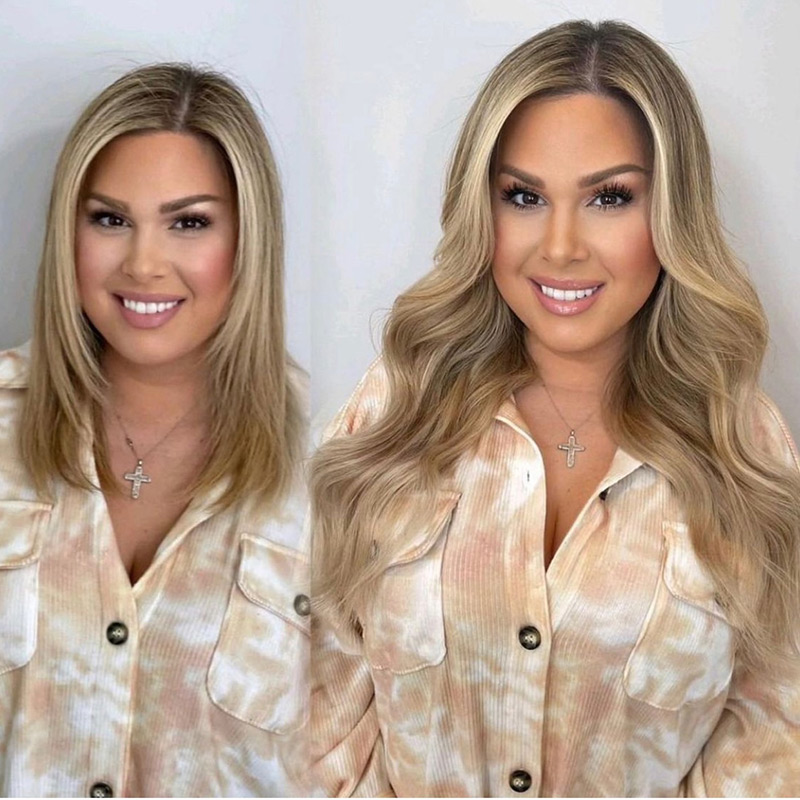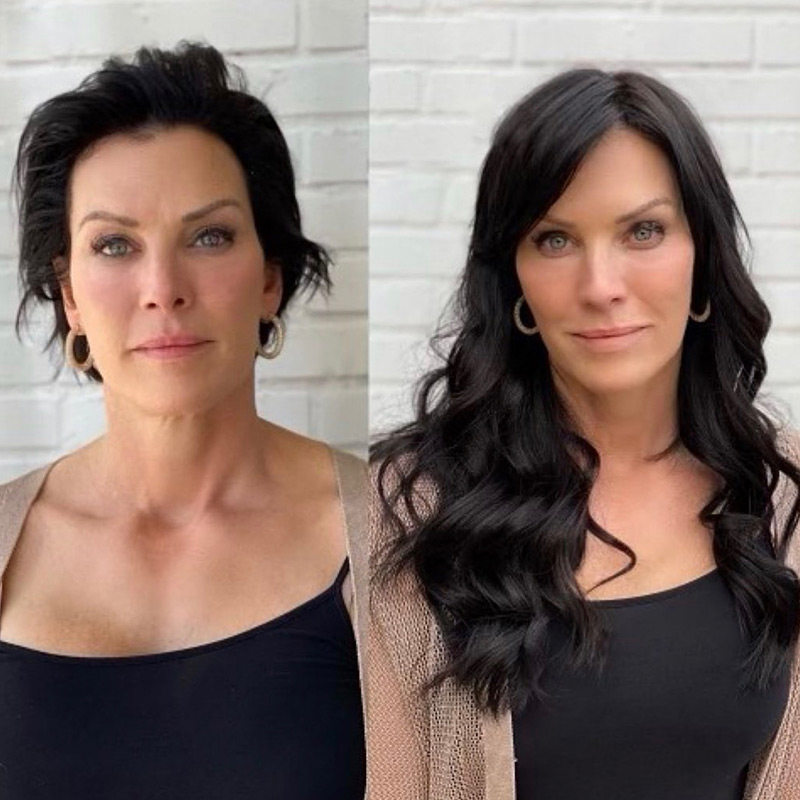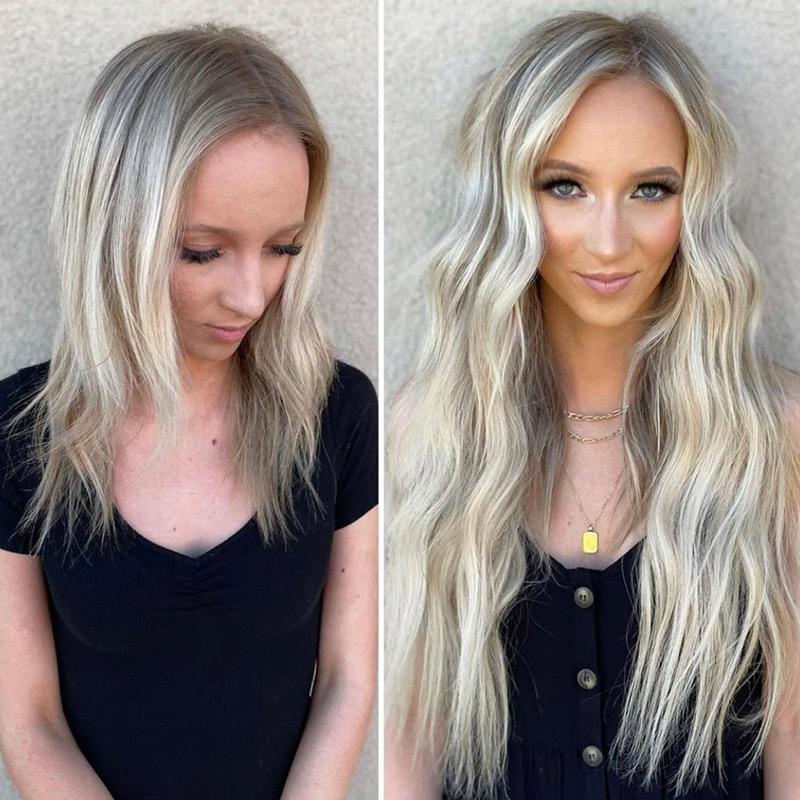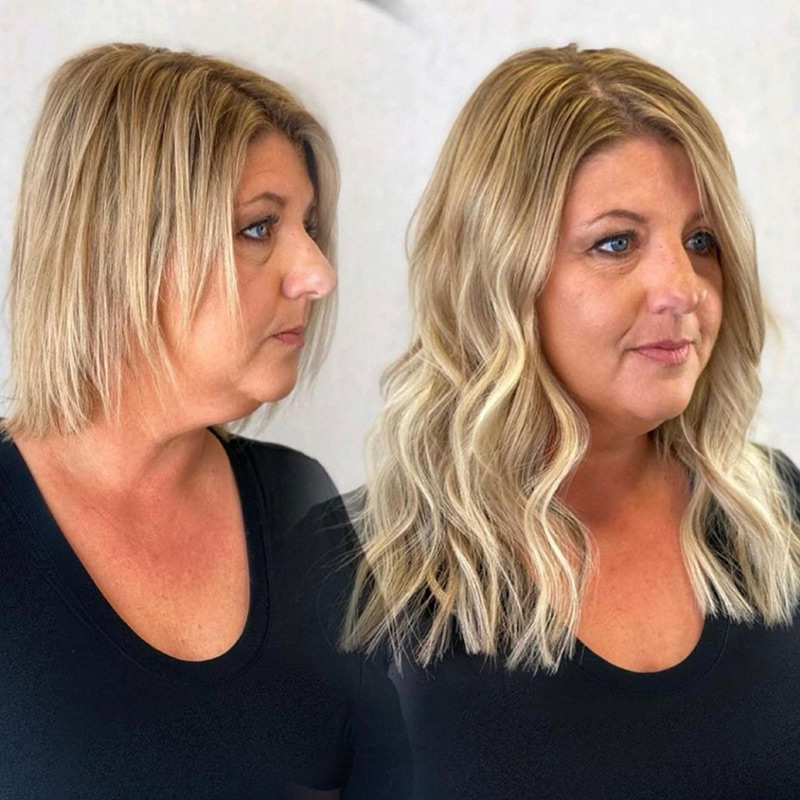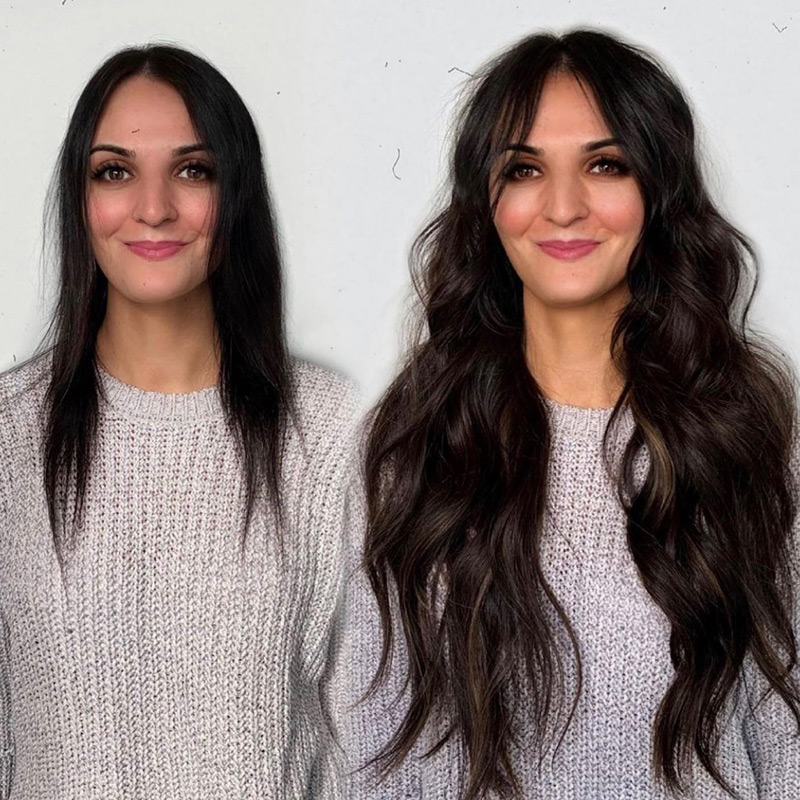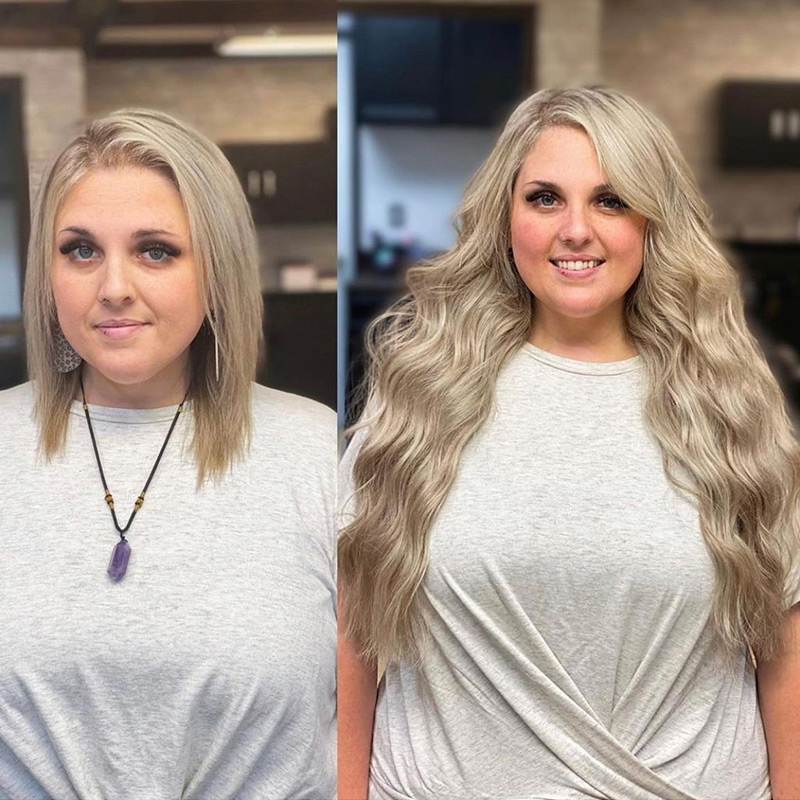 When it comes to selecting the best weft hair extensions, a hand tied extension is going to give you the most versatility and customization because each one is so lightweight, giving you the ability to truly do what is best for your hair by matching the proper extension weight to your natural density. For the most seamless type of extensions, hand tied extensions are easily number one because of their invisible seam along the top.
Many women who are looking to get extensions installed are searching because their natural hair is thin. Because of this, a hand tied extension will be the best type to keep her hair healthy as she wears extensions.
Machine tied wefts can be too bulky and provide limitations for styling. Whereas hand tied wefts, combined with a seamless installation method, will provide the best versatility and most comfortable wear available.