Hand tied hair extensions have become extremely popular over the past few years. As stylists and clients alike are realizing the benefits of this type of extension over other popular types. Although they are extremely popular and the first choice for many professionals, you do want to research and understand exactly what you are getting. It is important to know how long your hand tied extensions will last and what you can expect in maintenance.
How long do hand tied hair extensions last?
Hand tied hair extensions last for 6-12 months with proper care and use of recommended professional products. High-quality, 100% real human hair extensions are recommended for best results. There are many sources for hand tied hair extensions. You can get wefts that are sourced from different parts of the world. Asian, Russian and Indian are the most common. Your licensed stylist may trim the extensions periodically to remove any damaged ends.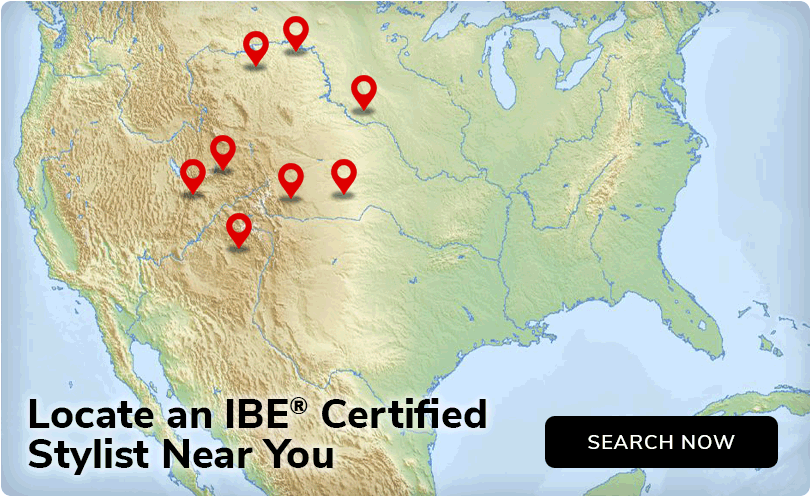 Comparing The IBE® Method Versus Other Popular Extension Methods
When it comes to the cleanest hand tied extension method, nothing compares to Invisible Bead Extensions®! Here are the comparison photos between IBE and another well known hand tied extension method using beaded rows.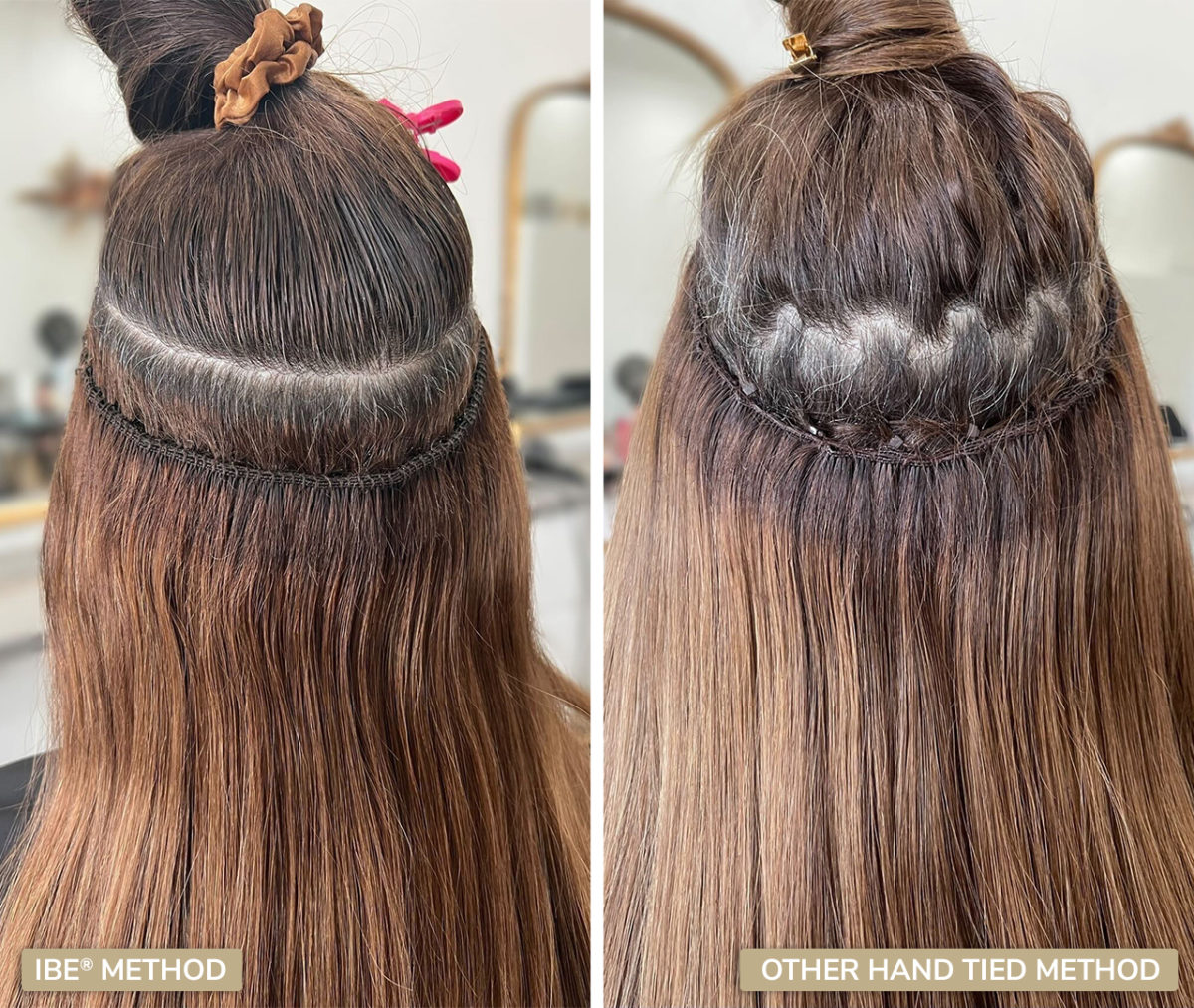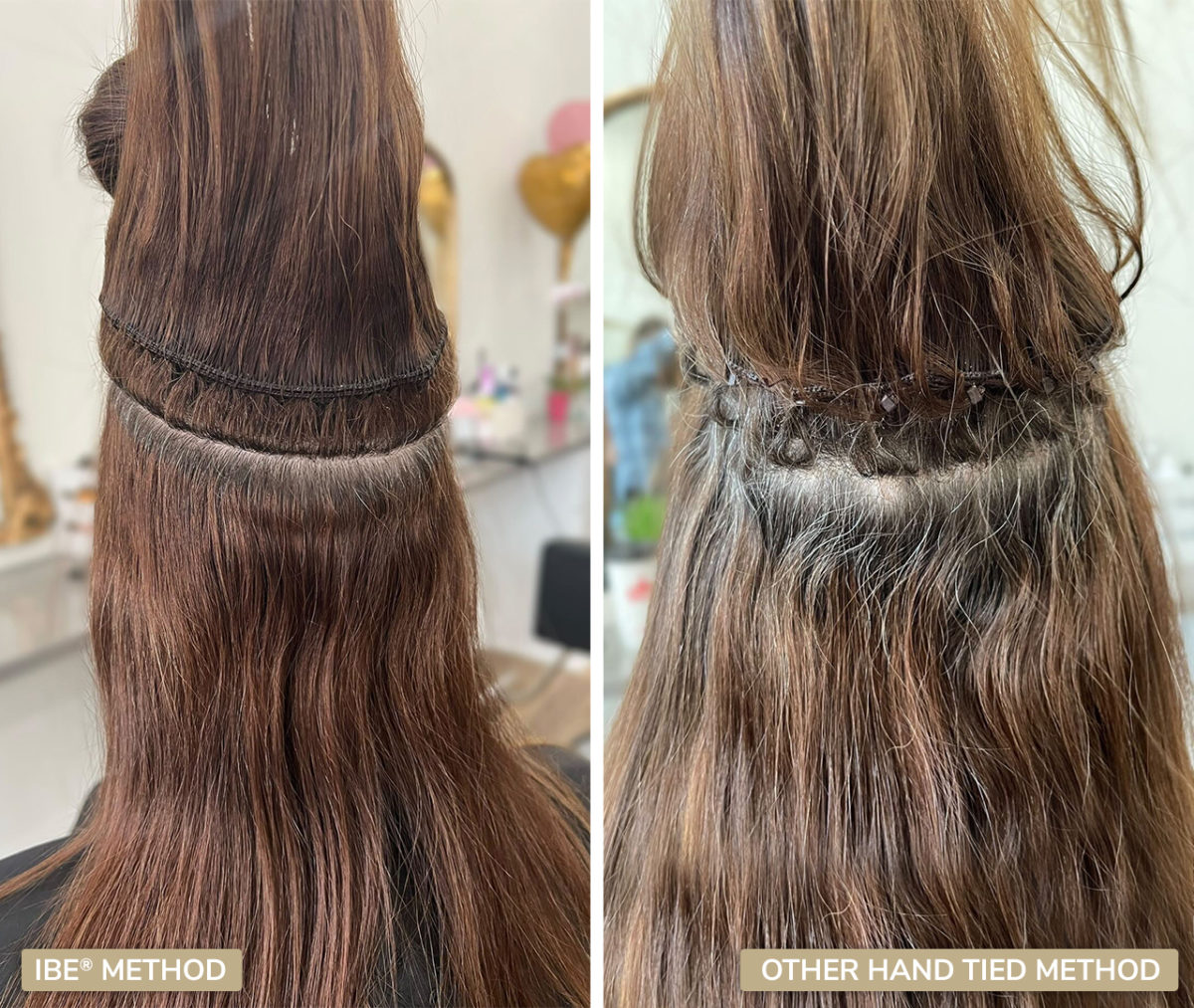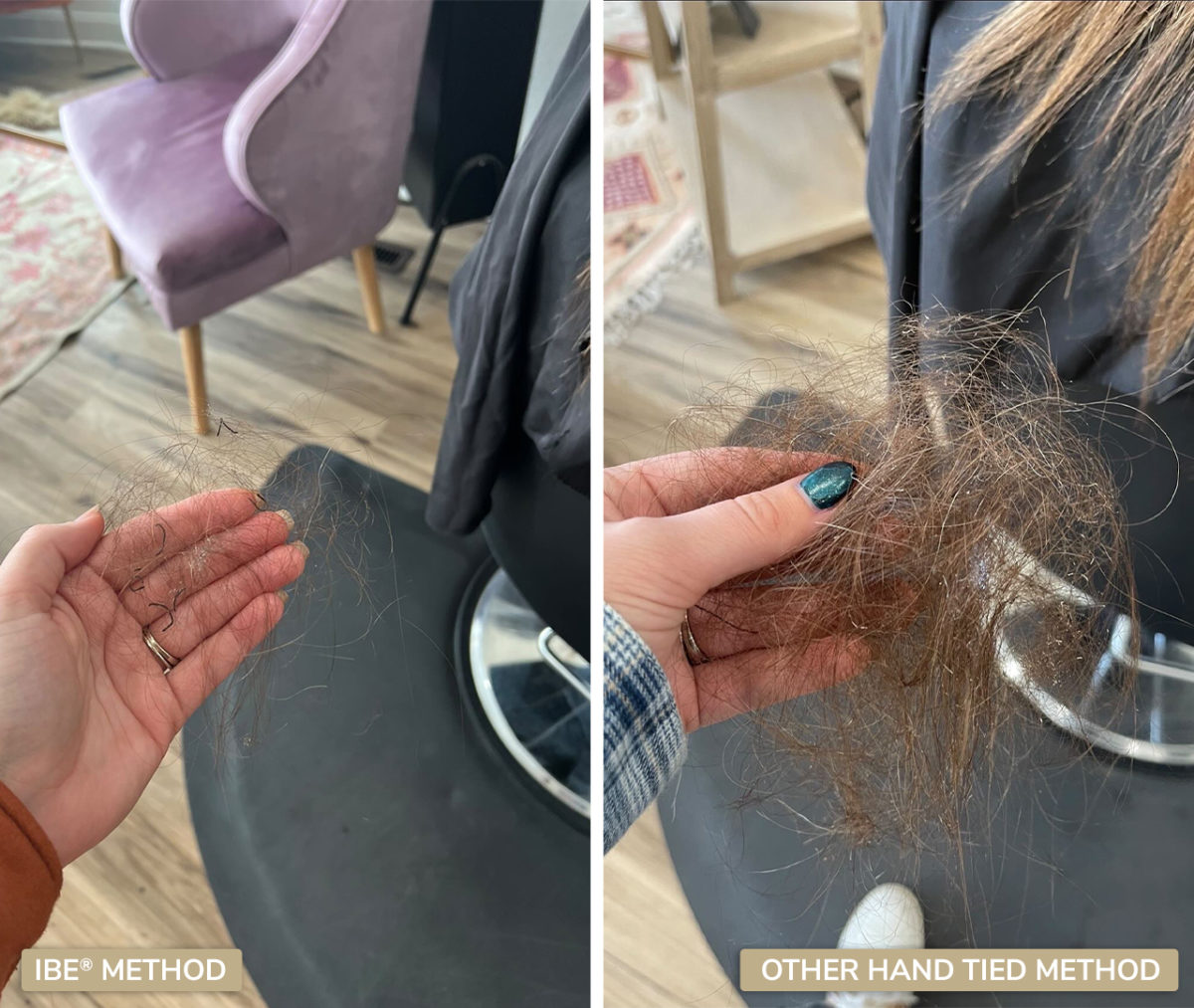 How often do you have to move up hand tied extensions?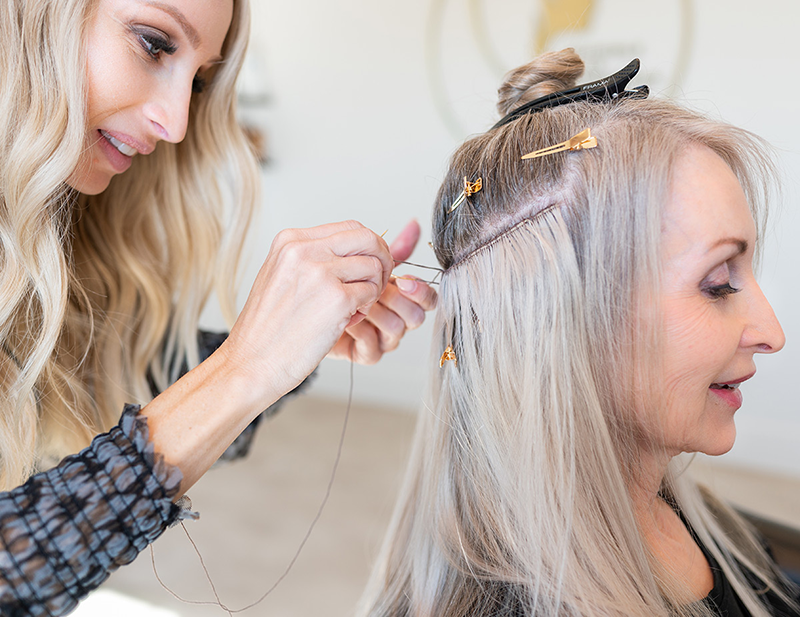 Generally, hand tied extensions need to be moved up between 5-8 weeks. This will depend on several factors, including the type of installation method your stylist uses. IBE has proved to be the most durable.
The time you can go in between maintenance appointments also depends on how fast your natural hair grows, as well as your natural hair density. The more fine your hair is, the sooner you will need to return for maintenance to ensure a healthy and sustainable result. Some installation methods may require a "mini" move up around 3-4 weeks to push the beads up closer to your scalp. Other installation methods like IBE do not agree with the concept of "pushing up the beads". A complete re-install of your extensions is suggested for the best result. Resetting tensions and establishing a fresh foundation for hand tied extensions is imperative for a sustainable result.
Are hand tied extensions worth it?
Yes, absolutely! There is no other type of extension that gives as natural of a result.
When coupled with a safe installation method like IBE, hand tied extensions will give you the most comfortable wear. They can allow your natural hair to grow out because they are not damaging to the scalp or hair follicle. There are only 10-15 attachment points with a row of hand tied extensions, when compared with up to 100 with other methods. The absence of adhesives and bonds also allows your hair to safely support the hand tied extensions without being disturbed by adhesives or chemicals.
Hand tied extensions maintenance cost
The cost of maintenance for your hand tied extensions will vary based on a few factors, but the average price for a move up or reinstall is around $200 per row. Your professional stylist will base his or her prices on their experience in the industry, and the installation method they are certified in. Some methods, such as IBE, will be priced slightly higher based on the education your stylist received during training as well as the quality of the install itself.
How long does the extension hair typically last?
Hand Tied Extensions: From 9 months to a year.
Sew In Extensions: From 6 to 8 months
Tape In Extensions: From 6 to 8 months
Keratin bond: From 4 to 6 months
Which extension methods last the longest?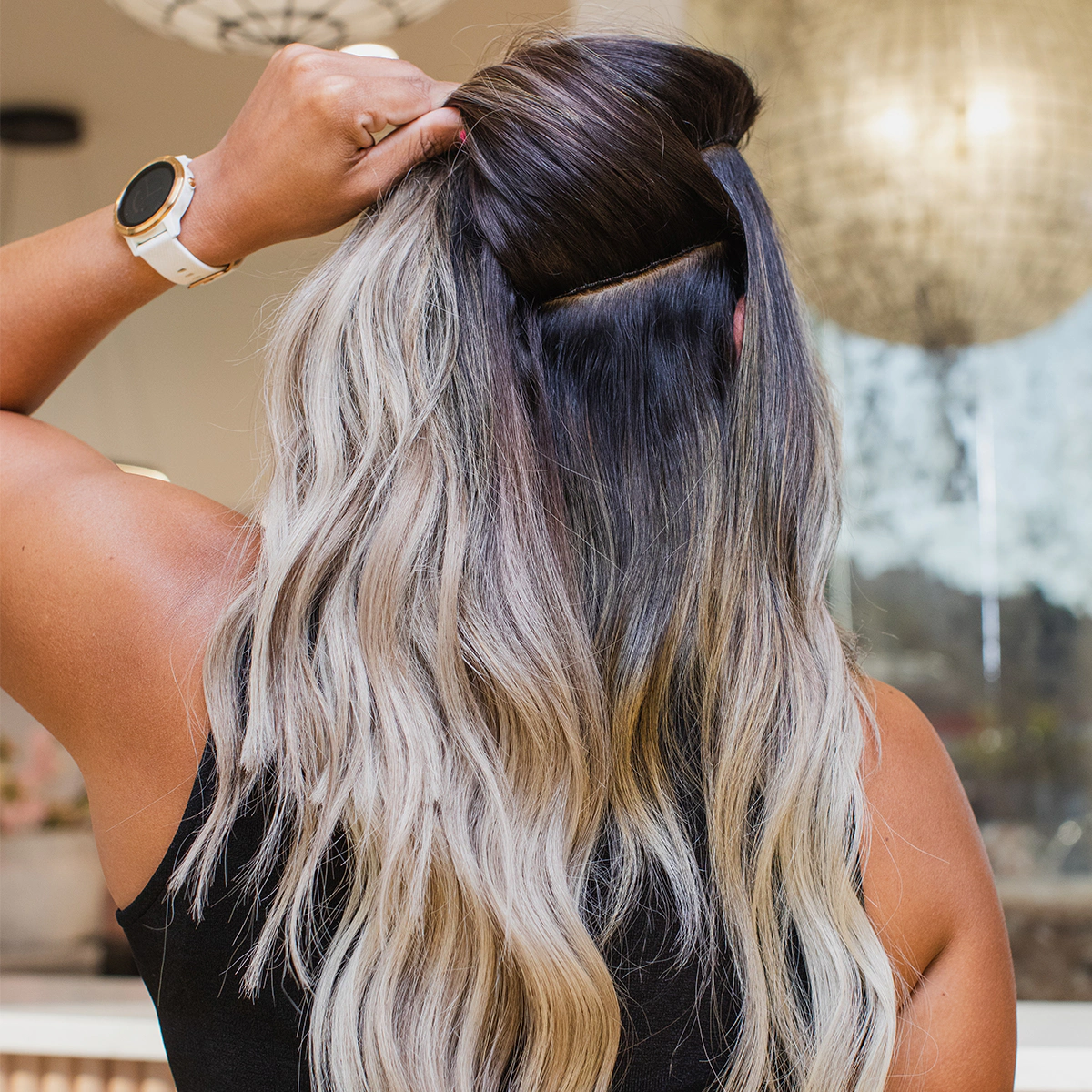 Your time in between maintenance appointments will vary based on the type of extension method you wear. Within the hand tied methods, IBE® is going to provide the most longevity and durability due to the unique way the foundation is created.
Most hand tied methods require a move up around 6 weeks, whereas IBE® guests can go upwards of 10 weeks if your stylist sees that your natural hair can support it.
Tape in extensions will need to be moved up at 6 weeks. If you go longer, you will start to have adverse conditions. Your tape ins can twist, start to seap adhesives into your natural hair, or even just begin to fall out.
Keratin bond extensions can last about 4 months, but you will need to replace the hair each and every time you have a maintenance appointment.
The #1 Most Requested
Extension Method
JOIN OUR GROWING COMMUNITY OF IBE® CERTIFIED STYLISTS