What Is Invisible Bead Extensions®?
Invisible Bead Extensions®, also known as IBE®, is a unique method that is used by licensed cosmetologists to install hand tied hair extensions.
Why Use The Invisible Bead Extensions® Method?
Invisible Bead Extensions® was created to fill the gaps left by other methods being utilized in the industry. Where other methods leave women feeling discomfort from their extensions, IBE® promises a damage-free and comfortable installation. When other extension methods require 3-6 weeks in between maintenance appointments, IBE® offers a more durable method with the ability to go twice as long in between reinstalls. While many extensions leave guests feeling exposed with certain hairstyles, IBE® gives seamlessness from every view. It offers flexibility and comfort even when worn up in a ponytail. This patent pending method quite literally "flipped" the extension industry!
Your Journey to Success Starts Here!
Become an IBE® Certified Stylist And Redefine Your Career!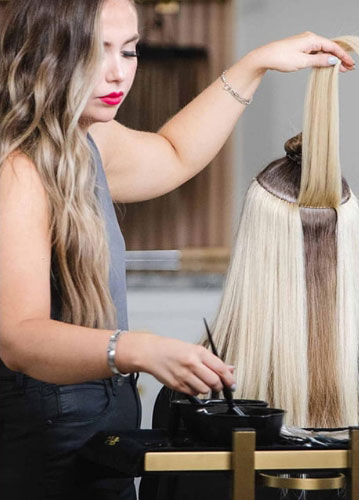 The #1 Most Requested
Extension Method
JOIN OUR GROWING COMMUNITY OF IBE® CERTIFIED STYLISTS
How Is The IBE® Grow Out Different From Other Hand Tied Extension Methods?
Did you know your extensions are considered in a grow out phase for 80% of the time they are worn? Once you realize that, you understand why it is imperative you choose an extension method that promises a solid and damage-free experience during the entire time they're worn. IBE® was the first extension method to be transparent about how your extensions should look at every stage of wear. The unique way our foundation is structured, combined with our precise stitching pattern, offers guests the peace of mind that their extensions are going to hold up and be easy to maintain. In fact, during the 2020 covid pandemic, salons were shut down which forced guests to go exceptionally long in between their IBE® maintenance appointments. It was truly incredible to watch women trickling back into the salon 4-6 months later, with their rows still beautifully intact.
Ready To Apply?

Complete the form and we'll contact you to
schedule an interview. No payment is
required today.
I'm Interested, But Am Not
Ready To Apply Yet.
No problem! Complete this contact form and we'll
send you more information by email. If and when
you're ready to apply, we'll be here for you!
IBE® created the industry trend to "show the grow", and they definitely continue to lead the extension community. IBE® calls for a higher performance standard in extension application, which directly translates into a higher expectation for what the grow out should look and feel like. Here is an IBE® guest that was monitored weekly for 7 weeks after her install. Notice how flawless her install was, which led to a comfortable and easy-to-maintain grow out.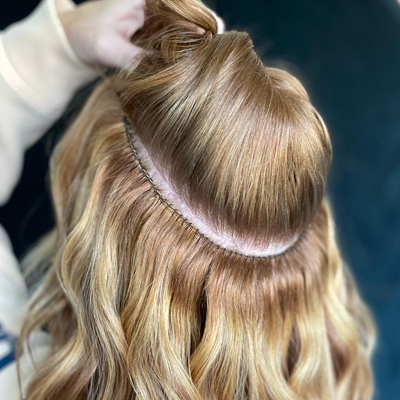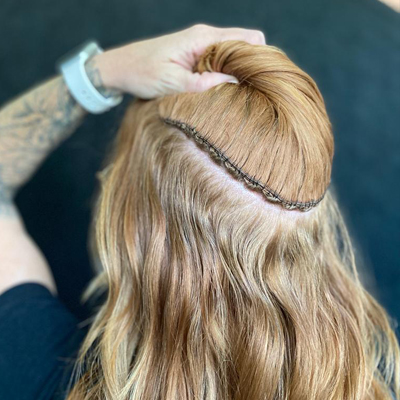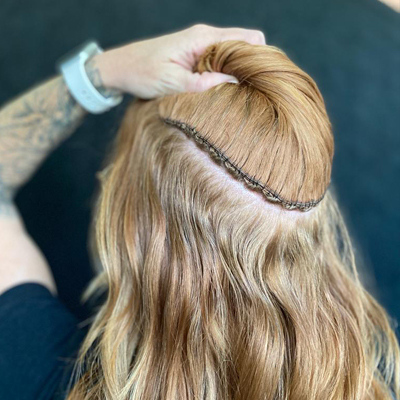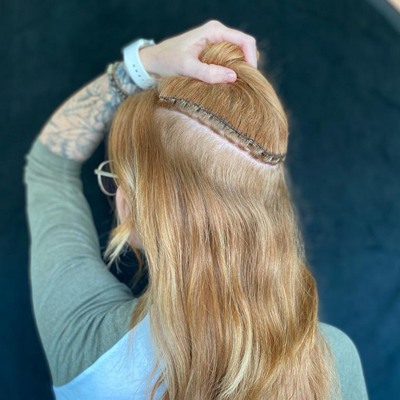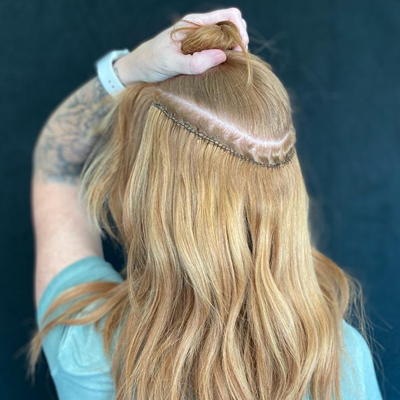 Invisible Bead Extensions® Method Before & After Photos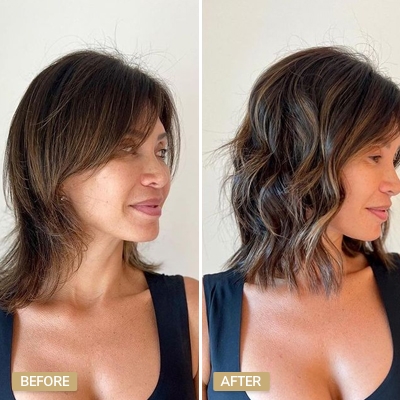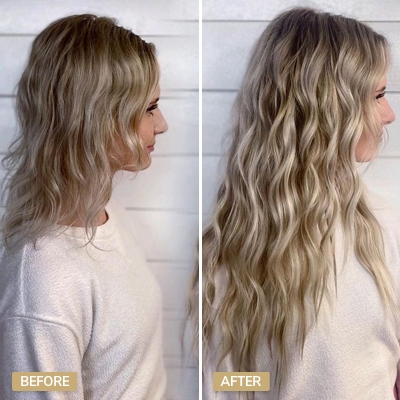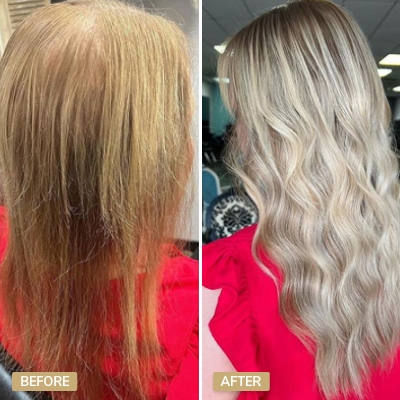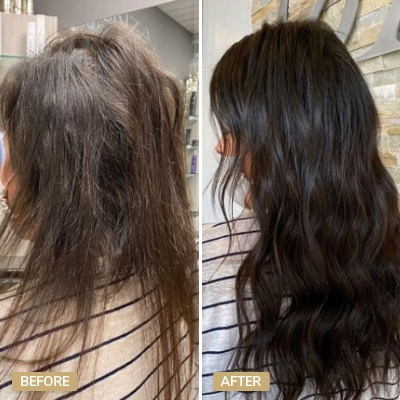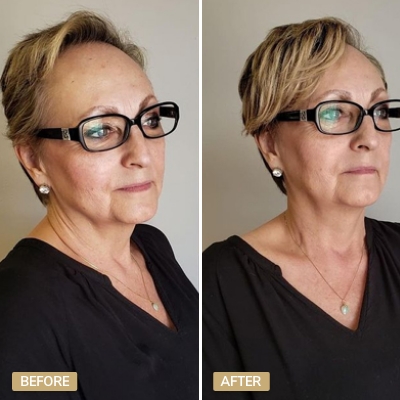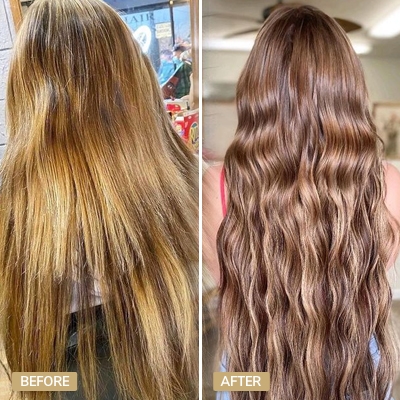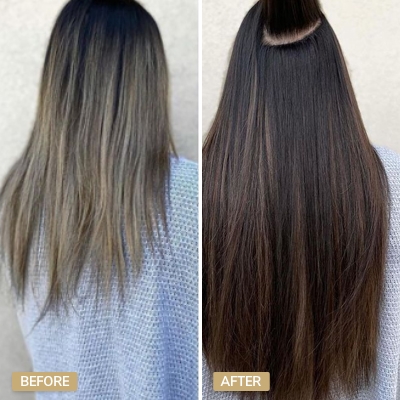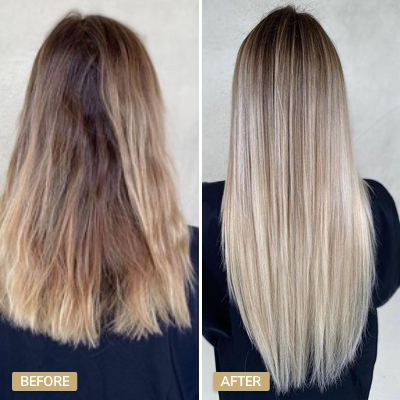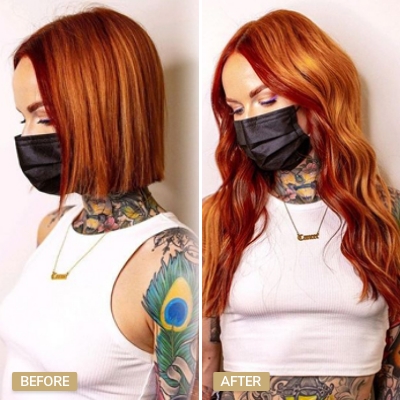 Comparing The IBE® Method Versus Other Popular Extension Methods
When it comes to the cleanest hand tied extension method, nothing compares to Invisible Bead Extensions®! Here are the comparison photos between IBE and another well known hand tied extension method using beaded rows.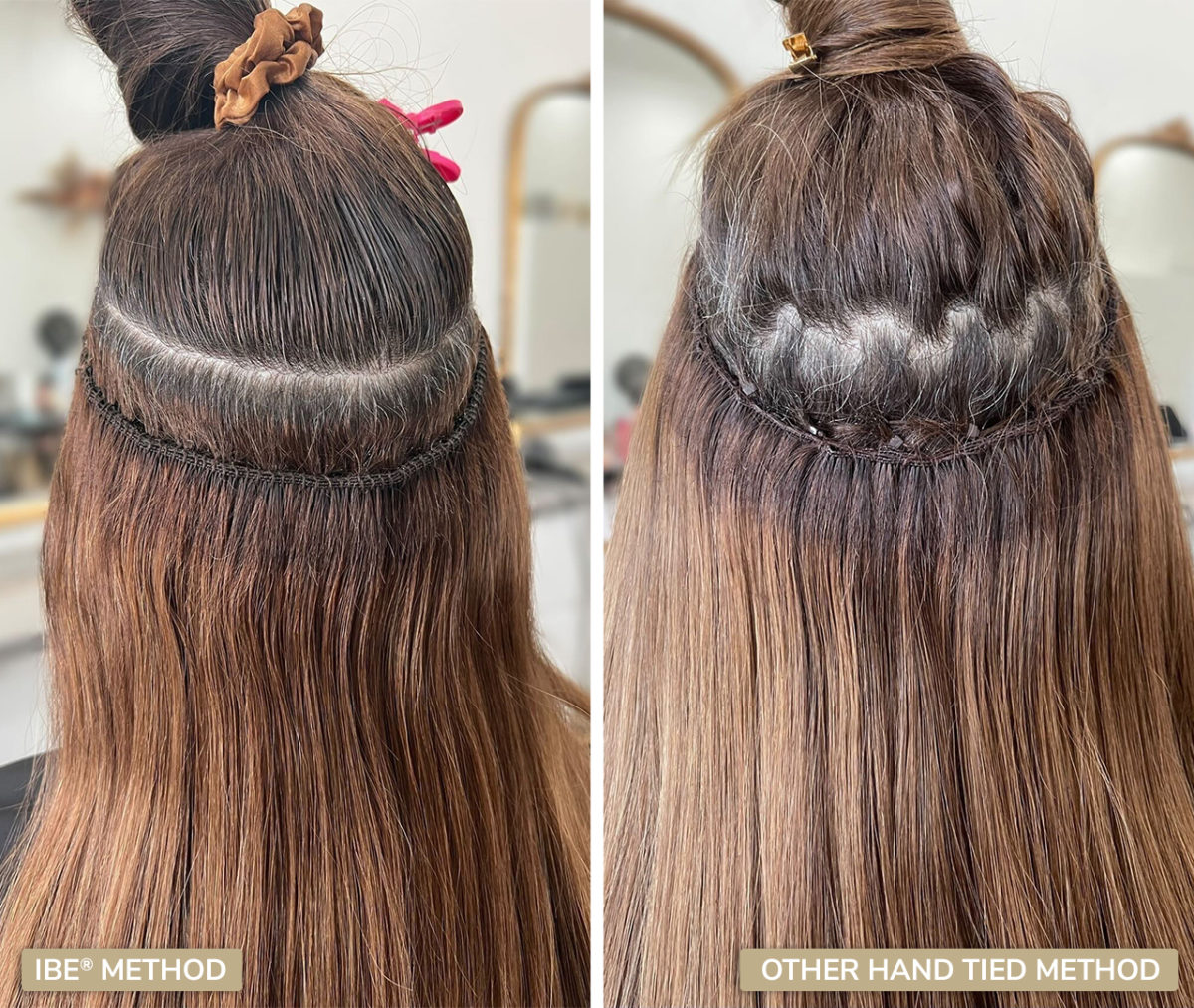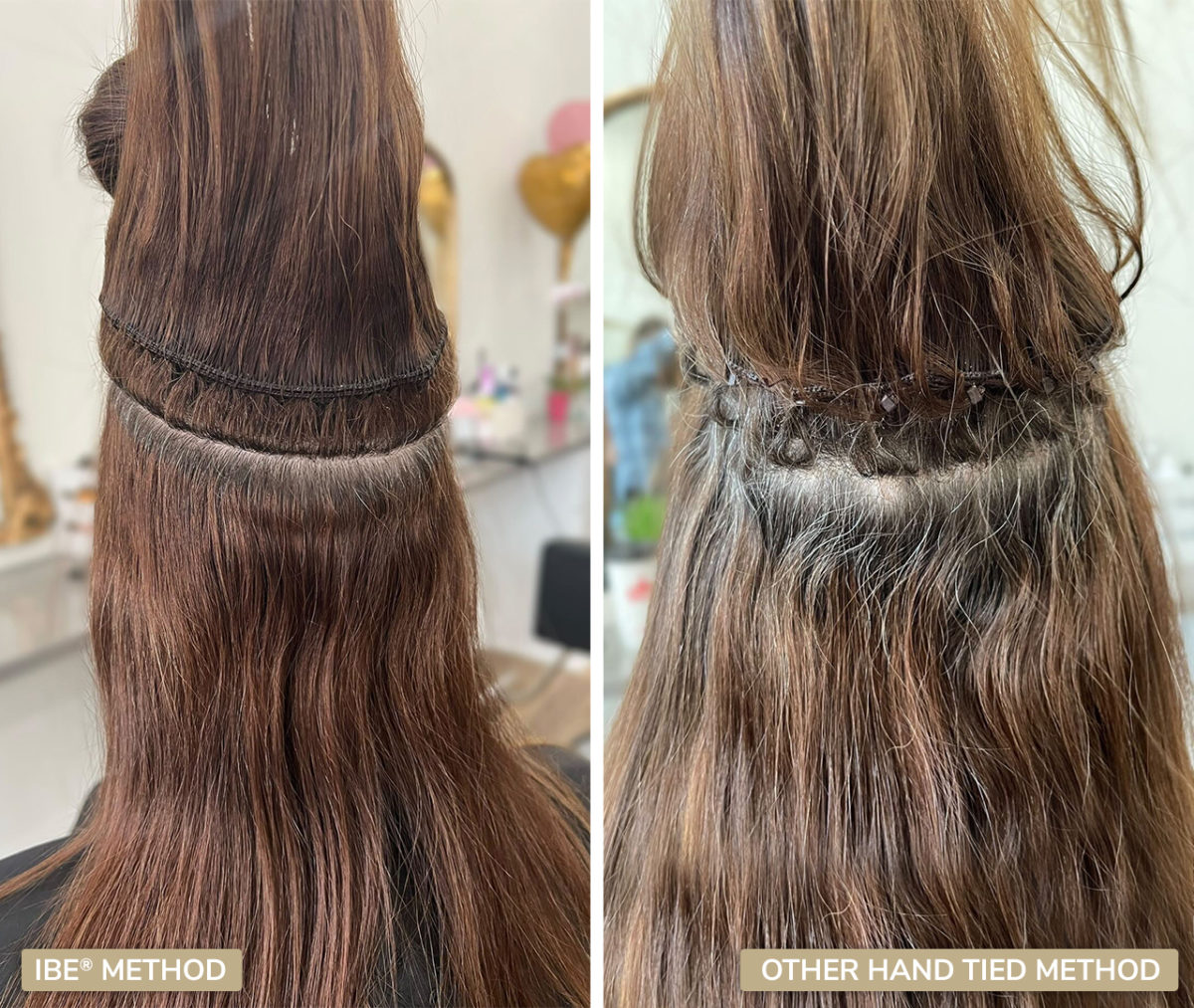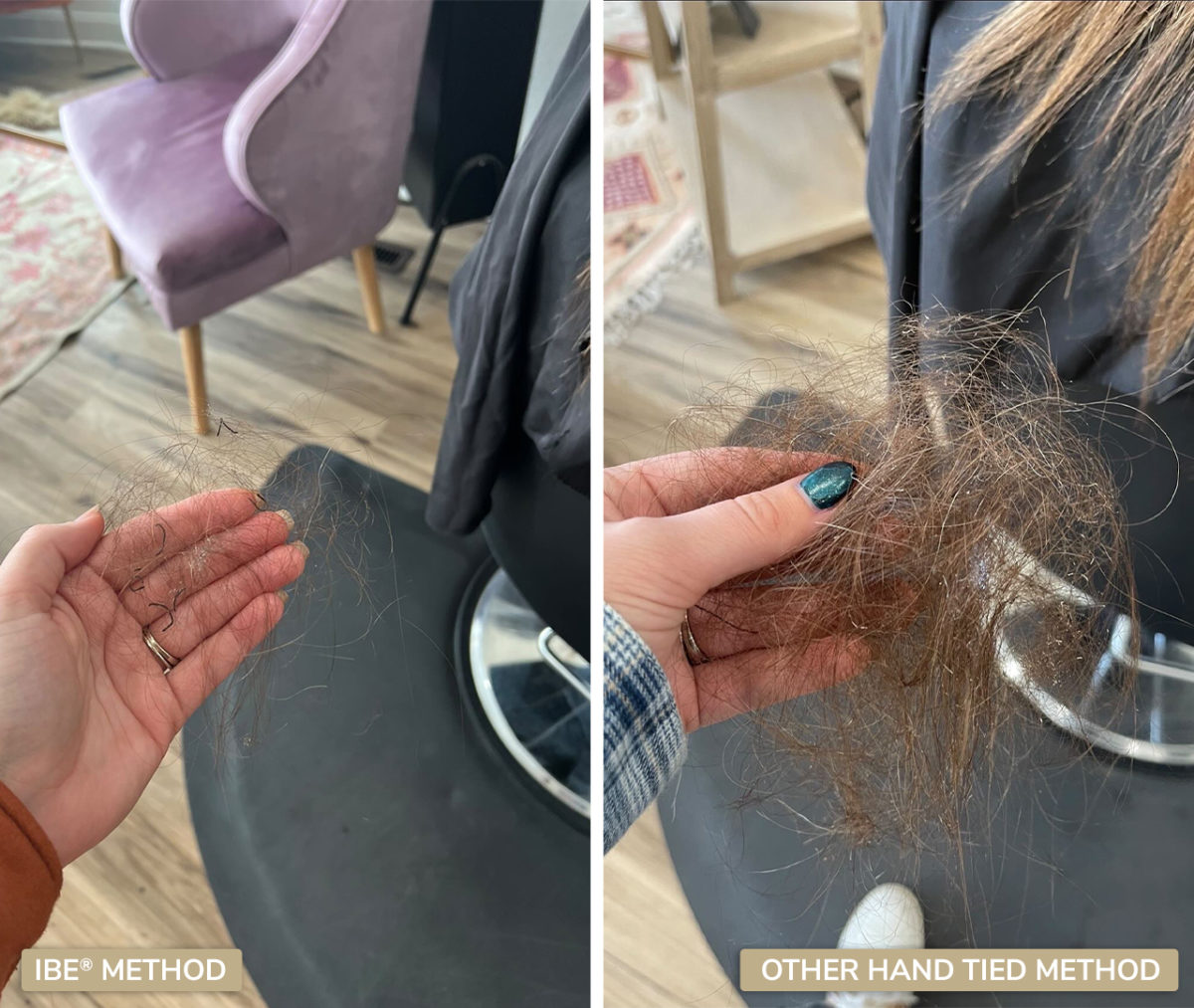 I-Tip Method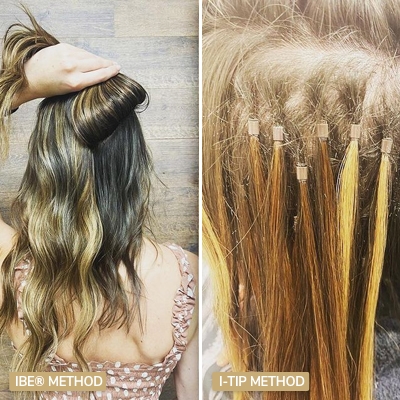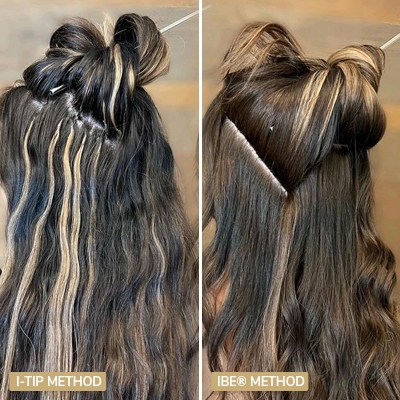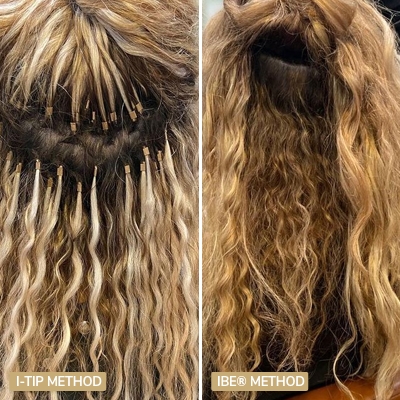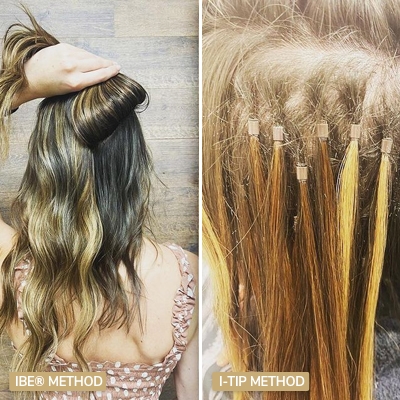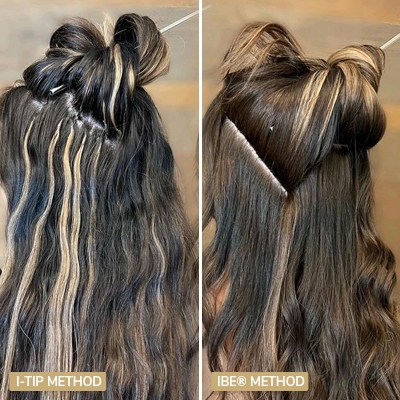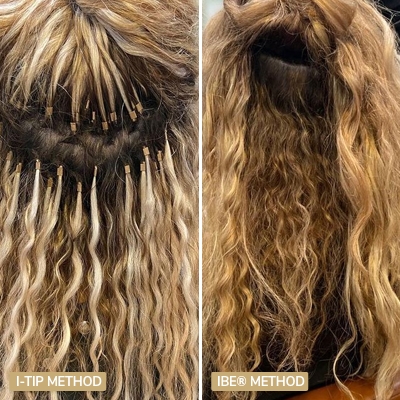 You may wonder what the difference is between the IBE® and I-Tip Methods. Because the attachment points are greatly reduced (from over 100 to 30) clients benefit greatly. Extensions are thicker, more beautiful and, most importantly, more natural looking.
Traditional Beaded Weft Method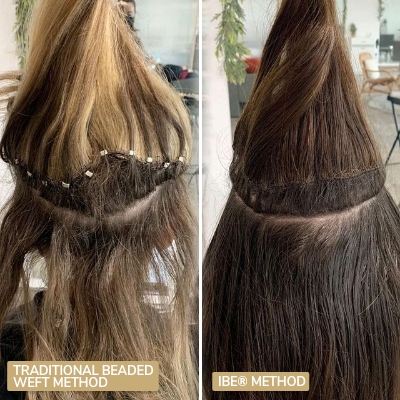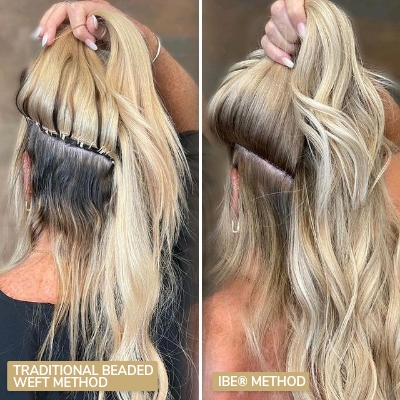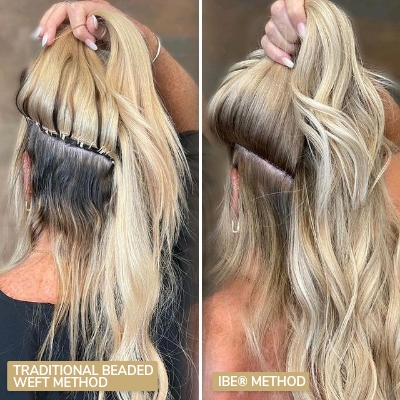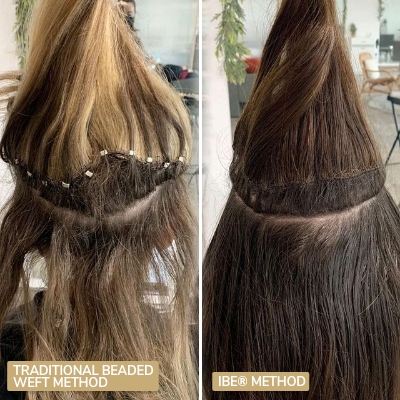 How does the IBE Method differ from the Traditional Beaded Weft Method? The IBE® Method is by far superior! Where the traditional method causes discomfort to the roots of the hair, the IBE® ensures comfortability, a seamless blend into the natural hair and a wide variety of hairstyles such as ponytails and top buns.
Tape-In Method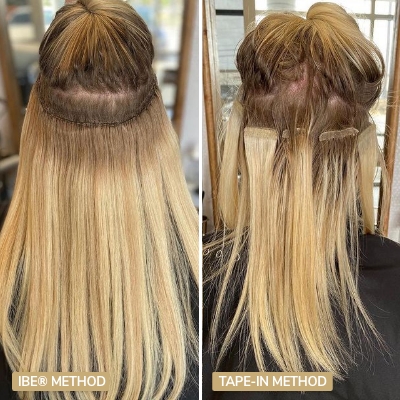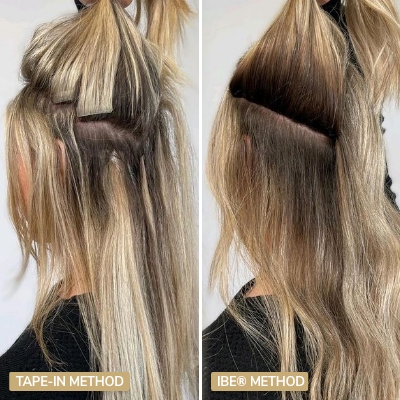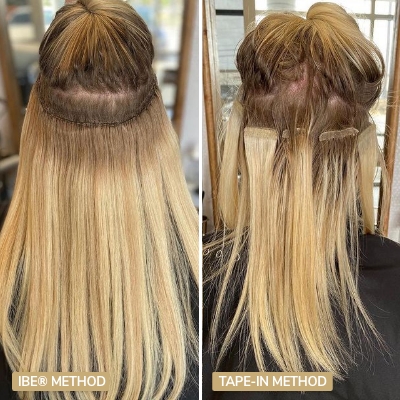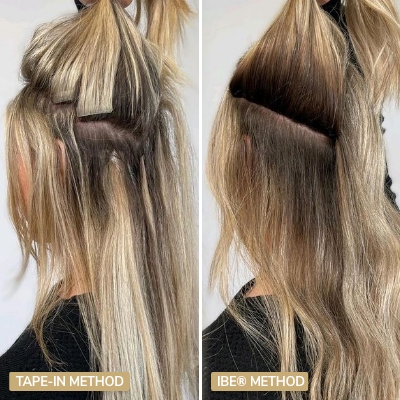 What are the differences between the IBE® Method and the Tape-In Method? Clients will be delighted to make the switch from sticky adhesives to light-weight wefts they can barely feel! Plus, the benefits don't stop there! IBE® are much easier to conceal when styling hair than tape ins which offers much more versatility. Also, for those with lighter locks or finer hair, tape ins become increasingly difficult to blend with natural hair. Lastly, IBE® removal takes only minutes without leaving any residue behind.
Pricing
Because of the time and special skills required, hand tied hair extensions are considered to be a luxury service. The total cost will vary based on the salon, how many rows of extensions are needed (to achieve the desired volume), and the length the client wants to achieve. For initial installation, prices usually start between $200 to 250 per row plus the cost of the extensions themselves. Color services will come at an additional cost.
When a client comes in for maintenance, they will be paying similar costs to the initial installation. The reason for this is because the beads aren't simply slid up towards the roots, as is the case in other methods. During the reapplication process, the certified IBE® specialist will completely remove the foundation and wefts and then reapply everything whilst maintaining proper tension.
Ready To Apply?

Complete the form and we'll contact you to
schedule an interview. No payment is
required today.
I'm Interested, But Am Not
Ready To Apply Yet.
No problem! Complete this contact form and we'll
send you more information by email. If and when
you're ready to apply, we'll be here for you!
Sometimes stylists will offer packages that generally cost anywhere from $1000 to $2500. These packages will include extensions, installation, color services for both the extensions and natural hair and a custom cut and styling.
Although IBE® extensions are a definite investment, the gorgeous, voluminous, natural results last for a long time when properly cared for. Once installed, IBE® can be enjoyed from anywhere between 6 to 12 months with regular maintenance.
Best Tips For Maintaining Hand Tied Hair Extensions Installed Using The IBE® Method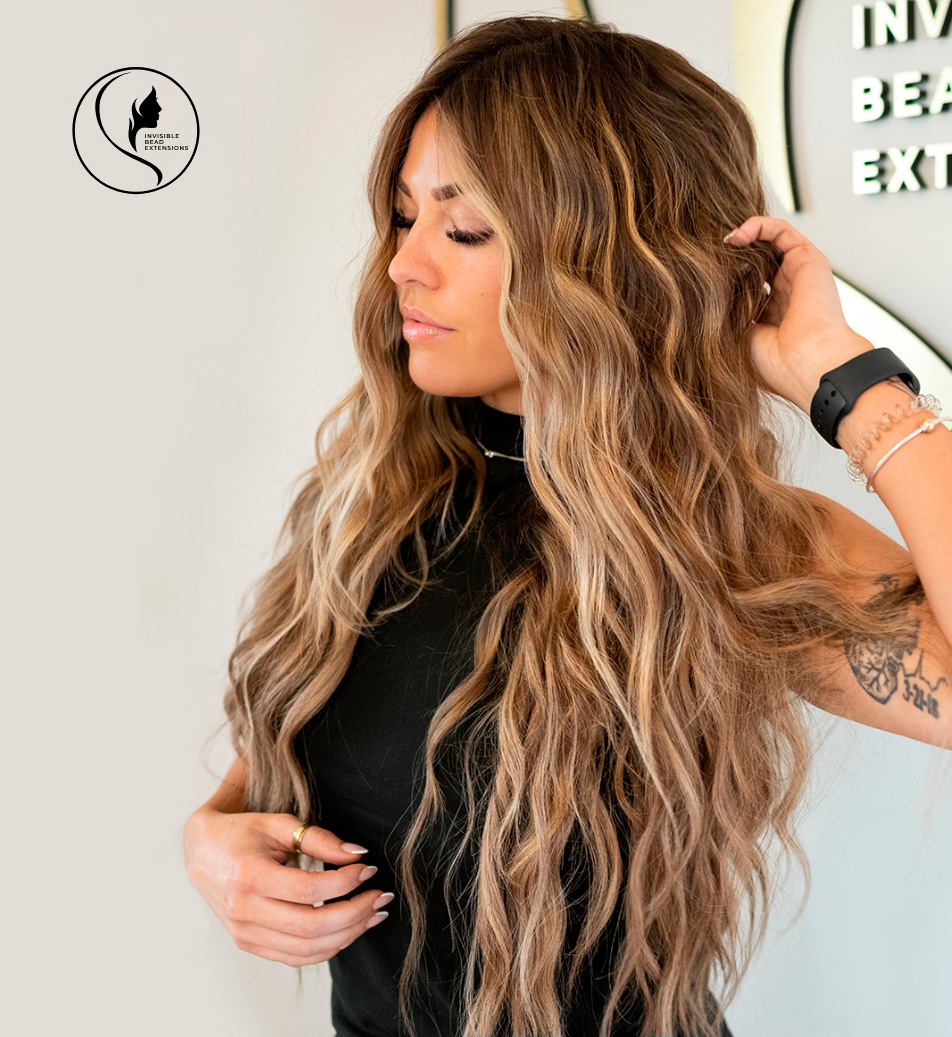 Clients will need to move up their rows every 7 to 10 weeks.
In order to keep hand tied hair extensions looking beautiful and luscious, care and maintenance are non negotiable. Caring for your extensions will increase their longevity. Below are some guidelines on how to take care of your hand tied extensions:
Cleaning: Regularly cleanse your hair with sulfate free shampoo that is safe for extensions. Make sure not to scrub the wefts. Instead you should wash your roots and then squeeze the suds through your extensions. Be sure to pair your shampoo with a hydrating conditioner that you work through your mids and ends. Allow the conditioner to sit on your hair for around 5 minutes and then rinse thoroughly.
Preparing Damp Hair: Post cleaning, hand tied extensions will hold a lot of water so it's imperative that you gently towel dry your hair after cleansing and conditioning. The best method is to softly squeeze with a towel to dry up excess water. Then the hair can be allowed to air dry. Once the hair is around 80-90% dry, you may continue drying with a blow dryer. Make sure the top of the wefts are completely dried.
Detangling and Brushing: It's imperative to brush your hair several times a day to prevent matting and tangling. The best method is to work in sections by lifting up the rows of hair to ensure they don't become entangled. You should also detangle from the ends up towards your roots and avoid brushing the applications near the scalp. It's helpful while brushing to hold the base of your extensions against your head with one hand for support.
Using Products: Because extensions are made of natural hair they have a tendency to become dry. Keeping your hair hydrated will be essential. Your moisturization can be two-fold. First apply a light leave-in conditioner to make detangling a breeze and protect your delicate strands from damage. Next, use a clear serum or oil to nourish both the ends of your extensions as well as your natural hair.
If your natural hair feels dry, do not reach for a protein-based product. Avoid protein treatments as they're not only necessary but will also leave wefts feeling coarse and even more brittle.
Blow Drying: When blowdrying your extensions, it's essential that you go row by row. You can utilize a paddle brush or a round brush to get the job done. The use of this tool will help your extensions and natural hair blend seamlessly in the drying process. Ensure that each row is completely dry to avoid discomfort.
Heat Styling: Now that you have long, luscious locks you also have lots of amazing hairstyling options! For those that love soft, romantic curls or waves, you'll be happy to know that curls in extensions have longer hold. Before grabbing the curling iron, be sure to apply an effective heat protectant to both your extensions and natural hair. It is also recommended that you use the lowest setting possible to achieve your results so that your hair doesn't become damaged or tarnished by heat.
Protecting your Extensions: Each night before bed, apply around 3 to 4 pumps of hair oil or serum to the midshaft and ends of your hair. In order to avoid tangling while you rest, gently brush hair and braid it into one or two braids.
If you're an avid swimmer, soak your hair in a nourishing leave-in conditioner or mask before hitting the water. Comb the product through your hair for even distribution and put it in a bun or braid. After your swim, rinse your hair thoroughly.
Although hand tied hair extensions do require daily maintenance, it will be a breeze once you establish a routine. The result of your extra effort will be beautiful, drool-worthy hair.
To learn more about hair extension maintenance, watch the video below:
About The Invisible Bead Extensions® Certification Program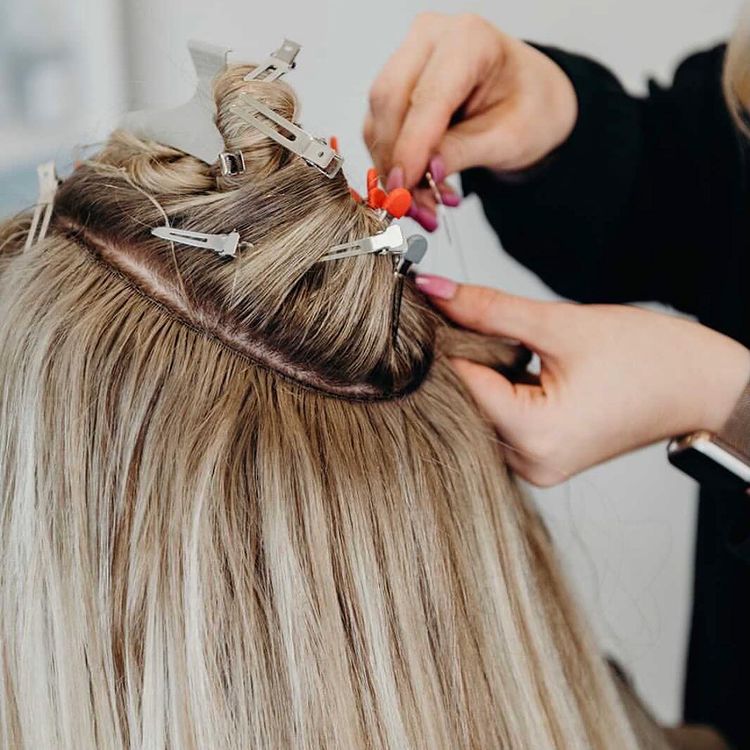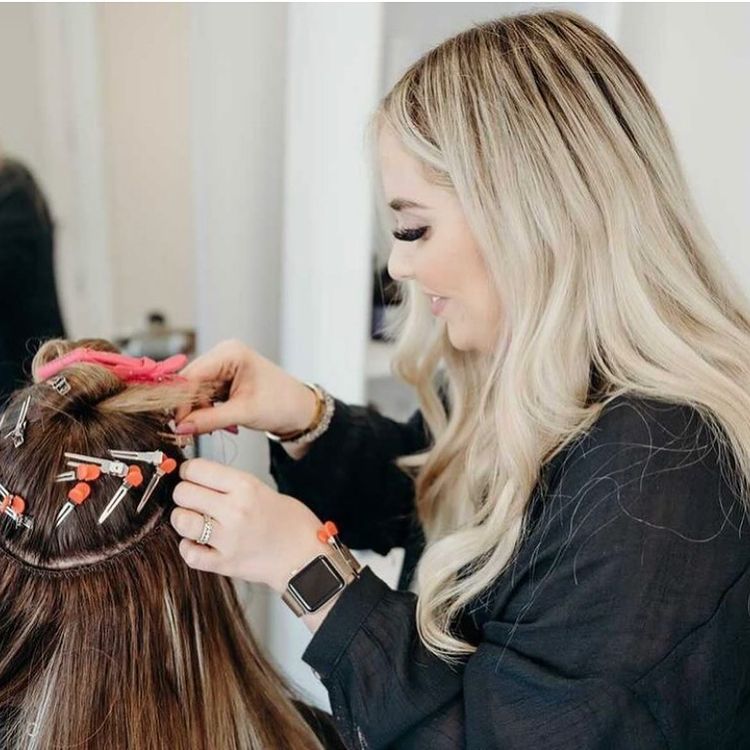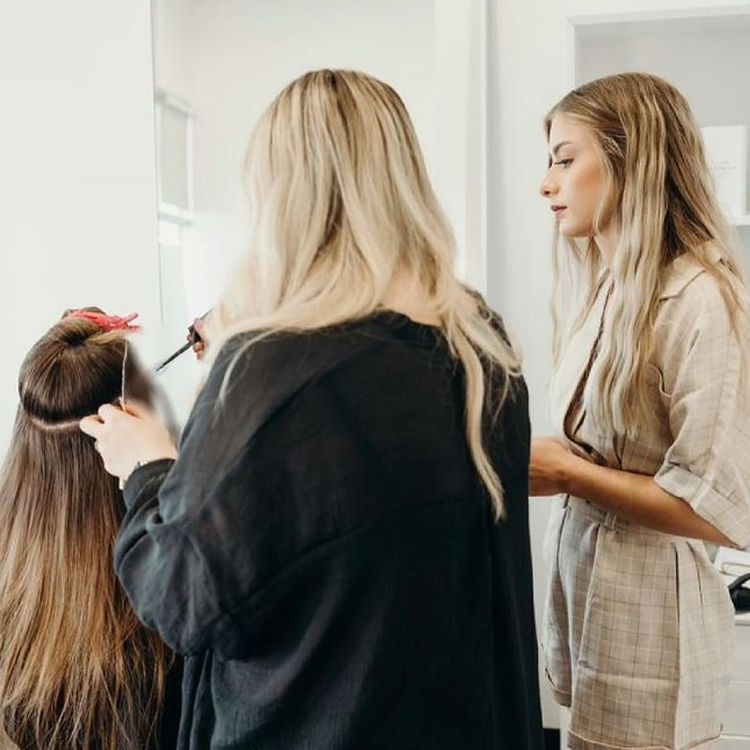 Most of those that have taken an extension certification class in the past know what a fruitless and dissatisfying venture it can be. Programs promise to deliver useful knowledge that will eventually turn into dollars and cents when your new skills are applied. However, even if you leave the course with certification in hand you still lack the expertise to confidently apply what you've learned. Many of us leave with unanswered questions, a complete lack of mentorship or community and, worst of all, no resources to assist us in our journey.
I decided to bring something completely revolutionary to the beauty industry by creating the IBE® certification program. This stylist-focused program is completely dedicated to ensuring the success of its participants. When you become an IBE® Artist, you'll earn your certification and full knowledge of how, what, and why this new method is the best extension application method in the market. Also, the program is super convenient because it doesn't require you to travel at all.
The IBE® certification program effectively combines online learning with one on one mentorship to enrich your educational journey. Our modules and training sessions, which are organized into three certification sections, are shot in high definition for ease of viewership. You won't miss a single detail. And there's no need to worry if you get distracted or need a break. You can pause, stop or rewind the video as you wish. It's all about moving at the pace that's most comfortable for you!
With every module, you'll become more knowledgeable and with your one on one mentor, you'll be unstoppable! Your mentor will be there to guide you through your training, answer any questions you may have, and fill in whatever educational gaps you might find with your individual learning style.
Once you become involved, you'll see, we didn't become the most popular extension method and brand by luck. It came from creating an undeniably amazing educational program that stylists all over the world have come to love!
Most Commonly Used Hair Extensions Terms
Certified stylist @shannonvanfleet is breaking down some of the most commonly used extension terms for everyone to understand!
Frequently Asked Questions
Are Invisible Bead Extensions® and hair tied extensions the same?
No! Invisible Bead Extensions® refers to the attachment method used to install the hand tied extensions wefts.
Does the IBE® method work better with hand tied wefts or machine tied wefts?
The IBE® method was developed to utilize hand tied wefts only. Although other wefts can be used, the same result is not guaranteed.
How frequently do I need to get my extensions moved up?
For best results, your stylist will recommend that you have your extensions moved up every 7 weeks. The frequency of appointments depends on how quickly your hair grows. On average, most IBE® wearers have maintenance appointments every 8 to 10 weeks.
How long will my hair extension appointment last?
Typically, each row will take 45-60 minutes.
How long will my hair extensions last?
High quality human hair extensions can last between 6 to 12 months. With incredible care and maintenance, hair that lasts for just over a year is very feasible. It's important to know the origin of the hair as this will also affect the quality.
How much does it cost?
Pricing varies depending on factors such as the salon, the results you desire and more. Your certified stylist will set up a consultation to help you decide what's best for you.
If my extensions look nothing like your pictures, what should I do?
If you're not in love with your results, we recommend getting in touch with your stylist so they have the chance to rectify the situation. If contacting your stylist isn't an option you can locate a new IBE® stylist for assistance. We have multiple levels of certification for our stylists. We recommend finding a stylist near you that is an IBE Master Technician or an Elite IBE Artist.
What are the best products to use on my extensions?
Be sure to use high quality products on your extensions to make them last. We recommend Goldie Locks® Ultra Hydrating Signature hair care products. These products were developed specifically to improve the lifespan and quality of your hand tied hair extensions.
What do I do if I have an issue with my IBE® stylist?
Sadly, we're not able to control the conduct and service of your IBE® stylist. They are all independent stylists. If you're not able to resolve your issue, we recommend that you locate another IBE® stylist to assist you.
Is there a contact number where I can reach someone with comments or questions?
If you have comments or questions, please feel free to contact us on our social media pages. You can also email support@invisiblebeadextensions.com