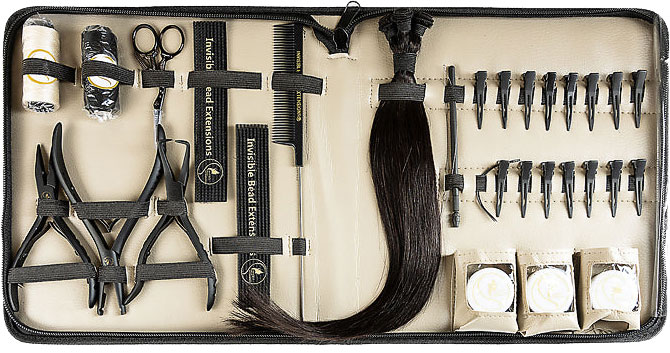 The art of installing hand tied extensions is exactly that, an art! And as every artist needs a specific set of tools and materials to work with, so does the hand tied extension artist. There is a specific lineup of tools that a stylist needs to perform a successful extension install.
It has been said that you are only as good as the tools you work with. In this article you will learn which tools are necessary for a flawless hand tied extension install.
Index
What tools do you need for hand tied extensions?
Hand tied hair extensions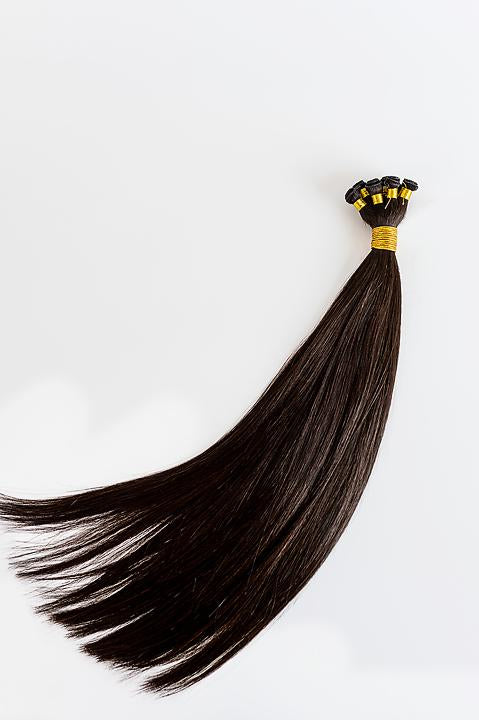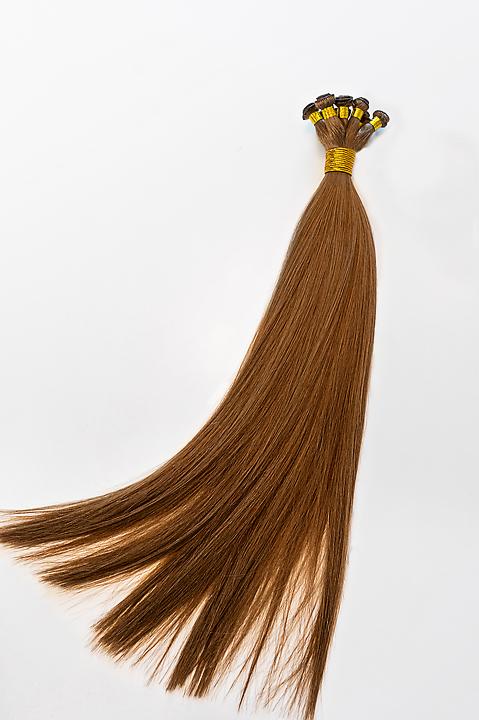 Hand tied hair extensions are thin wefts that average about 11 inches wide. They are quite literally "made by hand" and are not machine made. They usually range from 14-24" although you can special order longer lengths from some brands.
Extension pliers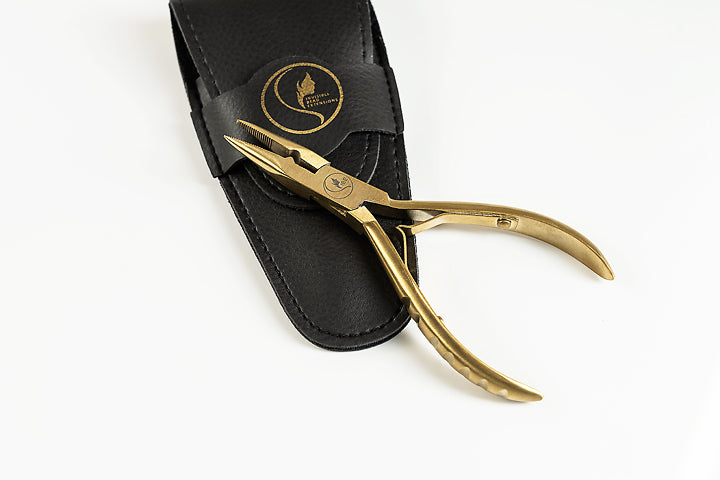 This is the type of plier you will use to clamp or secure your beaded foundation. These pliers should fit comfortably in your hand and be easy to clamp. The finer the tip, the more control you will have over your bead placement.
Bead opener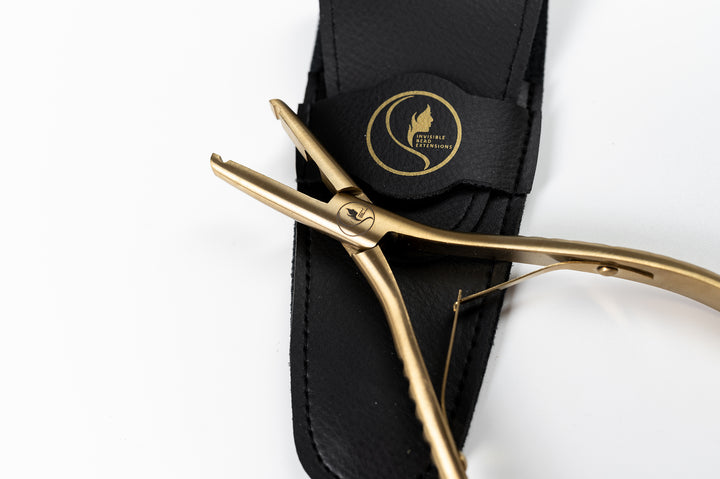 This plier will be used to open the beads when it is time for a reinstall. Once you use this tool to open the bead, you can slide it out easily and comb the natural hair shed out of the bead.
Crush bead opener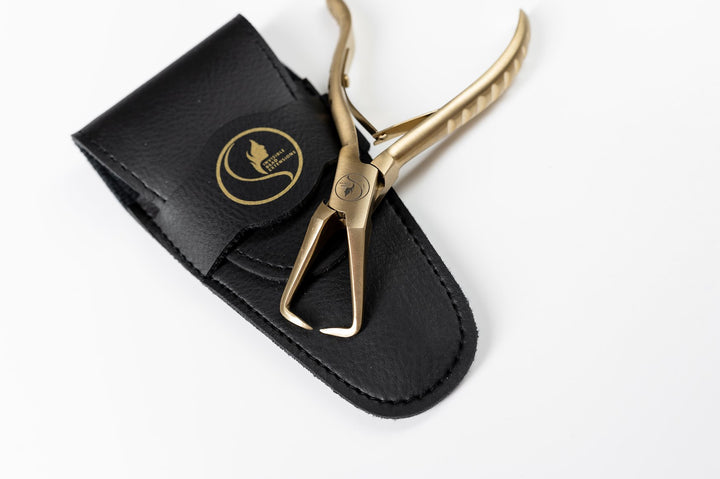 This is a specific kind of tool every hand tied extension artist should have in their toolset. It is only to be used in instances where the bead has been crushed and cannot be opened with the bead opener.
Silicone-lined beads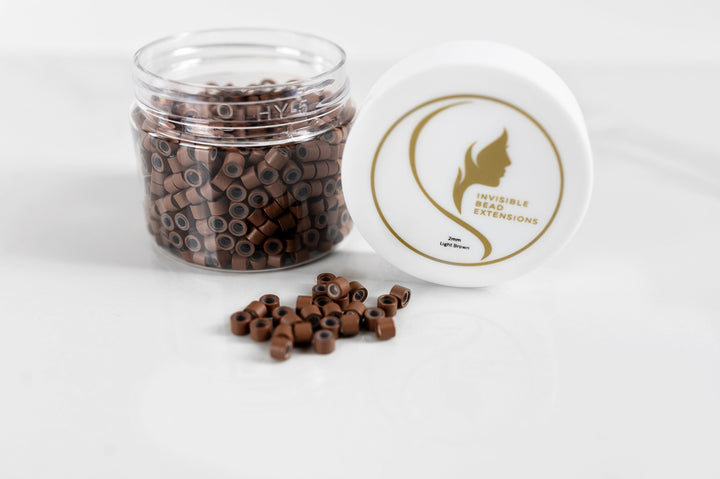 The safest type of bead to use in a track is a silicone-lined one. It gives protection to the hair by adding a cushion inside the bead. It helps the bead to not slip down the hair shaft as well. Silicone beads come in various sizes and each installation method prefers a specific diameter size.
Weaving needles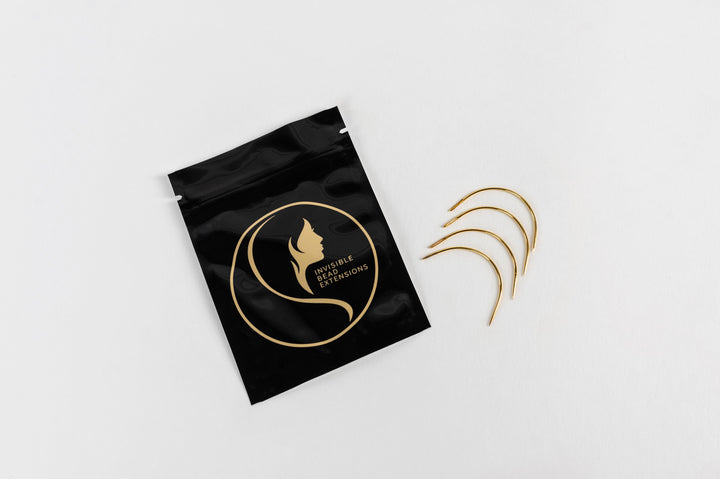 You will need a curved needle to install hand tied extensions. They come in various sizes and you can use whatever feels best in your hands. Those with larger hands will find that a larger needle is easier to work with.
IBE® Certification
Train With Your Mentor & Become
An IBE® Certified Stylist
Level 1
THE BASICS
You will begin by learning the basic method of IBE® with practice on a mannequin.
You will be taught everything from consultation to fitting the right length and color of hair.
Sectioning, placement, beadwork and foundation techniques, weft placements, and proprietary IBE® stitching techniques.
Learn all these through our innovative online education portal or right in the IBE® mobile app along with your one-on-one mentor.
Completion and sign off from your mentor in this level will ensure you are comprehending the method and becoming confident in its application behind the chair.
–
Level 2
STEP UP YOUR GAME
Once your mentor has signed off and level one is complete, you will step up your game.
In level two you will repeat the process of learning in application and technique, however this time on an actual human model! You will be taking everything you have learned in section 1 and putting it into real-life practice.
Your mentor will be digging in deep at this point and giving you dialed in personalized feedback and coaching. They will be making sure you have every single question answered and that you feel 100% prepared and confident to take your IBE® work behind the chair.
–
Level 3
GET CERTIFIED!
With level one and two in the books, lets put some icing on the cake!
We are going to dive into social media training and how to market the IBE® method.
You will be taken through the process of how to get clients seeking you out as an expert extensionist and booking consultations.
You will also do your final test out model. Here you will apply two rows of IBE® to your model and take her through the entire process of extension application, custom coloring, cutting and styling. You will supply all the appropriate photos to your mentor and you will decide together if you are ready to move forward.
When level 3 is complete, you will join the ranks of being a certified IBE® stylist and start to enjoy the fruits of your hard work.
Welcome to the IBE® family!
–
Level 4
IN-PERSON EDUCATION
Once you have completed your virtual certification, you are invited to join us for a hands on class at the IBE® Education Center in St. George, Utah. The training is included in your certification, which means all you have to do is get here and we will take care of the rest.
Receive hands-on corrections and critiques by our education team and leave feeling more confident than ever about your well-deserved extension certification.
Check out the In-Person Classes page to book your Beyond Certification class.
–
Weft clips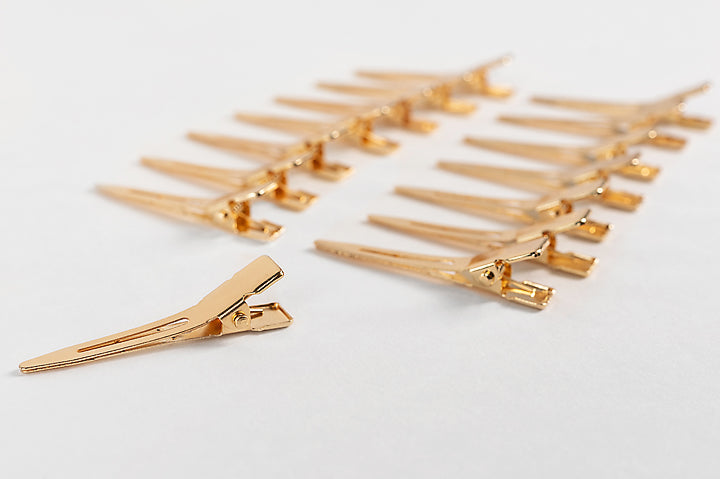 Wefts clips are an integral part of your tool kit when installing hand tied extensions. These small 1.5" clips are perfect for securing your wefts to your foundation before you begin to sew.
Flyaway grips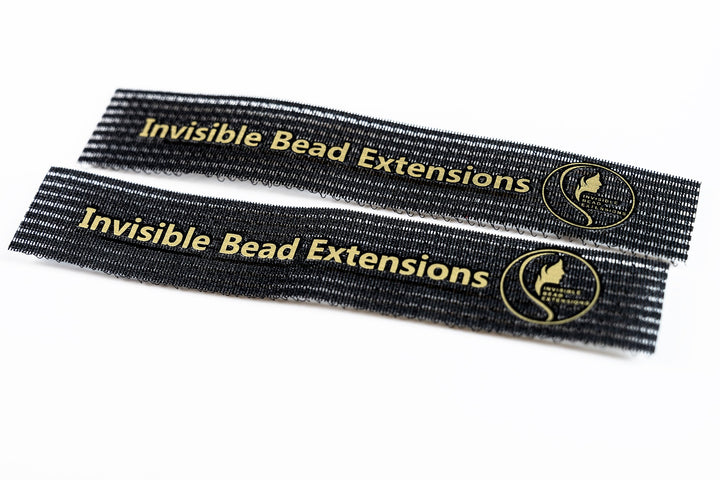 Flyaway grips keep your hand tied extension installation clean and precise by keeping your track free of stray hairs. Your flyaway grips will allow you to work quickly without stopping to clean up your sectioning.
Extension removal scissors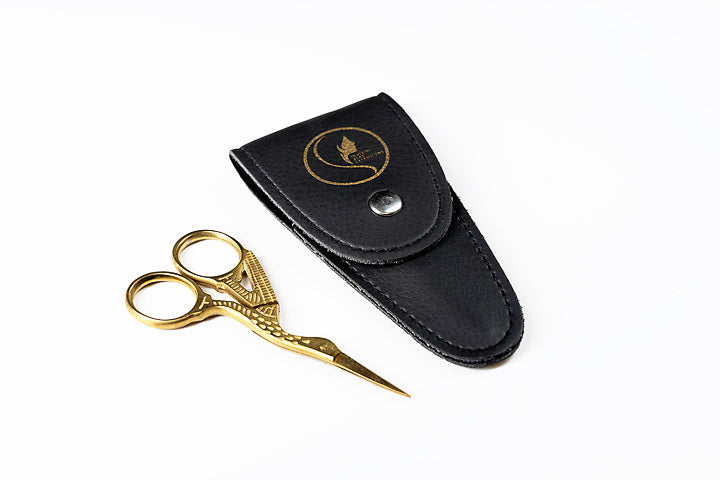 You will need a small pair of scissors specifically to aid in the hand tied extension removal process. The scissor tips need to be small enough that they can snip the thread within the track.
Thread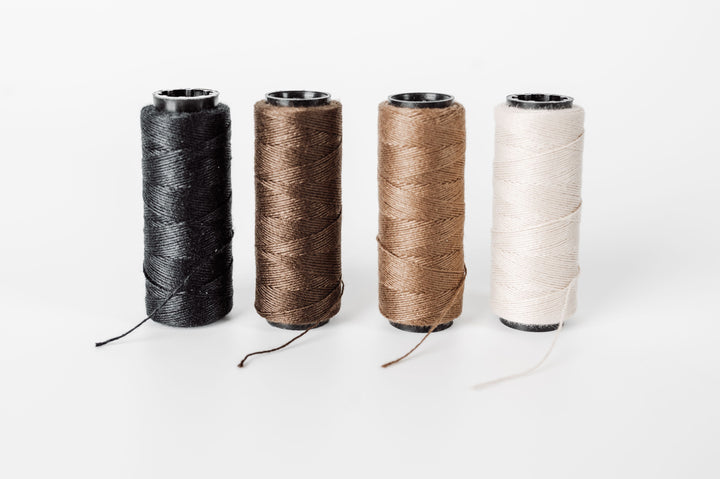 There is a specific weaving thread you should use when sewing hand tied extensions. You can use cotton or nylon thread depending on the method you use to install the extensions. You should choose a color that best matches the root of the hand tied hair.
Wire bead threader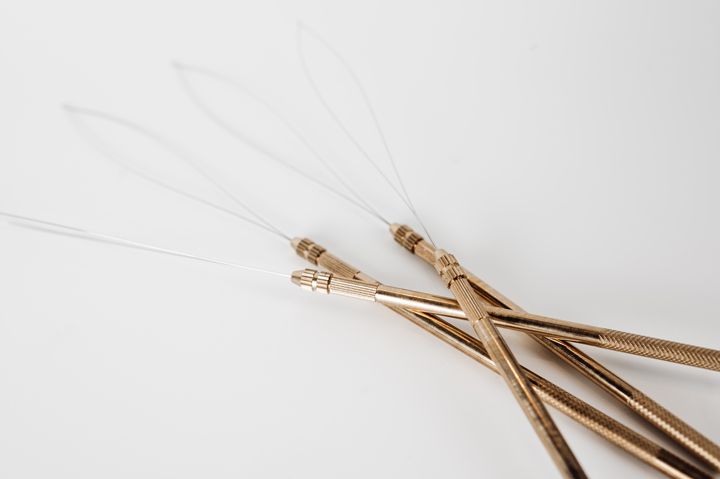 You will load your beads onto a wire bead threader. You can use one with a wood handle or a metal handle, it is personal preference as to what you can use.
Weave comb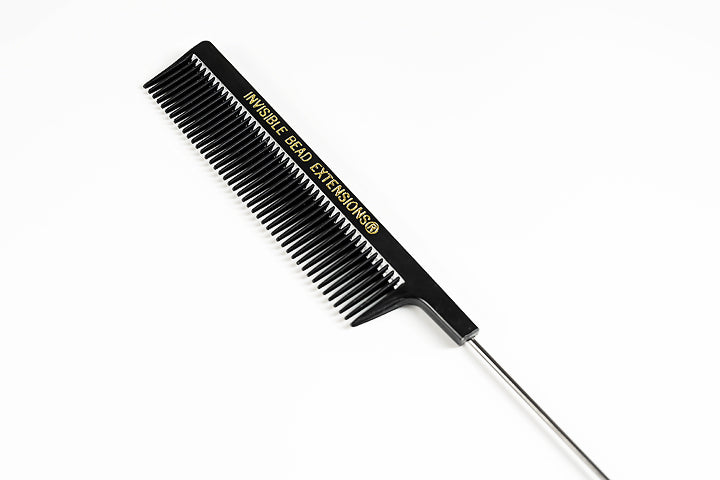 You will need a weave comb to section out your foundation and keep your sectioning clean and precise.
BECOME IBE® CERTIFIED
AND CHANGE YOUR CAREER
Discover How IBE® Stylist Are
Making More & Working Less