Do hair extensions always come with an itchy feeling or peeking clips and beads that'd completely damage hair? The surprising answer would be a big NO! Hair extensions have come a long way. When you want to add a charming length to your hair or simply switch your look, natural-looking hair extensions have indeed added magic for creating versatile styles. Thanks to Mckenzie Turley, founder of Invisible Bead Extensions®, for introducing seamless hair extensions in the industry. Her beadless extension flips-up literally 'flipped' the conventional methods of hair extension installs. 
Raised the youngest of four girls, Turley always had a knack and eye for understanding the beauty and hair industry. Began cosmetology school at the age of 33, she has been inspiring many to chase what they aspire to be. She says, "There are no limitations on age, whether young or old, in this industry. If the focus and drive are there, you will be successful." With Invisible Bead Extensions®, she was encouraged to create a solution that inspires women to rekindle the "diva" in them without committing to the pokey beads and mismatched hair. The method of IBE® completely revamped the industry and was named "The Original Flip-Up" after introducing this unique way of hair extension installs.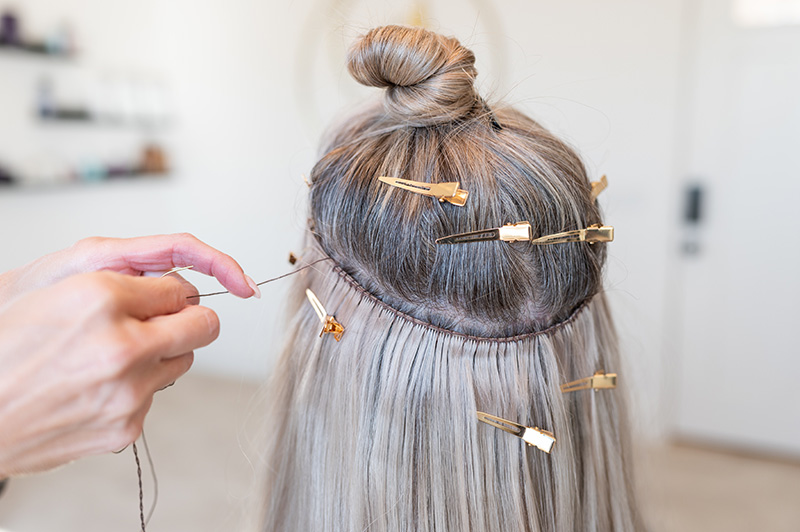 Unfortunately, hair extensions have a bad reputation because of the flawed methodologies, "clamp and crank" beading approach and undue tension on attachment points. However, when we talk about the invisible bead extensions, their versatility and ease are highly embraced by women considering they can finally flaunt their natural-looking styles with lesser tension on their scalp.
The #1 Most Requested
Extension Method
JOIN OUR GROWING COMMUNITY OF IBE® CERTIFIED STYLISTS
Hair extensions are no longer shown as shiny with edgy cuts or flashes of striking colours, it's more inclined to fix a style that complements your original personality, and that is what the IBE® team strives to bring to the table. With Turley, your looks will be more Instagram-worthy and flawlessly natural! Having the ability to offer women a sophisticated and glamorous look, IBE® has been ahead of the curve by keeping up with the latest trends and styles of the industry. Be it social media influencers, professional athletes or women in the military, women in the world are finally experiencing a comfortable and seamless hair extension experience with them.
"It's amazing how your mood changes when your hair looks good", says Turley, who mentions that a woman's hair can be one of the powerful aspects to bring out their confidence. Driven by the idea of enhancing "hair flips", Turley has also rolled out IBE® certification for creating learning opportunities for budding stylists out there. With the comfort of pausing, stopping and rewinding education, her virtual certification unfolds candid insights about IBE® with personalized mentoring. Unlike the "1-minute tutorials" or "Free 5-minute hair extension sessions", IBE® certification is exactly what young stylists yearn for to sustain and grow in today's industry. Apart from that, IBE® also support their stylists long after their certification by showcasing their talents on social media accounts and offering continued personalized education.